NEWMARKET, NH
While the town may be on the smaller side, there are so many wonderful things to do in Newmarket, New Hampshire!
A quiet and charming town nestled on the banks of the Lamprey River, Newmarket is laid-back, simple, beautiful, and a wonderful town for families. The buildings downtown are clean and well-maintained, while the streets are lined with trees. These are just some of the factors that make this New Hampshire town an idyllic spot to live, work, and play. Newmarket is a historically-rich textile mill town. The history carries on with the beautifully-restored buildings that have become the show-stopping centerpieces of town.
Centrally-located, Newmarket is a short drive to the University of New Hampshire in Durham, Great Bay (great for kayaking, boating, and trail walks), and Exeter, New Hampshire. Newmarket is also located just a short drive from the Seacoast's busiest town—Portsmouth, New Hampshire—which is about 25 minutes away.
Though Newmarket may be smaller than other Seacoast towns, it is a friendly and safe community that has much to offer from restaurants and breweries, to outdoor activities, and local shopping fun! 
THINGS TO DO IN NEWMARKET, NEW HAMPSHIRE
Take a stroll downtown. Meander by the river. Enjoy a leisurely meal. Sip local craft beer. Take in the historic scenery. Explore the natural beauty of this lovely New Hampshire town!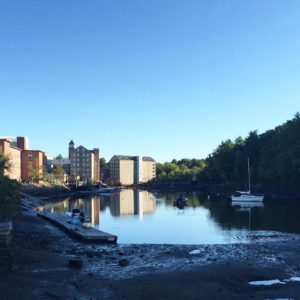 MUST-SEES & MUST-VISITS IN NEWMARKET:
Enjoy breakfast at The Big Bean!
Pick up some sweet blooms at Inkwell Flowers!
Pop into Deciduous Brewing Company for some local beer!
Spend time in Newmarket's "living room" with a visit to Crackskull's Coffee & Books!
Partake in a yoga class at a beautiful local studio—Symmetry Yoga!