Feeling Pampered at Barefoot Medical Spa!
One step through the front door of this breathtaking oasis and I felt like I had found my "home away from home"…

First, the friendly team at Barefoot Medical Spa welcomed me with warm smiles as soon as I arrived; they made me feel like a queen, while the soft, coastal atmosphere transported me to dreams of a 5-star beachfront resort in the Caribbean.
I thought to myself… "I think I'm going to settle in here juuuust fine".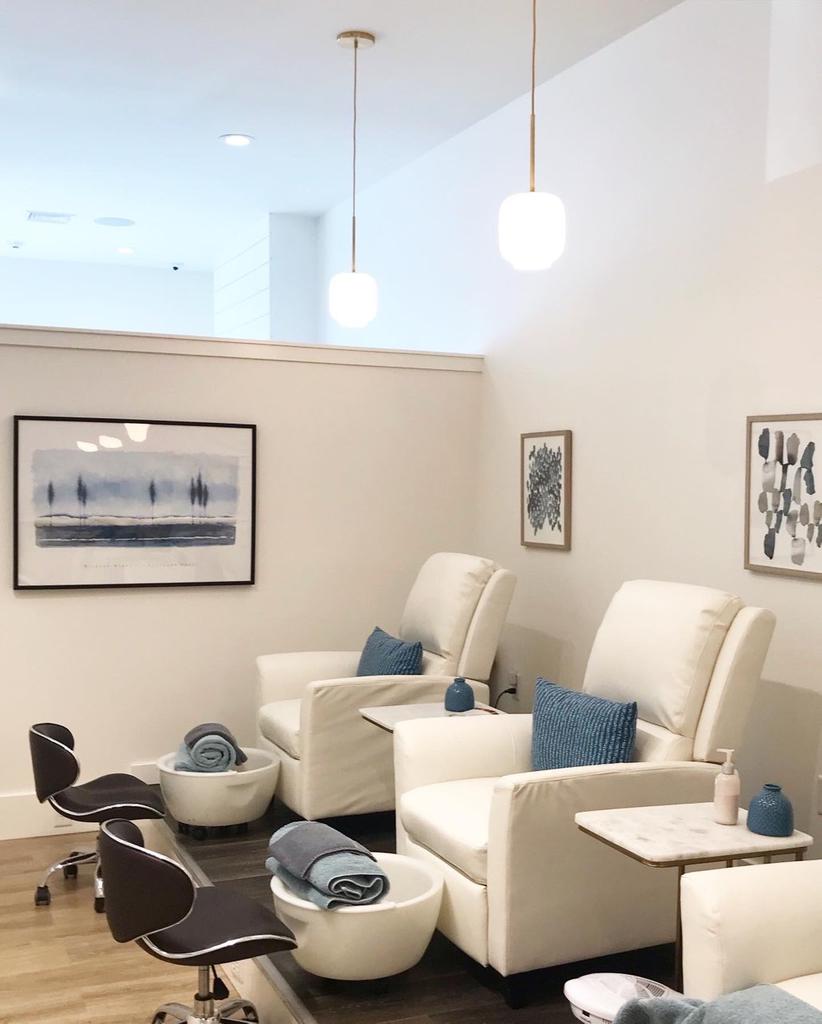 As I sat on the comfy couch in the reception area admiring my surroundings, Nail Therapist Debra came by to walk me to the pedicure room for my appointment. She was lovely and I would highly recommend her. Because my feet were in search of a little extra TLC, I traded in my typical "express" pedicure service for the "Barefoot Luxury Pedicure," which included a warm foot soak, non-invasive nail and cuticle care, a luxurious foot and leg massage, a therapeutic beeswax treatment, a mud masque, warm towels, and a healthy polish (I chose a light pink called "Yoga Mama" and I smile at my toes every day:). Michael Bublé tunes played casually in the background as Debra and I chatted a bit, and then I nearly drifted into a long sleep in the plush, reclining chair. The calm vibe of the spa, the simple white and light blue décor, and a weighted heated blanket around my neck…heavenly.
Relaxed and rejuvenated, I left the spa feeling incredibly well cared for, like I had been on vacation, and excited to book my next appointment!
xx
Maggie
Some services I would like to try upon my next visit…
*The "Athlete's Recovery Pedicure"—We all know what sneakers can do to our precious feet!
*Barefoot's signature "Tranquility Foot Soak & Massage"—Doesn't this sound dreamy for a winter afternoon? Ahhh…*Barefoot's "Luxury Manicure"—If it's anything like the "Luxury Pedicure", I'm definitely in!
ABOUT BAREFOOT
Barefoot Medical Spa is a spa-meets-medical facility located in Stratham, New Hampshire. Founded with a mission to change the pedicure as we've come to know it, the Barefoot team takes pride in providing clean beauty treatments with medical supervision, while pairing professional expertise with warmth and comfort. The Barefoot team recognizes feet are a work of art, a scientific marvel, and the foundation of our movement and well being, and they are focused on the rejuvenation and recovery of our beautiful feet so we can grow healthier, stronger, and more confident.
Going barefoot is required—take your shoes off and stay awhile… Learn more about Barefoot Medical Spa here.