THE INSIDE SKINNY ON… High Definition Fitness!
Hi friends! There's a new (beautiful, clean, hip) fitness studio that just arrived in Portsmouth and we're really excited about it! High Definition Fitness is a yoga studio that offers a modern style of yoga for fitness and incorporates props in their practice such as the yoga trapeze and yoga wheel! They specialize in functional strength, balance and mobility.
Owner Haley shares the inside skinny with us…
Can you describe your studio??
Our newly-renovated studio is clean, bright, and welcoming! And it's not too big, so class sizes are intimate. Our studio is located at 620 Peverly Hill Road (upstairs, Unit 2D) in Portsmouth. You first walk into an open community room where we sometimes host social events and then you walk through two double blue doors to the yoga room. The yoga room has big mirrors to help you adjust your form and a sound system with a microphone so that you can hear all of your instructors ques even when she is on the other side of the room adjusting someone else. We don't have any weights, but instead we have props such as Yoga Trapeze, Yoga Wheels, "Hurt So Good Balls", and blocks.
What kinds of classes do you offer?
We have six unique classes that are currently offered at High Definition…
Trapeze Gravity
A restorative class where we lengthen out your entire body using the trapezes and weight of gravity.
Just the Straps
A high-intensity, low-impact full body trapeze workout using suspension training, body weight, and gravity.
Total Trapeze
A combination of "Just the Straps" and "Trapeze Gravity"—a great class to get a bit of a workout, along with some deep recovery stretching.
HD Yoga
A modern, fitness style of yoga. Our style is slow paced with detailed cues and assists, longer holds, and proper form, to get the most out of each pose.
HD Yoga Wheel
Incorporates the yoga wheels—a unique prop that allows us to add different balance and strength challenges, along with supported mobility and flexibility poses.
Gravity Massage
A guided, full-body myofascial massage using yogabody balls followed by deep stretching. This class is a great restorative class that everybody deserves at least once a week. It is especially perfect for those who just completed a particularly strenuous athletic activity, such as a race, or those who simply had a stressful week.
Do you have to be experienced in trapeze before attending a class? 
You don't need to have any yoga or trapeze experience before coming to any classes at High Definition. We walk everyone through each pose, step by step, and give options for those who want to keep building off of the foundations; everyone is challenged at his or her own level.
What are your goals in doing the work you do?
I want to provide a form of fitness that is fun, functional, and easy on the joints to all members of our Seacoast community! I was a college athlete and an extremely active individual before I tore my ACL and had two knee surgeries. I feel for those struggling to come back to a performance level they were once at after an injury, or for those experiencing changing bodies, so our classes are designed to not only strengthen the body, but also aid in recovery.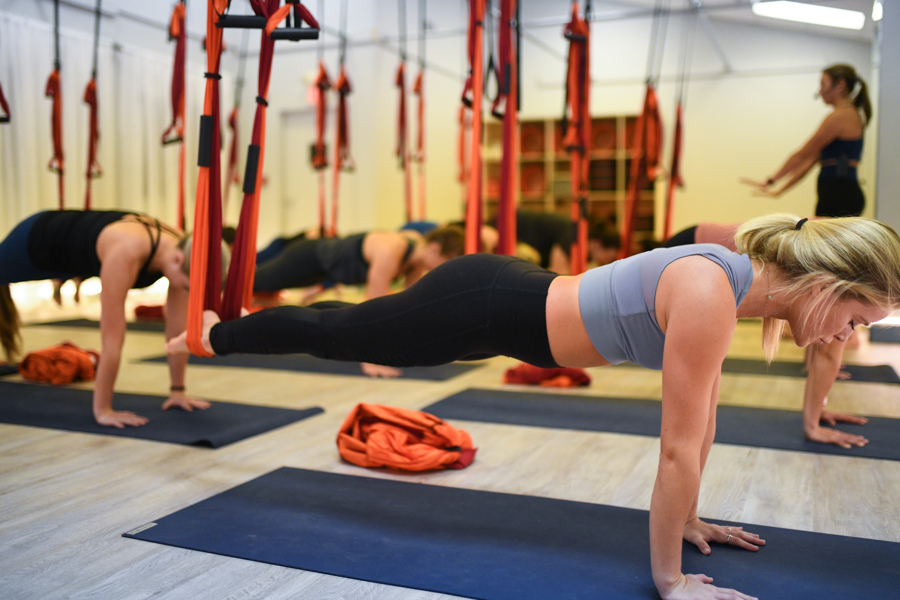 How has your experience in the fitness world shaped what you offer at High Definition Fitness?
I am trained in TRX, Barre, and yoga classes, and have combined my favorite components of each of those workouts into the Trapeze classes at High Definition!
Is there anything special you would like our followers to know?
In addition to offering classes, we are always open to hosting private events and parties! We can lead a class and then open up our community room for a social gathering with drinks, snacks, crafts, etc. It is a great space for bachelorette parties, birthday parties, and networking or team building events.
We often host our own social events as well, such as "Wine Down Wednesdays," where we do gravity massage classes and follow with snacks and wine!
On December 7th, we are hosting a Fund raiser for Mainely Mutts Animal Rescue. There will be 3 class you can choose from (or take all of them) for $15 a class. All proceeds will go to Mainely Mutts. Learn more about the classes offered during the fund raiser and sign up here.
Are you offering any specials?
Yes! Our current special offers 5 classes for $35.
Additional upcoming specials include…
Unlimited Winter Break – $49.99 for 1 month of unlimited classes for full-time college students. The unlimited month can start any day in December or January and last for 30 consecutive days. 
Buy $70 or more in Gift Cards on November 29 or 30 (Black Friday + Small Business Saturday special!!), and receive a complimentary set of "Hurt So Good" Massage Balls ($30 value). A $70 gift card will allow the recipient to buy 5 classes.
Photos by Raya on Assignment.