THE INSIDE SKINNY ON… Fuller Gardens!
There's a secret garden in our backyard – one you can find while driving along the scenic New Hampshire coastline. Tucked away from the exquisite mansions of Ocean Boulevard, there lies a hidden garden estate fit for a fairytale!
Fuller Gardens is nestled in a quiet neighborhood just steps from the sweeping ocean views and rocky coast of North Hampton. Quiet and spacious, it feels like miles away from everything.
Upon our very first visit this summer, the sheer natural beauty of the grounds truly took our breath away…
What was originally commissioned as a private summer home in the early 1900's, is now a historic, non-profit garden estate that is open to and enjoyed by the public. The meticulous level of care that the garden crew provides to the lush landscape, makes Fuller Gardens a true seacoast destination during the spring, summer, and early fall. On property, there are three main rose gardens, a Japanese garden with a koi fish pond, and a conservatory. It is no wonder that this horticultural oasis has inspired countless photographers, artists, and nature enthusiasts, since it first opened its doors to the public in 1958.
How did Fuller Gardens come to be? 
Successful businessman and former Governor of Massachusetts, Alvan T. Fuller, commissioned this estate (originally named Runnymede-by-the-Sea) for his wife, Viola, in the early 1900's. Originally designed by Arthur A. Shurtleff in 1927, the gardens were later revamped by the Olmsted Brothers of Boston in the 1930's. Although the rose varieties have changed over the years, much of the garden design has stayed true to the Olmsteds' original artistic vision.
Fuller Gardens hosts public, private, and members-only events (a picture-perfect spot for a wedding) throughout the season. Its annual Reggae n' Roses event will take place outdoors this coming Friday, and we're all invited! Stroll the grounds with a beverage in hand, while listening to the jazzy tunes of a live reggae band. Reserve your ticket here.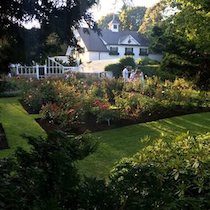 The gardens are open seven days a week, from 10:00 to 5:30, until mid-October. If you haven't been, we recommend putting it at the top of your "To-Do" list. You'll be glad you did!
xx
Maggie