LOCAL FEATURE: Artist, Madeline Gaffey!
I'm thrilled to introduce local artist and North Hampton native Madeline Gaffey! Madeline graduated from Massachusetts College of Art this past May and is now a full-time artist with a brand new studio at Art on the Hill in Kittery, Maine. Madeline is not only extremely talented, but she is also a very sweet individual who has big dreams, and an impressive work ethic. Already making a name for herself on the seacoast, I have a feeling Madeline is going to accomplish incredible things in our community and I can't wait to follow her journey!
Enjoy our Q & A with Madeline below…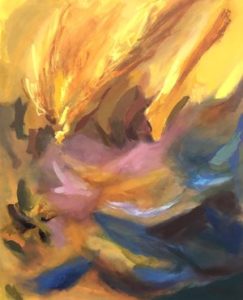 When did you first become an artist?
Art has always been a huge part of my life. Growing up, I wanted to paint just like my mother. She was the person who encouraged me to take art classes outside of school as a teenager, and that's when I became more serious about my art.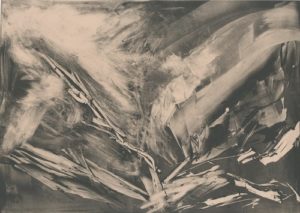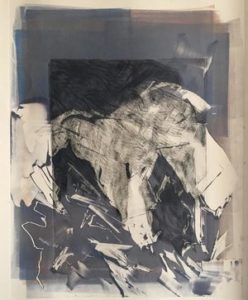 What medium do you use? 
I mainly work with oil paint, but I enjoy making monoprints and etchings as well. It is important to me, that when I'm working through a concept, I create the same idea in a variety of mediums. This allows me the opportunity to problem solve, and cross-reference other works as I'm working. The creation and process are extremely important to me, especially as I pursue a new series of work.
What work are you currently pursuing? 
Right now, the artwork I'm making is mainly abstract. I don't think bigger is always necessarily better, but I like the challenges I face when I set that precedent for myself.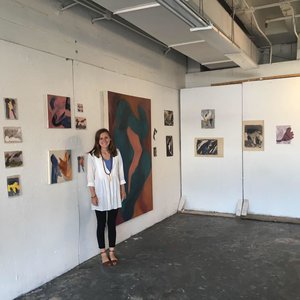 How would you describe your style? 
I enjoy pushing boundaries with color; I always like to switch things up. Mark-making is the main emphasis in my work. The configuration of these marks varies from transparent to opaque.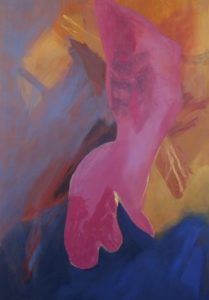 What were your favorite parts about art school? 
My favorite parts about school were the conversations I had with my peers and professors. Being able to engage with so many different practicing artists helped me to see things through various perspectives. I look forward to meeting and engaging with other local artists here on the seacoast!
What do you love most about being a full-time artist?
Having my own studio space has definitely helped me to develop and grow as an artist. I enjoy exploring new directions in this space, and pursuing art as a career. I'm excited for what this new opportunity has to offer for my work.
Someday, I would love to open up my own contemporary art gallery!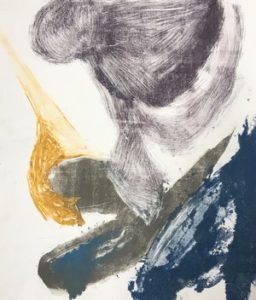 Where do you find inspiration? 
I find inspiration in everyday life. I am frequently inspired by landscapes, which translate into shapes I create in my paintings and prints. I'm also very inspired by other artists. It's important for me to constantly study others' work that I can relate to, whether it be because of similar subject matter, medium, or color scheme; I love learning from what they've already made happen.
Thank you Madeline!
xx
Maggie