LOCAL FEATURE: Boulangerie!
With piping hot croissants, perfectly iced cupcakes, grainy breads, and the best apple turnovers I've ever tasted, it's no surprise that Boulangerie: A Proper Bakery has quickly become a favorite of locals and tourists. Since its opening two years ago, owners Amy and Zachary Tyson have been serving up smiles with their delicious pastries, sandwiches, and sweet treats.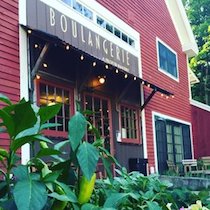 Quietly nestled behind Kennebunk's Main Street, this big red barn-turned bakery welcomes guests with its cozy, homey aesthetic. Amy and Zachary share a commitment to outstanding products and service, use of local ingredients, and a dedication to tradition. Their core values, along with their rotating selection of specialties, and attentive, friendly service, have mad this business a smashing success!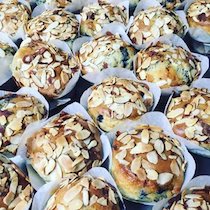 Amy first became interested in baking as a child, when she excitedly watched PBS cooking shows for hours on end. As an adult, she became professionally trained as a pastry chef at Le Cordon Bleu London, and following her degree, became Head Baker at Wolfgang Puck's restaurant in Las Vegas. With a natural zest for travel, and an opportunity to try something new, Amy took a job at an advertising agency in Italy. After a wonderful experience in Europe, she found herself seeking a new and exciting opportunity and decided to give working on a yacht a whirl!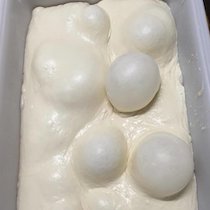 It was through this that Amy met her future husband, engineer and Georgia native, Zachary. The two worked on yachts together, and as soon as their sea legs set foot on the docks of Kennebunk that summer, Amy and Zachary fell in love with this coastal town, the state of Maine, and, most importantly, with the people.
Since that meeting and falling in love with Kennebunk (and each other), Amy and Zachary spent years dreaming up a business where they could work together every day (cute!) using Amy's experience in the baking industry. A traditional bakery where bread rises overnight and pastries bake in the wee hours of the morning didn't exist in the Kennebunks; Amy and Zachary felt compelled to fill that niche and Boulangerie was born!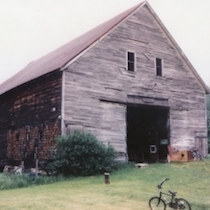 What I found most fascinating, when talking with Amy and Zachary at the bakery, was the story of their barn. In the above photo, you will see a run-down gray building in a field that dates back to the early 1900's. Believe it or not, this is the very same building that is now home to Boulangerie! The barn was transported to its current location, restored to its original charm, and turned into the well-known bakery that we know and love.
Whether you're looking to enjoy a decadent hot chocolate and chocolate chip cookie on a snowy afternoon, or savor a quiche and coffee on the patio in summer, Boulangerie is sure to make your taste buds happy and leave you with a smile!
Quick Facts!
Amy's Favorite Item: Chocolate Hot Dogs (A chocolate baton rolled up in white bread and sprinkled with pearled sugar).
Zachary's Favorite Item: Sourdough!
Most Popular Item: Ham + Cheese Croissants.
Two Favorite Local Products: Casco Bay Butter and Maine Grains.
Hours: Tuesday – Saturday 7:00 – 4:00, Sunday 8:00 – 12:00.
*P.S. Stay tuned on Facebook and Instagram (@aproperbakery) for daily specials!