MEET THE LOCALS: Googly Eye Guy!
Did I just walk by a lion door knocker with two little googly eyes on it?
What?? No. It must be my imagination.
But maybe I'll take a few steps back and look again.
Giggling to myself, I realize my eyes did not deceive me.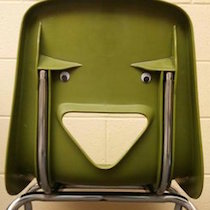 Time and time again, I find myself in this situation; laughing because ofwhat pops out from the nooks and crannies of random places and objects all around downtown Portsmouth.
Have you seen them?
I thought to myself, "Who is this genius?". Thanks to Instagram, I found out. William, a.k.a. @googlyeye_guy (who now now boasts over 1,000 followers on Instagram), shares about the phenomenon he created that is putting smiles on people's faces in an unexpected way.
What do you do with Googly Eyes and why? 
The simple answer is that I put googly eyes on a variety of inanimate objects. The reason I "googly-eye" things is because it cheers me up. In our society, there is a stigma against mental illness. I am not ashamed to admit that I have been dealing with depression for a long time, and still do, every single day. I've been told over and over again to "enjoy the little things," and sometimes that can be harder than it sounds. This past summer, my sister bought me a pack of googly eyes out of the blue. Without really thinking about it, I put them on an object and it was impossible not to smile. It was like I was finally enjoying the little things and I was making them come to life! I knew I found it hilarious, but was shocked when I watched strangers walk past
items I had "googly-eyed" and saw them laughing, taking pictures, and showing their friends. That was when I decided to create an Instagram account to share with others. I love sharing laughs with people!
Each post also includes an original haiku that offers an encouraging, happy, and positive message. All of my posts include the hashtag: #mentalhealth, because I want to cheer people up. After all, who can't smile looking at a "googly-eyed" spoonful of Cheerios?!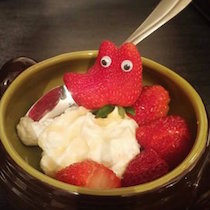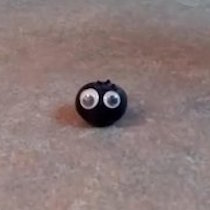 Do you carry googly eyes with you all the time? 
I ALWAYS have googly eyes in my pocket, but I usually carry only two pair at a time. This may not seem like enough (especially for me) but it forces me to use them wisely. I only share the "crème de le crème" of the googly eye placements on Instagram. Most of the other times are just for my own enjoyment (and of course for the strangers who do a double take at something and then burst out laughing).
How do you choose where to put the eyes? 
I "googly-eye" objects that look like they are in need of a little pizzaz. Googly eyes have the uncanny ability to make inanimate objects come to life. They even turn food and plants into characters! Sometimes I'll see something in such desperate need of
googly eyes that I'll return days later to complete the "hit". If you "googly-eye" everything, it's like you're googly-eyeing nothing! I pick my subjects wisely.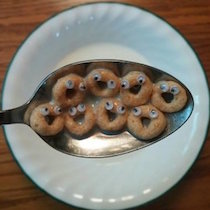 How many sizes of googly eyes do you have? 
I have googly eyes in many difference sizes because you never know what you might be placing them on. I have some so small I need tweezers to place them. I also have googly eyes which are bigger than my head. I have yet to use them though. Maybe one day you will wake up and Mount Rushmore will be googly-eyed!
What do you do when you're not "googly-eyeing"? 
I work with students with special needs; it is challenging work, but very rewarding. I am always surprised by how much they teach me about myself. These kids have the world stacked against them and I gain a lot of perspective working with them.
How long have you been secretly cheering people up with googly-eyes? What drives you to continue with it?
I started "googly-eyeing" things in the summer of 2016. I am driven by the great reception it gets from strangers. I love seeing comments and connecting with people over something that is so simple and silly. I have made pen pals across the country and around the globe. Social media can make the world seem a lot smaller. "Googly- eyeing" has taught me a valuable lesson: If something makes you smile, don't question it!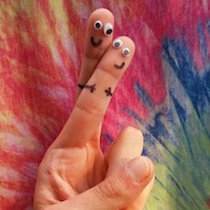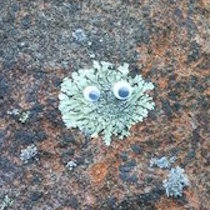 *All photos c/o @googlyeyeguy.