LOCAL FEATURE: Vinegar Hill Music Theatre
To everyone whom I've raved about this seacoast jewel, I apologize; but this will not be the last time! The Kennebunks' newest entertainment venue, Vinegar Hill Music Theatre, might possibly be my new favorite spot for a night on the town…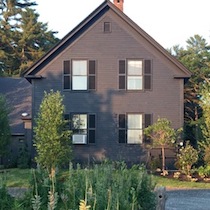 My expectations for Vinegar Hill Music Theatre were set high after I first learned about it this past spring, but when I visited for opening night in late June, I was truly impressed. Vinegar Hill far exceeded what I had dreamed it would be – and that was before we stepped out of the car!
Every detail is meticulously-executed, from the lush landscaping and outdoor tea lights, to the craft concession stand and full barn restoration. The lawns are perfectly manicured, the restrooms chic and immaculate, and the interior of the building is absolutely stunning. With just one glimpse, you can tell the team behind Vinegar Hill put a lot of love and hard work into the restoration of this historic barn, creating a truly stunning seacoast masterpiece. And don't get me started on the talent… it's incredible!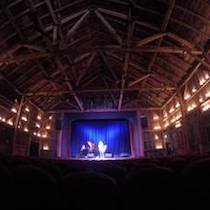 Just a short drive from downtown Kennebunk in Arundel, Maine, Vinegar Hill is a seasonal venue that holds a variety of performances ranging from jazz musicians and comedians, to big band trios and dance parties, through October. Prior to becoming "Vinegar Hill Music Theatre," the 1800's structure was well-known as the Arundel Barn Playhouse. Before that, the Smith Sisters' Timber Barn. The name for this 19th century building comes from the area in which the theatre stands, previously referred to as Vinegar Hill. Don't you love the rich history we have here on the seacoast?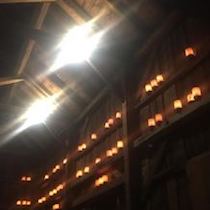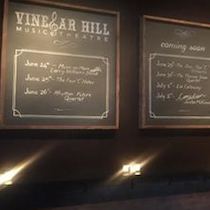 This past spring, I met with Deb Lenon, owner of Vinegar Hill Music Theatre. She and partner Tim Harrington bought this previously run-down building in December of 2015, and enthusiastically began restoration with dreams of providing top quality entertainment for the community. The theatre is run by Creative Director George Dvorsky, a former Broadway performer.
Be sure to check out Vinegar Hill's performance schedule here. Trust me; you will enjoy the entire experience from start to finish! And if you don't believe me, ask President George Bush and Barbara Bush – they were there on opening night!
(Vinegar Hill also hosts weddings and special events!)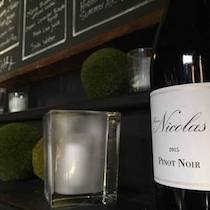 (Arrive to the show early to enjoy craft cocktails, wine, and snacks in the outdoor garden!)
(Dinner before the show at Earth at Hidden Pond…)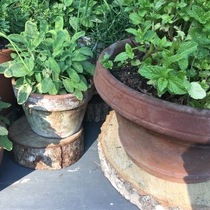 *Photos c/o Seacoast Lately and Vinegar Hill Music Theatre.