LOCAL FEATURE: Sweet Grass Farm
Sweet Grass Farm is a family-run, locally-owned business where the products are top quality and the employees are nice, down-to-earth, people…that's enough of a draw to win me over! Lucky for us, they have much more to offer…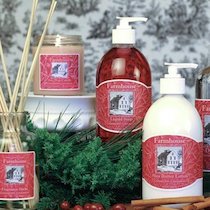 On my recent visit to the Sweet Grass Farm headquarters in Greenland, New Hampshire, I was welcomed by the friendly team behind this natural, hand-made body care and home essentials company.
Lynn showed me around the company's brand new warehouse (and sweet storefront) where the entire business is run – from creation to packaging to shipping and everything in between! The rustic-chic upstairs is where I met Deb, the owner, who started Sweet Grass Farm in her kitchen back in 1997.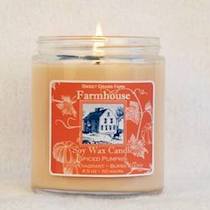 At first, Deb began making soaps as a hobby. The hand-made bars of soap created such high demand that Deb left her corporate job and transitioned into running Sweet Grass Farm full-time, adding new products and selling at local shops like Abode and Fresh Market along the way. The soap (and all products) continue to be made, packaged, and labeled by hand. Love it!
Every Monday, soaps are hand packaged using the same labels they've had since day one. Sweet Grass Farm works with variety of local businesses throughout the seacoast who sell their products and the company is forever grateful for their years of support and for the businesses who carry their natural products across the country.
Sweet Grass Farm's 'Holiday Greenery' has been the official scent of Christmas in my house for many years (It smells exactly like a Christmas tree)! As it turns out, 'Holiday Greenery' is their most popular scent during the holidays across all products lines, ranging from dish soap and hand lotion, to room spray and bar soap! The rest of the year, the company's most popular scent is…lavender. Do you have a favorite scent from Sweet Grass Farm?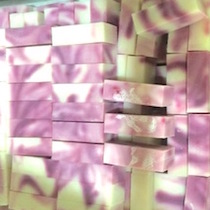 If you would like to get your hands on some wonderful Sweet Grass Farm products, swing by their holiday pop-up shop! Everything in the store is 20% off and they display a lot of amazing products into this sweet little space. They are open every day, 11:00 to 5:00, through December 23rd.
Thank you so much to Lynn, Deb, Jan, Fred and Samson for showing me around your wonderful place of work…I didn't want to leave!
xx
Maggie
*All photos c/o Seacoast Lately and Sweet Grass Farm.