THE INSIDE SKINNY ON… AMY DUTTON HOME'S "NEW ENGLAND EXPANSION"!
Photography by Danielle MacInnes Photography.
After admiring Amy Dutton Home's work for many years, we know full well that Amy herself is one talented interior designer and architect. So it comes as no surprise that she inspires us yet again with one of her latest projects—a historic, freshly-updated New England home!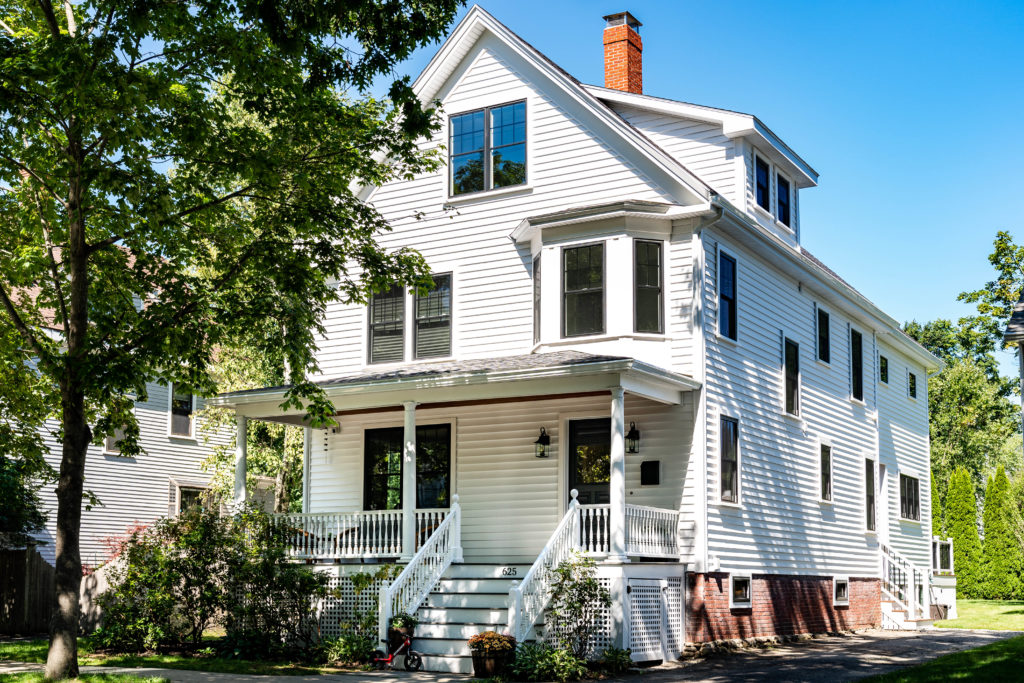 With a grand vision and big dreams new Portsmouth homeowners took advantage of a very fast-moving market in 2020, closed on this historic house, and were "reno ready" right away! While the lot is narrow, it is also deep, so the team was able to put on an 18' addition.
The result?? Well, let's take a look!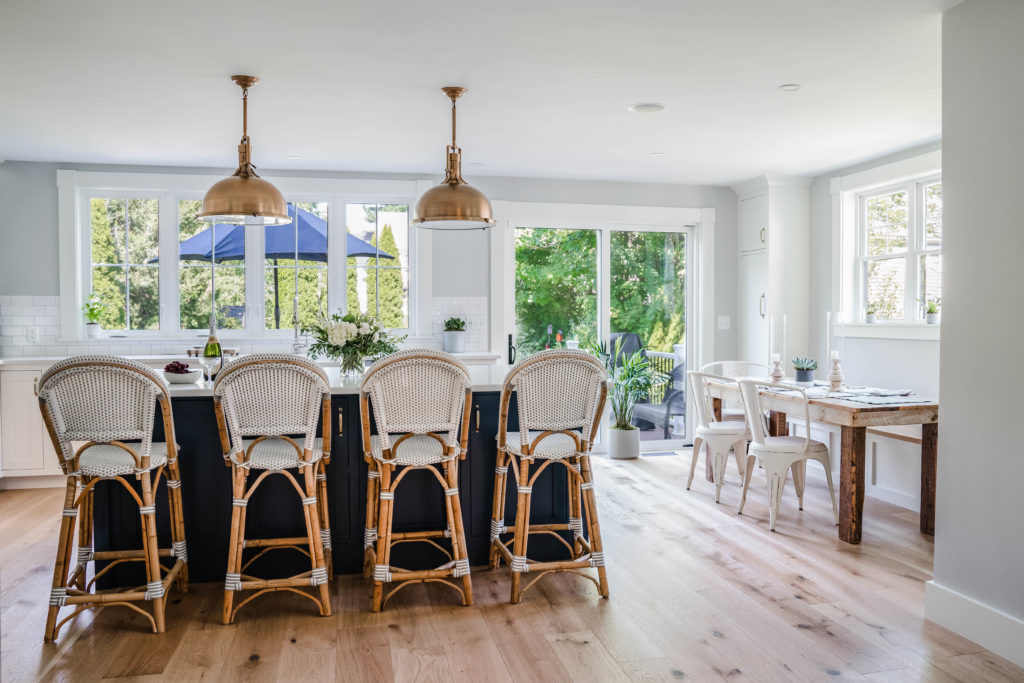 The interior of the house was gutted down to studs in order to run new wiring and HVAC efficiently. And while some things remained the same, other parts of the house embraced the new addition and open space.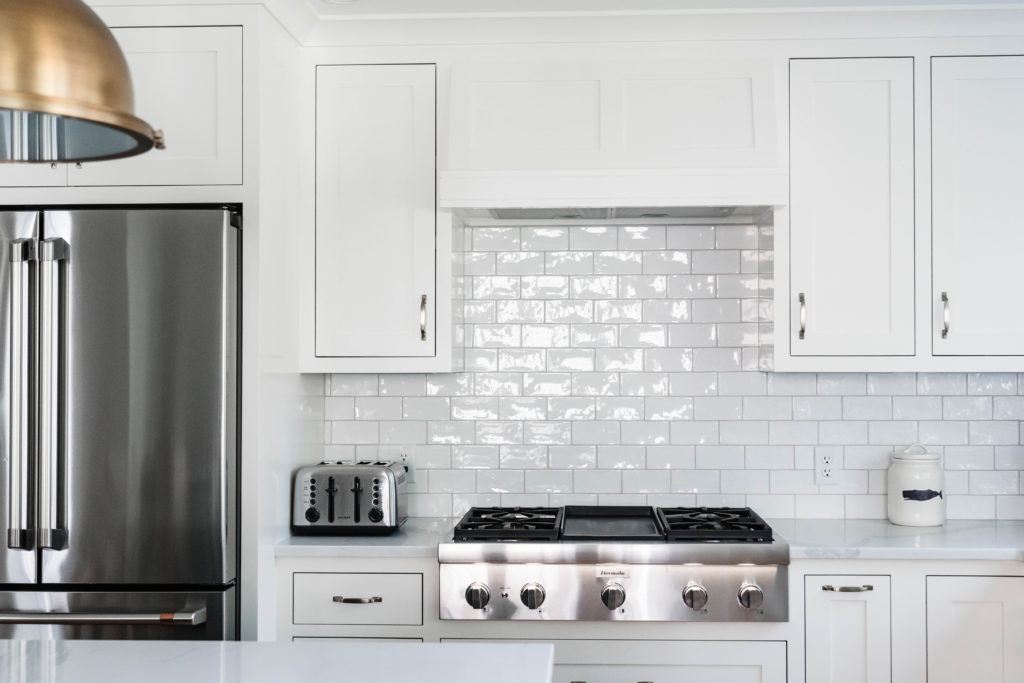 FIRST FLOOR LAYOUT…
The front entryway, with the staircase and front room, stayed the same, although they were dressed up a bit with built-ins and materials. The existing kitchen became the perfect landing for an entry area off the driveway side, to create a powder room and mudroom. From there, a structural hallway wall led to the addition of a large eat-in kitchen and dining room. There is a beautiful new deck off of the back of the house that leads down to a large yard for the kids.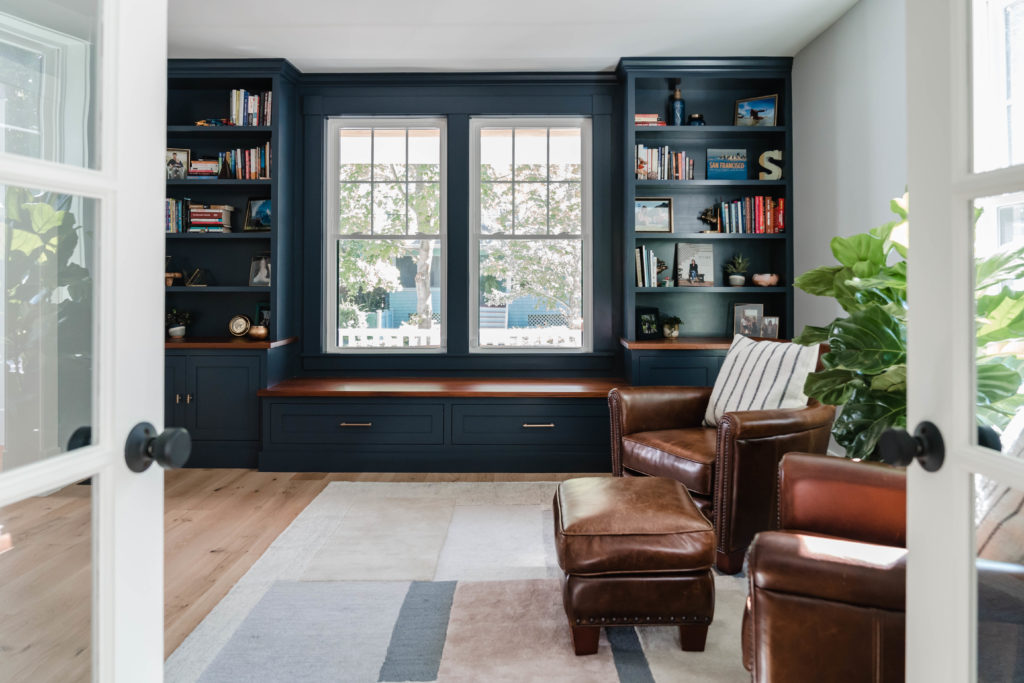 SECOND FLOOR LAYOUT...
The second-floor staircase lands at its original spot, with a former front bedroom turned into a playroom. The bedrooms off of the hallway were simply painted, wallpapered, and given new built-ins. The addition on the second floor became the primary suite, with a large walk-in closet, bedroom, and bathroom, complete with water closet, double vanity, and a large shower.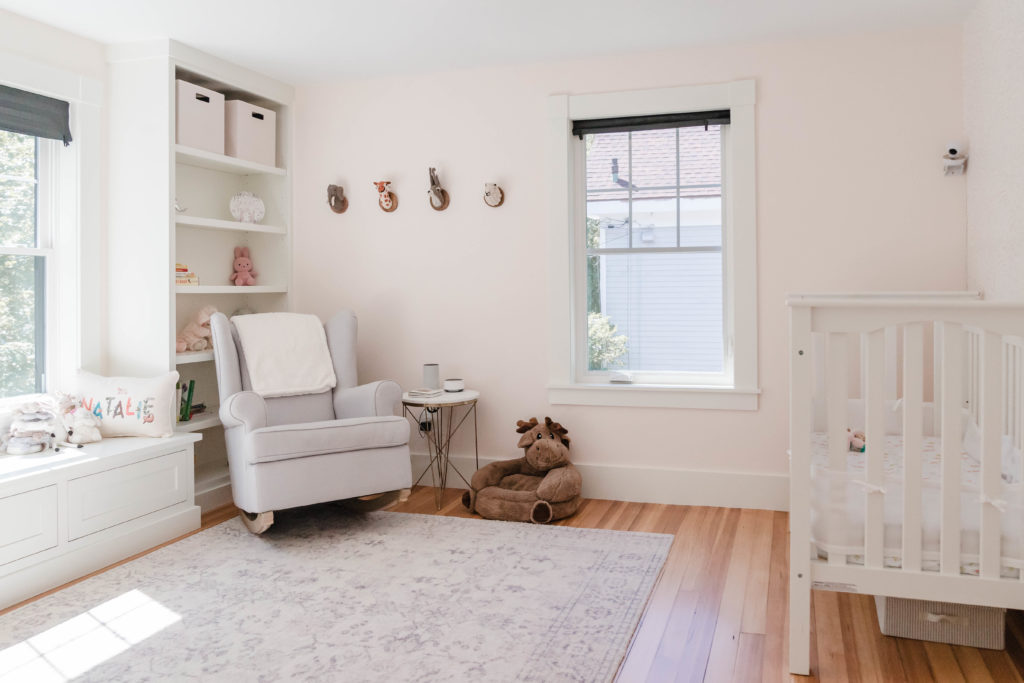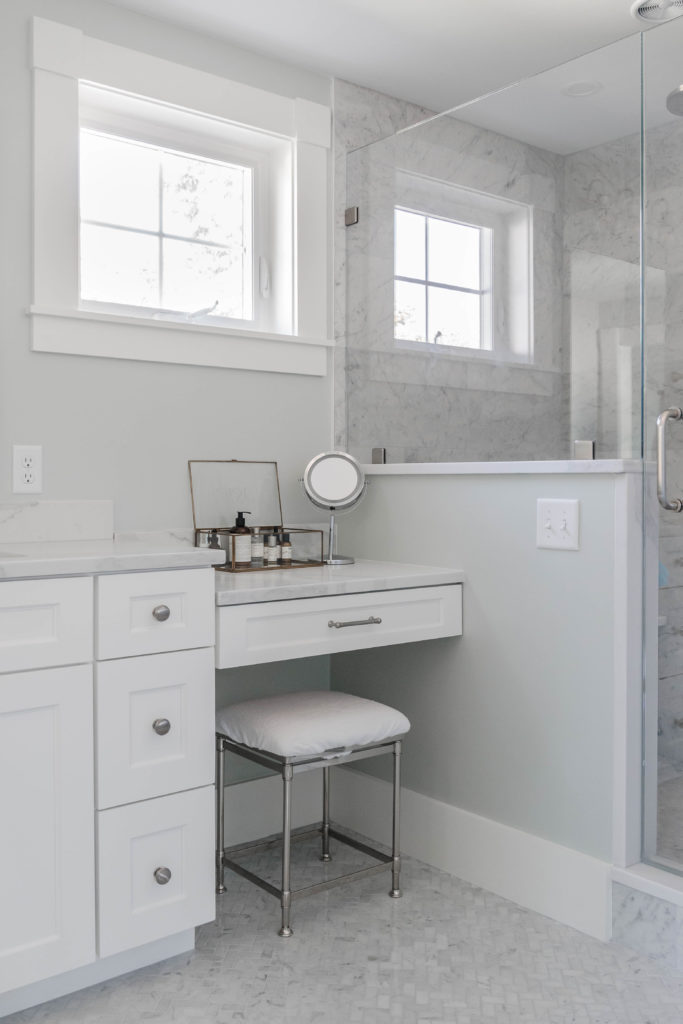 THIRD FLOOR LAYOUT...
The new staircase and dormer create a sunny and welcoming entrance to the third floor, which houses a bathroom, guest room, office, and family room. The eaves even offer areas for storage, as well as HVAC lines! Functional and beautiful? We're all about it!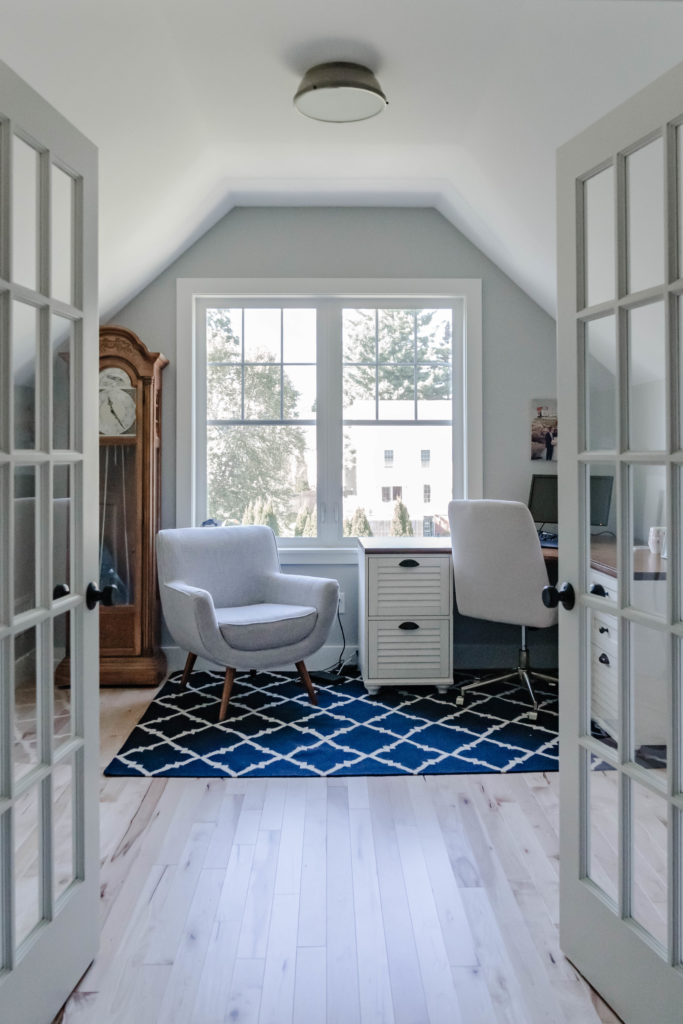 COLORS...
Amy Dutton focused on neutrals on the walls, with "Grey Owl" as the main wall color, which carries all the way from the front entry to the third floor. "Hale Navy" is the color for the library's built-ins and the TV wall, while the kitchen island is "Newburyport Blue", which pairs well with the kitchen's main cabinet color, "Simply White". Adding color to the built-ins introduces interest, while staying neutral enough to let accessories balance out the aesthetic.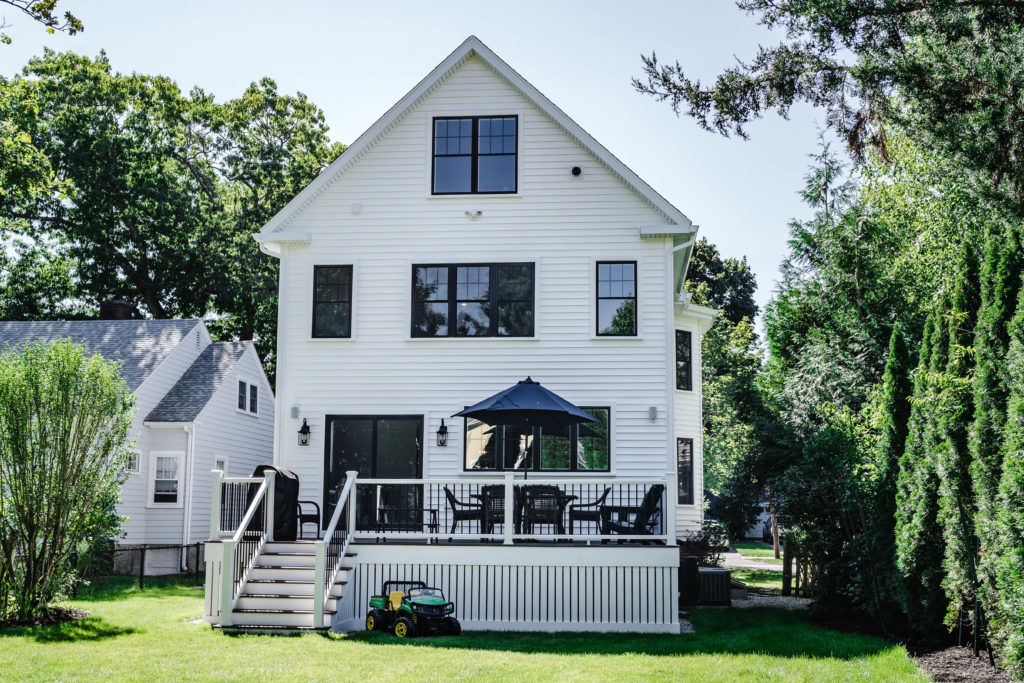 EXTERIOR...
The goal of this project was to create a farmhouse-inspired home, with white siding, and black windows and roof. The front door is painted in Benjamin Moore's "Raccoon Fur".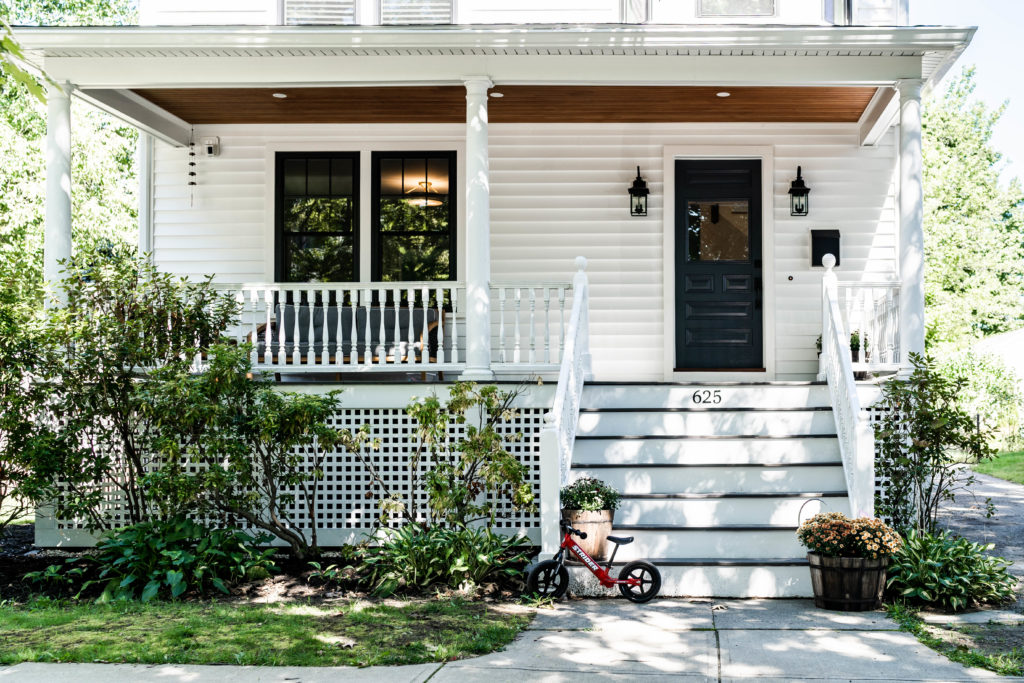 And voila! A beautiful and complete project!
IF YOU LIKED THIS POST, YOU MIGHT ALSO FANCY…