DINING & TAKEOUT AT EPPING'S BRICKYARD SQUARE THIS WINTER!
In the mood for a one-stop experience complete with dining, shopping, and entertainment??
Welcome to Brickyard Square!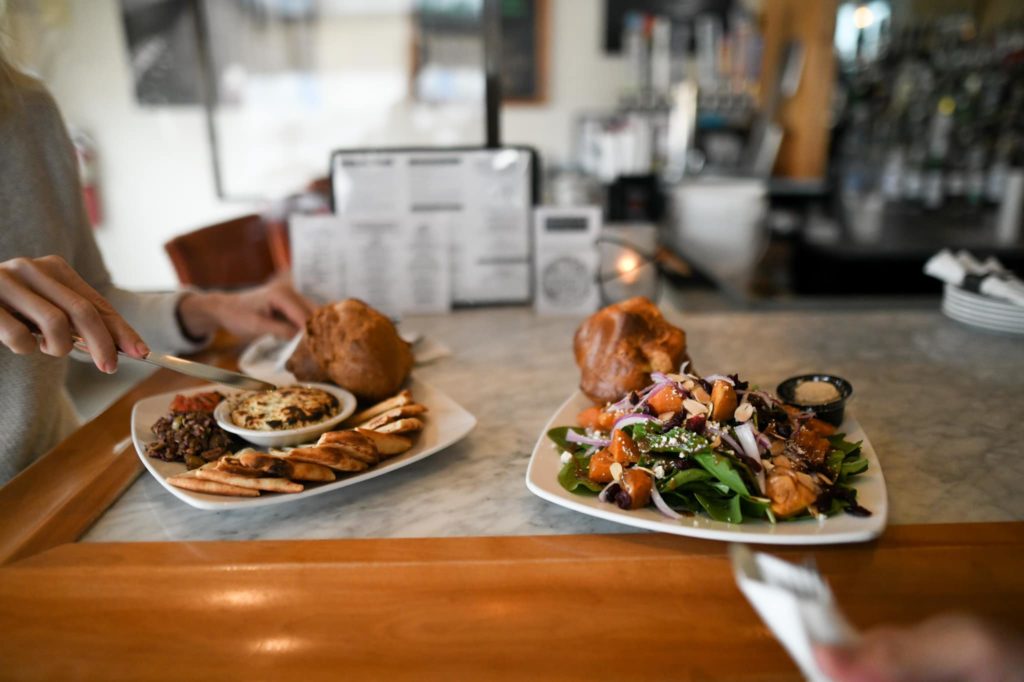 Whether you're in the mood for a sit-down dinner, takeout, or lunch on-the-go, this Epping, New Hampshire open air shopping center offers a variety of options when it comes to eating out on the Seacoast—complete with friendly service and plenty of complimentary parking!
Meet some local eateries we can enjoy at Brickyard Square this winter!
BRICKYARD NUTRITION
Brickyard Nutrition is a destination for healthy eating! From protein shakes and energizing teas, to smoothie bowls, this fuel-rich oasis always packs a punch of nutrients and flavor. Socially-distanced indoor dining, takeout, and online ordering are available daily.
CINCO'S CANTINA
Fajitas! Quesadillas! Handcrafted Margaritas!
Cinco's Cantina is open for lunch and dinner 7 days a week—for indoor dining and takeout. Cinco's Cantina is family owned and operated, and is proud to serve authentic Mexican cuisine on the Seacoast! Cinco's also offers delivery through Takeout Guys and DoorDash.
POPOVERS ON THE SQUARE
In the mood for a healthy salad, a hearty sandwich, a mid-morning coffee, or a homemade sweet treat? With full service dining and a full bar for enclosed patio dining, online ordering, and an array of options on the menu, Popovers on the Square is sure to please your tastebuds noon and night—7 days a week!
BEACH PLUM
It may be winter, but there's no stopping us from enjoying a little taste of summer on the Seacoast! Thanks to the Beach Plum, we can indulge in classic New England favorites like lobster rolls and fries, fried clams, chowder, wraps, burgers, fries, ice cream, and more all year long! Visit Beach Plum daily for lunch and dinner. Online ordering and curbside pickup are also available.
Kume Japanese Steakhouse
Craving authentic Japanese cuisine? Us too! Visit Kume Japanese Steakhouse for freshly rolled sushi, noodles, fried rice, and other popular dishes—for indoor dining and takeout every day of the week! Online ordering is also available.
THE OVEN
In addition to serving its famous pizza, The Oven offers a wide variety of mouthwatering appetizers, delectable desserts and a full bar featuring handcrafted draft beers, local wines, and daily drink specials. The Oven is now open for socially-distanced indoor dining as well as takeout—for lunch and dinner every day. Local delivery from DoorDash and Gofer, and curbside pickup are also available!
WRAP CITY
The Wrap City team is committed to making fresh, great-tasting food every day of the week. From their homemade potato chips, to the endless selection of unique wraps and sandwiches, Wrap City is a go-to destination for lunch, dinner, and catering. Plus, this eatery is now offering contact-free pickup for online orders!
We hope you enjoy dining and takeout at these wonderful local establishments this winter, and all year long!
PHOTOS BY RAYA ON ASSIGNMENT.