THE INSIDE SKINNY ON WE FILL GOOD!
To celebrate "Plastic-Free July," we're shining a light on the Seacoast's queen of sustainability—Marla Baldassare—owner of Kittery, Maine's eco-chic boutique, We Fill Good! Below, Marla shares her story and mission…
In a few sentences, what is We Fill Good?
We Fill Good is a low-waste refill store offering affordable, eco-friendly products for your body and home. The goal is to reduce our plastic waste. Pop in and learn how to easily reduce waste with non-toxic products that are often refillable and reusable!
What compelled you to start your business?
I am originally from Los Angeles, which is a very environmentally-thoughtful community. Growing up in that area taught me to be conscious of eco-friendly practices at a very early age. Personally, I am passionate about sustainability, and believe we all have a role to play in making the world a healthier place. I have visited many refill stores in the United States, and love the idea of bringing like-minded brands together under one roof to create a resource that is dedicated to lessening our environmental footprint. Realizing the Seacoast didn't have a stand-alone sustainability store, I decided to start one! We Fill Good was born…
What are some of the most popular products in-store right now?
Reusable cloth face masks are one of our best-selling items these days! We've been donating some of these masks to high-risk individuals who aren't able to pay for them. Cleaning products for the home, hand sanitizers, refills of hand soap, insect repellent, sunscreen, shampoo and laundry pods are very popular as well.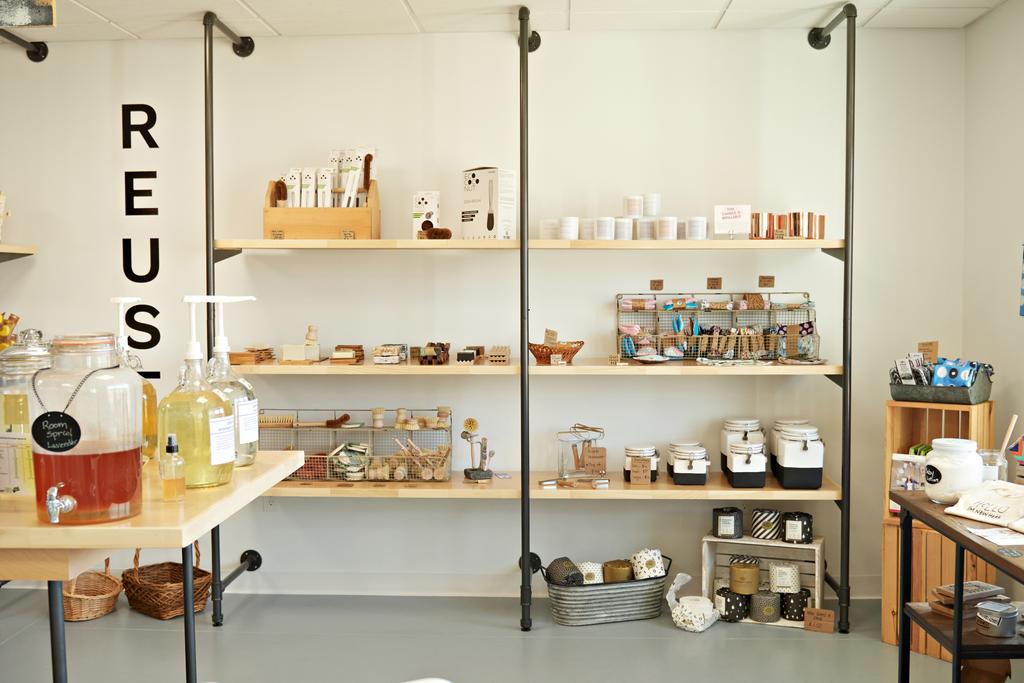 What do you want people to know about We Fill Good?
We sell cleaning products for your home and body that are non-toxic for both humans and the planet—a win-win! All of the products we sell are affordable, and may be less expensive than larger brands we often see at bigger stores. One of my favorite parts about running We Fill Good is when customers come in for the first time and ask "How do I start to become more conscious and reduce the plastic in my home?" I love being able to help!
Can you share a few of the things that sets your store apart?
Of course! Customers are encouraged to bring in empty containers (Plastic ones are okay—we're reusing them!) to fill up with goodies at our product bar.
At We Fill Good, we sell hand soaps, laundry detergent, shampoo bars, bamboo toothbrushes, unpaper towels, sponges, and many more household items that are eco-friendly! We also sell a variety of items and toys for babies and children.
Thank you for sharing more about your store with us, Marla!
If you haven't stepped into We Fill Good yet, we think you'll really enjoy this unique and welcoming storefront. Cheers to shopping locally and sustainably!
P.S. Marla's hosting some fun giveaways on Instagram, so be sure to check in often!
IF YOU LIKED THIS POST, YOU MIGHT ALSO FANCY…