MEET THE MAKERS GUIDE (MAINE)!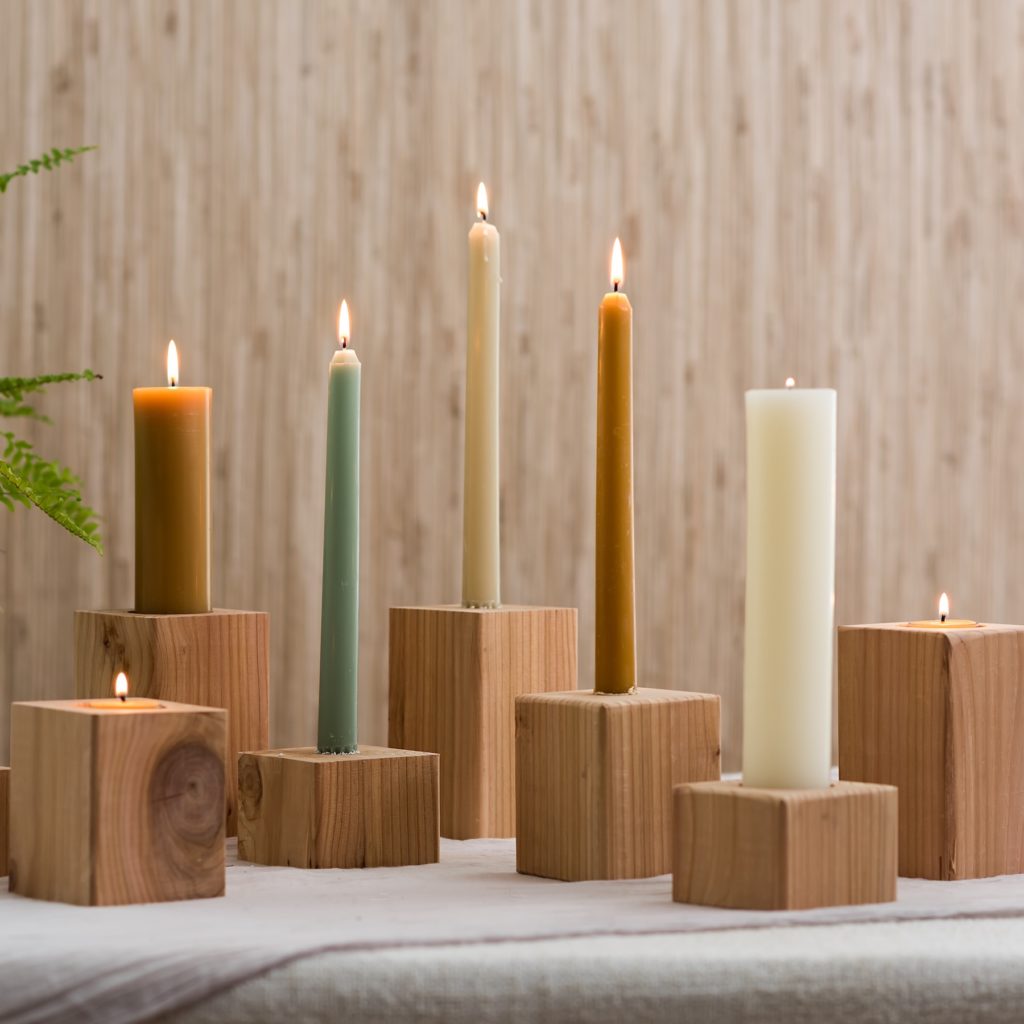 We are absolutely blown away by the incredible talent that surrounds us here on the Seacoast which is why we're so excited to share our first annual MEET THE MAKERS GUIDE: Maine edition!! Whether we enjoy these beautiful products in our homes or gift them to people we love, the endless creativity and beautiful designs shown through artists and makers' work, will bring so much beauty to our lives.
So without further a do, it's time to MEET THE MAKERS!!
Thirdlee & Co. was established in 2017 by designer Michelle Provençal as a home for her decorative felted ornaments. Thirdlee's signature ornaments are recognized for their sophisticated treatment of sea-side themes and attention to detail (and extreme cuteness!!). Michelle's original designs are directly inspired by a deep connection the tidal landscapes and coastal waterways of Southern Maine's Biddeford Pool and Saco Bay where her family has made memories for generations!
A FEW THINGS TO NOTE ABOUT THIRDLEE & CO.:
Michelle graduated from Pratt Institute in 2001 with a degree in Industrial Design. She has worked as an in-house designer for a handful of well-known brands including Pottery Barn, Anthropologie, Urban Outfitters, and Coach!
Where does the name "Thirdlee" come from?? Find out here.
La Marée Art was started sort of by accident… Art has always been a huge passion of Meghan's—something she always did in her down time, but never thought going full-time with it was an option. Right after college, Meghan moved to France, and while devouring croissants and embracing the abundant vineyards, decided to start my Masters in Art Therapy in Nice. A few wonderful years went by and Meghan eventually decided to return to her home state of Maine.
It was at this time she started playing with resin and she found a groove. Meghan was working and creating full-time, and La Marée Art was officially born.
Meghan creates a wide variety of functional ocean-inspired art but specialises in serving boards and wall art. Whatever the product, each one is handcrafted by Meghan at her Portland, Maine studio, and each piece is unique and one-of-a-kind!
A FEW THINGS TO NOTE ABOUT LA MARÉE:
Most of La Marée's pieces have 2-4 layers of resin and sometimes take up to two weeks to create!
The entire Rope Co. team is absolutely IN LOVE WITH MAINE and the amazing, natural landscapes it holds—from its rugged coastline and islands, to its farmlands, fields, mountains, forests, blueberry fields, lakes, and rivers! The team draws inspiration from the beautiful state of Maine and other travels, as they design and create their timeless rope goods including a beautiful selection of doormats, chunky rugs, placemats, keychains, baskets, and more!
The Maine based Rope Co. team believes that real quality is subtle and beautiful. Each piece they make is made with intention; timeless pieces that you'd like to have a part of your home forever.
A FEW THINGS TO NOTE ABOUT THE ROPE CO.:
*The Rope Co. team enjoys making quality, useful home goods that last and that they stand behind, here in Maine. Born and raised on the coast of Maine the founders of the company do their best to encourage a culture and a way of business in everything they do that is honest, genuine, selfless, and fair. We can certainly stand behind these values!
*Check out The Rope Co.'s blog to read about their family history and values!
As a small, two-person Maine-Made business, all of ReclaiMEd Sign Co.'s products are custom designed and handcrafted to create one of a kind pieces that show love for where you live, what you do, or whom you love!
At the heart of their mission, owners Mary and Will are committed to sustainability and to giving back to their home state. All of their beautiful wood products are made from reclaimed wood. Each one of their Maine cutouts and signs are jigsaw cut by hand, with attention to detail and quality. They love that each piece is unique in regards to grain pattern, knots and other wood characteristics.
A FEW THINGS TO NOTE ABOUT RECLAIMED SIGN CO.:
*As a couple of outdoors people, and with their love for the environment, Mary and Will's hope is to help prevent deforestation by reusing wood instead of buying new. By preventing deforestation, we help sustain habitats, prevent soil erosion, and decrease expended energy to extract and process new materials.
In a world of products made to break down, throw away, wear out, or go out style, seamstress Katrina Kelley goes against trends to create beautiful items that only get better with time! At her Midcoast Maine studio, Katrina designs timeless, durable products with long-lasting fibers (such as linen and organic cotton), while using simple colors that evoke a timeless beauty. In Amphitrite Studio's online shop, you'll find high-quality products such as tea towels, tea shirts, aprons, bags, and so much more that are each carefully crafted by the artist herself!
A FEW THINGS TO NOTE ABOUT AMPHITRITE STUDIOS:
In addition to sewing home goods, Katrina also designs small batch clothing that feature natural fibers like bamboo. The Studio also offers small home decor, plants, Maine made soaps and more for the sustainable, eco-chic home!
Becky McKinnell of Wildwood Oyster Co. is a designer, mom and entrepreneur who dreams of all things beach and summer! She grew up in Scituate, Massachusetts, where she first discovered her love for salt air. Today she lives in Cumberland, Maine with her husband and daughter. As a family, they spend their summers exploring the islands of Casco Bay tending oysters; they spend their winters enjoying the ski slopes of Maine!
At Wildwood Oyster Co., there is a beautiful selection of nautical-inspired gifts and accessories that combine classy sophistication with an easy, breezy flare. Necklaces, totes, clutches, and keychains fill Wildwood Oyster Co.'s online website. We can't get enough!
"To me, there are two smells I love— the smell of New England salt air and the smell of leather. I want everyone who loves the ocean as much as I do to have fashionable accessories that they can wear on their daily adventures, even when they can't be on the water."-Becky
A FEW THINGS TO NOTE ABOUT WILDWOOD OYSTER CO.
Becky is also the founder and president of iBec Creative, an award winning ecommerce agency in Portland, Maine.
While reuniting with her longtime friend Julius in March 2012, Susan learned about a candle company that was for sale in Kittery Point. At the time, Susan was living in South Carolina, but decided to meet with the Bartram's Beeswax Candle owners (and former beekeepers) while spending time in Maine. Right away, she knew it was a fit, so in May of 2012, she moved to Kittery Point and Bartram's Beeswax Candles became Seapoint Chandlers! Seapoint Chandlers now sells a variety of candles in various shapes and sizes—from beeswax taper candles to personalized event favors.
A FEW THINGS TO NOTE ABOUT SEAPOINT CHANDLERS:
The name Seapoint Chandlers was inspired by nearby Seapoint Beach and Julius's grandmother's maiden name—Chandler—which means candle maker. How serendipitous!!
Childhood summers spent on Nantucket, a lifelong passion for the coast, and years of experience as an esthetician led Meg Spencer to start FINN & CO. Founded in 2014, Meg brought together natural formulas to bring memories of the beach to our everyday lives through candles, fragrance oils, and lotions.
New England native and one of FINN & CO.'s earliest customers, Amy Tulip, fell in love with the beachy fragrances upon first drift of FINN & CO's signature scents. In 2019, Amy purchased the business from Meg who remains on board as a creative consultant.
A FEW THINGS TO NOTE ABOUT FINN & CO.
Meet the fragrances! "Black Sand" was inspired by the little black dress and the moment the sun goes down, with scents of warm sandalwood, vanilla and musk. "White Sand" was inspired by the classic white tee, the scent of honeysuckle, mandarin and a touch of sea salt…
Nautical life runs deep in Stern Lines' family heritage, which dates back to 1760, when their ancestors set a high standard in ship building and sail making in Mystic, Connecticut. Much like the Mallory family used the materials available around them to produce a seaworthy vessel, Mike and his team carry on the same mindset today, as they handcraft a unique and nautically-inspired line of products.
When it comes to their handcrafted lobster rope doormats, uniqueness reigns. Each doormat that the team creates at Stern Lines tells a different story as to where the rope originated. Although the patterns may be similar, no two are ever the same!
A FEW THINGS TO NOTE ABOUT STERN LINES:
While Stern Lines may be known for its rope doormats, they also sell a variety of other coastal-inspired goods such as deckhand bags, apparel, accessories, and more!
Often times, the products that end up on your doorstep or dock were just reclaimed as old lobster fishing gear out of the Atlantic a few short days or weeks prior to its arrival at your home!
The Acadian offers everyday carry products from its workshop located on the coast of Maine. From handcrafted pens and finely stitched leather products, to bags and cases, the team prides itself on crafting high quality products with an authentic Maine flair.
Founder Chris Cavallari began leather and wood crafting several years ago, and fell in love with the process—the feeling of creating, along with the beauty of minor flaws, add so much character to hand-finished products.
Because each pen, notebook, journal, passport cover, and wallet is crafted into wearable artwork or a treasured keepsake, with the proper care, all of The Acadian's products can be passed down from generation to generation!
A FEW THINGS TO NOTE ABOUT THE ACADIAN:
If you're wondering what to get a special someone in your life, The Acadian offers curated gift guides for groomsmen and graduations, as well as corporate gifts!
Not only will Sea Love Candles seamlessly blend into the aesthetic of your home, office, or favorite space, the subtle warm scents of these all-natural coconut soy wax blend candles will keep you coming back for more! Sea Love Candles handcrafts their premium home fragrances with lots of love at their new DIY candle bar & scent studio in Kennebunk, Maine! This small batch technique ensures attention to detail and top quality in your products, giving you the best fragrance possible. Clean. Minimal. Uncomplicated. A return to simplicity that reflects their ingredients and ethos. In addition to providing natural and clean home fragrances, they source all materials through suppliers who provide eco-friendly alternatives to packing, production, and fulfillment.
A FEW THINGS TO NOTE ABOUT SEA LOVE CANDLES:
Sea Love Candles offers subscription boxes and candle refills!
Maine's first custom candle experience will open in Kennebunk, Maine on June 1! Sea Love Candles & Company gives the opportunity to experience a beautiful apothecary and custom create premium candles from a choice of over 60 different fragrance oils. Reservations are not required, and walk-ins are always welcome! You can also schedule a private candle pour party! Have a girls night out, enjoy happy hour with your work team, or grab some friends for couples date night!
Swans Island Company was founded in 1992 by John and Carolyn Grace—two Boston lawyers who escaped the rat race to move to Swans Island, off the coast of Maine, and embark on a simpler way of life. On the island, John and Carolyn taught themselves how to create beautiful blankets reminiscent of the ones John recalled from his youth—simple, classic handwoven blankets made with fine locally sourced wool. They taught themselves how to dye by hand with natural dyes and to weave by hand on antique looms.
The business has since moved to Northport, Maine, where the Swans Island team hand weaves heirloom quality blankets, knit apparel, woven apparel, accessories, and beautiful, hand-dyed knitting yarns. As always, Swans Island remains dedicated to keeping the traditions of fine textiles and impeccable craftsmanship alive in Maine.
A FEW THINGS TO NOTE ABOUT SWANS ISLAND COMPANY:
Add custom monograms to your Swans Island piece!
Learn about Swans Island's Corporate Gifting Program!
All of the work from Betty Louise Studio is inspired by Maine's rugged, organic beauty—from the rocky coastline, to the lakes and mountains of this beautiful state.
Since she was little, Katie has always been drawn to art, and loves using her hands to make beautiful things. She is forever fascinated by the process of taking a material or item and transforming it into something that hadn't existed before. Katie was a Visual Arts student at Bowdoin College where she immersed herself in painting and sculpture, and over the last 15 years, her art has evolved and taken on many different forms. In 2014, Katie officially started Betty Louise Studio (named after her late maternal grandmother), and enjoys exploring different mediums which means we'll always find something new & unique in her Etsy shop. Although Katie's work is ever changing, you can always count on her to continue making her famous "Maine Lobster" hats, woven wall hangings, and hand beaded earrings.
A FEW THINGS TO NOTE ABOUT BETTY LOUISE STUDIO:
In the weeks to come, Katie will be releasing my first collection of original abstract paintings.
When her children were babies, Kari made homemade lotion and eczema cream. During this time, her love for natural skincare products began. Soap making was a natural progression for Kari, and she was hooked after making her first batch! Soap making blends science and creativity with website and business management, so all of Kari's goals were met! Veda Francis offers bar soaps and bath bombs, and lip balms are coming soon! Preserving our earth is important to Kari, which is why you'll find eco-friendly packaging, cruelty free practices, and natural, sustainably-sourced ingredients in her products.
A FEW THINGS TO NOTE ABOUT VEDA FRANCIS:
Before becoming a soap maker, Kari was unaware of what soap really was and what it could be. Now more than ever, she believes in the power of what nature gives us. The difference in her skin since using all-natural soap is amazing! Learn more about Kari's ingredients and formulas here.
Veda Francis has a 'filter by' menu on its website to help lead customers to particular formulas, but Kari encourages anyone to send her an email for a personal recommendation!
Hills & Trails is an outdoors-inspired lifestyle shop located in Biddeford, Maine, where a local artist duo designs and creates original prints and apparel! Their "outoorsy goods for outdoorsy people" approach is minimal and modern, yet still has that rustic edge that reminds the artist and customers alike of beautiful, nature-filled time in Maine.
A FEW THINGS TO NOTE ABOUT HILLS & TRAILS:
Watch this video and learn how Kanya and James started their business in 2016!
Freeport, Maine artist Christine embarked on a healthier lifestyle journey a few years ago. Her experience, and passion for sustainability led her to make her own personal care products, including candles! With a background in biology and chemistry, mixing and blending ingredients came naturally to her, and soon Christine was making so many coconut wax candles and beauty products, that she decided to start her business—Tidal Living!
All of Tidal Living's products are made from scratch in small batches with an emphasis on organic, high quality, and food grade ingredients. Christine strives to make products that are effective, with a pinch of decadence, because she believes that taking pleasure in life's small moments and creating spaces we love is important. We agree!
A FEW THINGS TO NOTE ABOUT TIDAL LIVING:
Tidal Living is a lifestyle brand. The name was inspired by Christine and her husband's affinity for the ocean and consciousness of the tides. Through thoughtful design, coastal color palettes, and eco-friendly packaging, Christine cares for our environment, while bringing natural beauty into our world!
Inspired by the beauty of natural materials and the art of design, a beautiful boutique in Kennebunkport, Maine was born… Welcome to Minka! Minka's owners, Michelle Rose and Chris Larochelle, are partners in life and in work; a passionate team committed to creating modern art and home goods that are timeless in design and useful in their purpose.
Michelle designs most of the Minka product lines which combine natural elements and traditional techniques with a modern aesthetic and a keen eye towards function. Michelle's love of color and texture pairs masterfully with her timeless style. Her work is distinguished as both safe and healthy for the home and body.
A FEW THINGS TO NOTE ABOUT MINKA:
Shop Minka's variety of 100% all natural skin care products, design-focused accessories, and beautiful home goods locally and online! Read more about the Minka story in our blog post!
Little Lavender Lobster was started in 2016 by Rachel Chilleri—a full-time engineer with an architecture background who was looking for a creative outlet. In 2016 Rachel felt the itch to get back into silversmithing, an art she had tested in High School, and couldn't stop dreaming about.
Rachel's designs are inspired by simple, sophisticated, natural elements, and of course, the beautiful state of Maine! One of the first pieces Rachel made was a ring featuring a rock from her ever-growing Maine rock collection. As an artist, Rachel is always searching for inspiration from picking up rocks and seagrass on the coast or looking at architectural details on buildings.
A FEW THINGS TO NOTE ABOUT LITTLE LAVENDER LOBSTER:
In addition to jewelry making Rachel loves painting and hand painted my original logo which has been simplified to be embroidered on hats and screen printed on shirts. Little lavender lobster also stocks some note cards, watercolor prints of lighthouses, and some little original watercolor paintings!
An educator, a Maine gal, and creative spirit with an appreciation for individual style, Estie Ott designs jewelry that reflect her vision for an everyday, effortless, and unique look. While offering high quality designs using responsibly sourced materials, Estie strives to make her line accessible to all. This Seacoast native's pieces are always evolving, and it's fun to watch her work transform. Small batches of Estie's handcrafted jewelry can be found in select boutiques throughout the Seacoast or purchased directly through her website!
A FEW THINGS TO NOTE ABOUT ESTIE OTT DESIGNS:
Estie's portfolio of handcrafted designs includes earrings, necklaces, rings, and hairpins. She also creates custom designs!
Near & Native is a Maine-based business that creates refillable candles with wooden wicks, coconut wax, and calming fragrances inspired by the beautiful pine tree state! Artist Hannah Martin founded her company in 2018 after 12 years of developing products for national retailers and identifying a need in the market for subtle, long-burning candles. She now pours candles by hand in small batches in her Maine studio.
Near & Native is the only company in the United States that offers a candle refill service. Hannah refills empty candles from Near & Native, any other candle brand—and even your beautiful pottery or ceramics! By refilling a candle after burning, we can close the loop on the product cycle, reuse your beautiful vessels endlessly, and reduce waste.
A FEW THINGS TO NOTE ABOUT NEAR & NATIVE:
Near & Native candles are available at 30 retailers across the country including L.L. Bean as well as on her website.
Massachusetts-born ceramic artist Elizabeth Benotti earned her BFA at the University of Colorado Boulder where she took her first ceramics class. It didn't take long for Elizabeth to fall in love with the material, process and community that the medium fosters.
Upon graduation, she was accepted into the Resident Artists program at the Mendocino Art Center where she worked alongside a small group of dedicated artists and explored the relationships between everyday objects, color, image and form. She was hooked. Soon after that experience, Elizabeth opened her very first online shop and has since moved her studio to Eliot, Maine where she creates colorful, design-centric ceramics as a full-time career. The products you'll find in her online shop, fairs, and at local retail boutiques are artistic and handmade, yet functional for every day use. Elizabeth's journey with clay has been a journey full of colorful characters and experiences that influence her art each day.
A FEW THINGS TO NOTE ABOUT ELIZABETH BENOTTI:
We're rather fond of Elizabeth's new Pinstripe Planters collection!
Chart Metalworks finds ways to capture memories and celebrate the beautiful moments life brings us by handcrafting meaningful and timeless pieces that tell your story.
With an extensive collection of unique items including jewelry, home goods, and accessories for men and women, Chart Metalworks creates one-of-a-kind pieces with meaning behind every piece. From design to polish, engraving to packaging, the team at Chart Metalworks ensures each handmade piece is as unique as you.
A FEW THINGS TO NOTE ABOUT CHART METALWORKS:
Inspired by the rocky New England coast, and rooted in Portland, Maine since 2008, the team at Chart Metalworks loves what they do and where they live!
Chart Metalworks is always designing—stay tuned for some fantastic new products coming soon!
Campfire Pottery is an artistic collaboration by the Camps—A husband and wife ceramic design team who create ceramic heirlooms designed to inspire the art of entertaining at home. Kristen and Joe's ethos is to create contemporary ceramic designs that bring people together, inside and outdoors. Campfire is not only their name, but a visual representation of their roots and brand identity; Their goal is to share their love of traveling, cooking, and entertaining through their collection of high-end, handmade ceramics.
A FEW THINGS TO NOTE ABOUT CAMPFIRE POTTERY:
Kristen and Joe would like to extend an invitation for you to come and immerse yourself in an aesthetic space, allow yourself to be inspired, and a part of an artistic community through their creative workshops!
Thank you to the amazing local artists and makers for sharing your beautiful designs with us! We are truly blown away…