THINGS TO DO ON THE SEACOAST DURING QUARANTINE!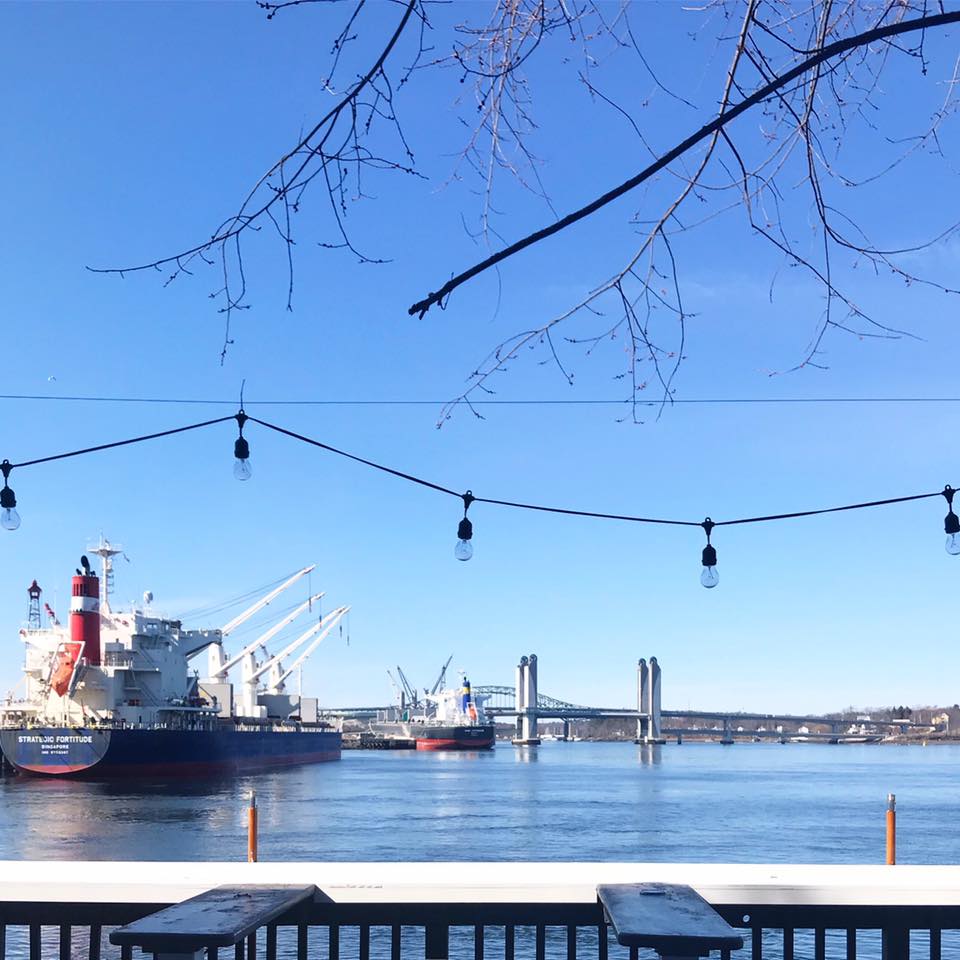 When life gives us lemons, we Seacoasters make lemonade!
While we're certainly not jumping for joy about our current situation, our amazing local businesses have crafted new and inventive ways for us to continue to enjoy the Seacoast lifestyle during quarantine. Here's our curated list of opportunities in the area waiting just for you.
Let's support LOCAL as much as we can and make the most of this temporary lemonade stand.
SHOPPING LOCALLY & DIGITALLY!
Barefoot Medical Spa now offers curbside pickup for candles, lip balm, slippers, and podiatry products! And we can now order products online as well!
BARE Waxing Boutique is offering "Mystery Bags" with complimentary delivery within 20 miles of the boutique. Hop over to Facebook to learn more!
Birch Portsmouth's online shop is live! Birch is open "virtually" every day for phone orders, shipping, curbside pickup or local delivery. Call 603. 427. 8478. We can also reach out on Instagram or by contacting Kate at kate@birchportsmouth.com.
Puzzles! Board games! Cards! Thank you to Diversions for adding some fun and games to our lives with curbside pickup!
Flower Kiosk is now open for curbside pickups and contact-less deliveries—Mondays through Saturdays from 10am-2pm!
Shop at Gus & Ruby Letterpress online! 'Tis the season for sending snail mail from this greeting card treasure!
Hazel Boutique & We Fill Good are selling masks!
The Market at Heron Pond Farm is open from 11am-6pm, Thursday through Sunday. The market will be open daily starting in May! Sign up for the CSA Program and pickup your produce at locations in Portsmouth and Dover.
Jardiniere Flowers offers flower and wine delivery!
Shop janegee online too! Perhaps add some nail polish and bath salts to your cart for some "at home" pampering??
Order merch, gift cards, and coffee beans online at La Mulita!
Making Faces is virtually open and is featuring "Deals of the Day"! Call the shop or send Instagram messages to order products you see and love on social media! Follow along at @makingfaceslifestyle!
Mellow Botanical Flowers is offering contact-free flower deliveries in the greater Portsmouth area!
Portsmouth Soap Company provides complimentary local delivery for its local, handmade, organic soaps! Just keep washing!
Enjoy fresh flavors of Ice Cream shipped right to your doorstep! Plus, Rococo Ice Cream just launched some new flavors for their Pint Club! If you're local, enjoy curbside pick up at Rococo's Wells Test Kitchen!
Keep your running and walking games STRONG with the help of Runner's Alley—now offering touch-less curbside pickup!
Shop online at Sault New England and enjoy complimentary shipping on ALL orders!!
We can now shop online at Snug Harbor Farm!
Shop locally and online for home goods, puzzles, cookbooks and more at Spaces!
Enjoy 15% off gift cards from Summer House Furnishings through March 31. We can also enjoy personal shopping, curbside pickup, and local deliveries!
Tayla Mac Boutique's online boutique will launch soon! Until then, we can shop through phone, e-mail, Facebook, and Instagram, and take advantage of local delivery, curbside pickup, and personal shopping!
The Co. Co. is sharing new Spring-y arrivals on social media every day! Kelly and Amy are in their West End boutique a few hours each day for personal shopping, curbside pickup, or to hold items for you until they re-open.
The Cozy Nest is offering 20% off all e-gift cards!
Treehouse Toys offers educational toys, books, games, art projects and science kits as well as teddy bears to hold onto. Shop online and enjoy complimentary shipping!
Three Rivers Farmer Alliance is currently delivering fresh produce from local farms, as well as local goods from White Heron, and Backyard Garlic to over 500 homes throughout the Seacoast!
Wear House is going DIGITAL! Which means products can be shipped, picked-up curbside, or held until the physical shop re-opens!
We Fill Good—Kittery's eco-friendly, sustainability shop—is open for curbside pickup and online ordering! Get essentials like cleaning items and bamboo tp!
Wild Valentine is offering floral delivery service throughout the Seacoast!
If you're looking for coffee beans and tea bags and such, hop on over to White Heron's online shop! and enjoy $5 flat rate shipping!
VIRTUAL FITNESS!
AG Fitness just took the party online!
Barre & Soul is offering virtual classes—think Barre, Yoga, Cardio HIIT and even BUTI Yoga!
Bending Bodhi Yoga is offering virtual classes!
Blaze Yoga & Pilates is offering online classes!
CJ Physical Therapy will offer online Pilates classes starting Monday, March 23. And the annual March MATness Challenge continues!
Crossfit Harpoon was ahead of the curve and has been offering HARPOON @ HOME, bringing the gym home to you! The team also just announced a 21-Day Fitness Challenge!
EVOLVE Mindful Movement is offering virtual classes!
H.D. Fitness is offering online yoga by donation classes! Other classes also available.
LizFit will offer video cardio and strength classes starting Monday, March 23.
Durham, New Hampshire's newest barre studio, Local Barre is offering virtual classes!
Portsmouth Yoga is offering virtual classes for $10 a month!
Enjoy live and recorded classes on the daily at Prasada Yoga Center!
Pure Barre Portsmouth and Pure Barre Newburyport hosts PURE BARRE LIVE classes (including Pure Empower, Classic Barre, and Special Events) online! The studios are also selling equipment for curbside pickup so we can make the most of our at-home workouts!
Seacoast Sports Clubs now offers livestream classes and some social media videos too!
Soulfire Power Yoga now offers daily livestream classes including power yoga, Yin yoga and Yoga Nidra. This Greenland-based studio is also hosting virtual workshops too!
The Pilates Room is offering private sessions as well as online classes!
Yoga East presents "Yoga East at Home"—an ongoing series of livestream classes!
Everyone can participate in Yogasmith's complimentary Zoom and Facebook classes! Plus, stay tuned on social media for upcoming $5 events!
Zen Den Yoga is hosting online yoga classes for its Portsmouth and York studios! PLUS, Zen Den Yoga will offer a "Virtual Retreat" April 24-26!
3 Bridges Yoga offers Zoom classes for its Portsmouth and York studios!
ONLINE ENTERTAINMENT!
janegee hosts Facebook Live events every day!
Looking for a new podcast?? Check out the "Behind the Assignment" Podcast!
The Seacoast Paddleboard Club is offering weekly webinars!
Looking to optimize your health and boost your immunity during this time? Dr. Christine Ambrose of Ambrose Integrative Medicine is offering virtual appointments!
Have you tuned into Erin Holt's Funk'tional Nutrition Podcast??
Jupiter's Labyrnth is hosting virtual workshops—tune in!
Learn to play the piano? Virtually? It's possible with Jann Foster who has been teaching piano lessons to children and adults virtually for over 2 years! E-mail piano2foster@yahoo.com for more information.
Brainstorm is offering all of us free downloadable coloring sheets!
The Seacoast Repertory Theatre is hosting online musicals!!
Wentworth Greenhouses, Churchill's, and Rolling Green Nursery are all open for flowers and garden supplies!
*Above photos by Raya on Assignment*
DID SOMEONE SAY PAMPERING??
Book appointments in advance at Barefoot Medical Spa! You know you'll want to have those fingers and toes ready for spring!
Order nail polish online and pre-book appointments at Buff & File Nail Bar.
BARE Waxing Boutique is selling e-gift cards online while they "pause for wellness" (Love this perspective, Jillian!).
Enjoy 10% off all online gift cards at Blush Portsmouth. Use code "STAYHEALTHY" at checkout!
Cape Neddick's Coastal Aesthetics medical spa is offering complimentary product delivery, gift card specials, and virtual consultations!
Stay tuned to Making Faces' social media—curbside pickup is available and there are so many amazing goodies in store!
Shop for hair care products at Oomph online. The salon will also host virtual events—stay tuned on Oomph's social media!
Solari Salon & Spa is offering curbside pickup on Fridays from 11am-4pm!
Southern Maine Skin Company is offering care boxes! See Lexie's Facebook page for current offerings. We love them!
Nail care and skin care come together with the Beauty Boxes from Twenty Local and BARE Waxing Boutique! Follow on Facebook to see when some pretty polishes will be available soon!
IT'S TAKEOUT TIME!
Seacoast Eat Local has a wonderful guide to local farm's fresh produce offerings. We encourage you to check it out!
Anju Noodle Bar is offering takeout, beer, natural wine, and provisions.
Backyard Coffeehouse & Eatery will open for takeout on May 9th!
Batson River is serving "Pick Me Up" wood-fired pizza for takeout and delivery! Call in or order online, and use code "TOGO" when placing your order, to enjoy 10% off!
Beach Pea Baking Company will be open for porch side ordering and curbside pickup. Hours are now Wednesday through Sunday from 8am-5pm. YAY BREAD!
Bennett's Sandwich Shop is open for takeout and delivery from 9-4 daily! Order online or place your order by phone.
Blue Mermaid is BACK and now open for takeout Wednesdays through Saturdays from 4-8pm! Cocktail to go anyone??
Bob's Clam Hut is open for "Hut-Side" pickup Wednesday through Monday!
Boulangerie, A Proper Bakery is baking bread 'round the clock! And they're also serving soup, sandwiches, focaccia pizzas, cupcakes, scones, and muffins to go!
BRGR BAR is offering their full menu (including milkshakes!) for contact-free takeout, curbside pickup, and beer and wine to go! Open Monday through Saturdays 12-9pm!
Caffe Kilim remains open! Call to place larger orders. You can also purchase coffee beans and provisions!
Ceres Bakery is open for sidewalk pickup! Thursdays, Fridays, and Saturdays from 10am-2pm. Place your order by 4pm the night before.
Cornerstone Pizza West End is open Tuesday through Sunday for takeout and delivery from 4:30pm-8:30pm!
Donut Love is making donuts and gluten-free donuts Wednesday through Sunday!
Dos Amigos Burritos is now offering $3 delivery within a 5-mile radius of its Portsmouth and Dover locations! Call for delivery, in-store pickup, or curbside delivery to enjoy your #DailyDos!
Elephantine Bakery is open for contactless and curbside pickup—Wednesdays through Sundays from 8am-3pm!
Fezziwigs Food & Fountain is open for online ordering and pickup.
Flatbread Portsmouth has recently opened back up. Now serving pizza to-go Thursday through Sunday!
Enjoy takeout for lunch and dinner and free delivery (within a 3-mile radius) from Green Elephant! Call or place your order online.
Kate's Bakery is open for takeout!
Kaffe Vonsolln remains open for takeout and online coffee orders.
La Maison Navarre is offering curbside pickup on the weekends!
Thank you to the team at Laney & Lu for nourishing our community with curbside pickup, online ordering, and free delivery (within 10 miles)! In addition to ordering from their full menu, we can now order family-sized bowls and salads. We also have the opportunity to opt-in to Laney & Lu's "Give a Smoothie + Give a Bowl" campaign to spread even more love to our community members working the front lines.
Lil's Cafe is now open Thursday through Monday from 8am-12pm for curbside pickup! And we can also enjoy their fresh loaves of bread at Golden Harvest.
Lovebirds Donuts is open for online ordering, call-ins, and curbside pickup! Order in advance to ensure your favorite flavors!
Luigi's West End Pizzeria is now serving its famous Italian dishes! Takeout and delivery are available Wednesday through Sunday.
Mabel's Lobster Claw opens on May 14th! Hello lobster rolls!
Moe's Italian Sandwiches is open for online orders and curbside pickup. Select locations are also open for delivery. To find your nearest location and offerings click here.
Mombo is open for takeout!
Mr. Kim's is open for curbside pickup!
Native Coffee Kitchen Rye is open 7 days a week for takeout from 8am-2pm.
Nikanos is open for takeout!
Northern Union Wine Bar is now serving "Northern Union To Go" which means we can pre-order "Finish at Home" meals (Mondays, Wednesdays, and Fridays) along with a variety of wine, cocktails, beer, and Rococo Ice Cream!
Ohana Kitchen Portsmouth is open for takeout and delivery Tuesday through Saturday from 11am-8pm. Ohana Kitchen Exeter will open on Wednesday, April 29.
Ore Nell's is open for curbside pickup and delivery Wednesday through Sunday! View the menu and order online, or call to place your order. This week marks Ore Nell's second year in business—Happy Birthday to our barbecue star!
Pepperrell Cove's Bistro 1828 serves takeout from 4-7pm. Provisions at Pepperrell Cove provides daily prepared entrees for $12, as well as pantry items and general store essentials!
Enjoy fresh flavors of Ice Cream shipped right to your doorstep! Plus, Rococo Ice Cream just launched some new flavors for their Pint Club! If you're local, enjoy curbside pick up at Rococo's Wells Test Kitchen!
Robert's Maine Grill is now open for takeout!
Row34 is now open for takeout on Fridays and Saturdays!
Roots Vegan Cafe & Juice Bar is offering breakfast, lunch, and pantry box delivery within 15 miles of its Dover cafe!
Scallops anyone? How about fresh-caught lobster? Pre-order your affordable local seafood from Rough Times Fishing located at Pierce Island in Portsmouth! Contact Chris (roughtimesfishing@gmail.com) to place your order!
St. Joe's Coffee is open from 9am-1pm!
STREET has opened its doors again! Now open for curbside pickup and delivery Thursday through Monday.
Teatotaller Tea House is offering boba tea delivery! And so much more. Check out all the temporary offerings at this Somersworth tea shop here!
The Bratskellar is offering online ordering, takeout, and delivery (beer and wine included)!
The Bungalow Club in Exeter offers takeout and delivery (including beer and wine)!
The Carriage House in Rye now has food, beer, and wine for takeout at 20% off.
Let's stay healthy!! The Fresh Press is open from 8-2 daily for delivery and pickup! And we can order online!
The Front Porch is now offering curbside pickup and delivery as well as visual happy hours, chef demonstrations, and singalongs!
The Juicery is open for takeout and delivery through Uber Eats! Click to check out The Juicery's online shop.
The Soupery is offering family meals!
Takeout is now available at Thistle Pig! Thistle Fit anyone??
Tuscan Kitchen is open for pickup orders and pantry items! Deliveries are available through DoorDash. 25% of gift card purchases through April 30 will be given to team members who are unable to work during this time.
Vida Cantina offers some amazing options including takeout, curbside pickup, and delivery 7 days a week from 11am-9pm. Vida is serving microwave enchilada dinners, "Fiesta for Four", beer, wine, margarita sour mix, "Take & Bake" enchilada and taco bars in addition to regular menu items. 25% of all Vida Cantina merchandise, and 40% of all Vida Cantina gift card sales will be added to the Vida Cantina employee fund!
Walker's Maine has a new takeout menu! Order food (along with wine) 7 nights a week!
When Pigs Fly Pizzeria is open for takeout!
Our friends at White Heron teamed up with Three Rivers Farmer's Alliance to offer coffee beans, tea bags, chai concentrate, and tea delivery to your home along with farm-fresh produce! White Heron just launched a new touch-free curbside pickup stand that's open Monday through Saturday from 8am-2pm.
York54 is open for takeout! Online ordering coming soon…
Takeout and delivery (beer and wine included) is now available at 1652 on York Beach! Picnic on Short Sands anyone??
THREE CHEERS FOR LOCAL BEERS!
Liars Bench is offering "the takeout edition" with beers to-go, curbside pickup, merchandise, and gift cards!
Garrison City Beerworks is refilling growlers, and selling merch and cans to-go!
Great Rhythm Brewing is serving up cans of beer and kegs to-go! They are also offering curbside pickup.
Buy a case of beer from Loaded Question and get a complimentary "Trust Local" hat! Cans and growlers are also available to-go!
North Country Hard Cider's Tasting Room's walk up/drive up window is open for cans to go!
Tilton Brothers Brewing Co. will deliver within 12 miles of its taproom!! Beer is also available at the North Hampton, to-go taproom.
Tributary Brewing Company is offering curbside beer 2 go Wednesday through Saturday!
GIVING!
Laney & Lu launched its "Give A Smoothie, Give a Bowl" campaign.
Red's Good Vibes is serving the community with food, clothing, and every day essentials. Learn more and contribute here!
We can always count on gather to nourish our community. Learn more about what the awesome team is doing, and donate on Facebook!
GRATITUDE!
Our beautiful Seacoast scenery is always open! Aren't we so fortunate to live by the water?? Alnoba's walking trails are also currently free and open to the public!
Cheers to making the most of our current situation, to being thankful for all that we do have. We believe we'll make it out of this quarantine even stronger than we can ever imagine!
With love,
Seacoast Lately
Through the ups and downs life brings us, we are 100% committed to serving our community and spreading the local love throughout the Seacoast. As things constantly change, we are working diligently to update this list to ensure we bring you the most up-to-date, current information. If you know of a local business offering some extra special opportunities during the quarantine, please e-mail us (hello@seacoastlately.com) and we will be happy to add them to our list! And if you would like to share this blog post with your friends and neighbors, we would always be grateful for the love and support!
Thank you for reading and for celebrating the Seacoast with us!