2020 BREWERY, CIDERY, & DISTILLERY GUIDE!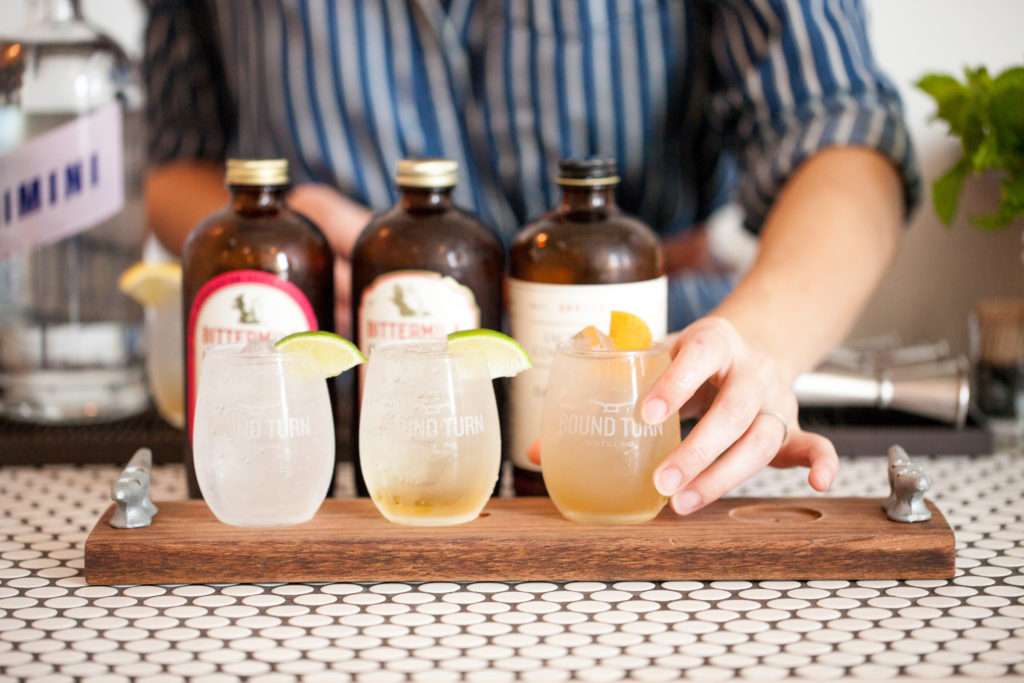 Do you feel as though we recently woke up from a long winter's nap to find the Seacoast is beyond thriving in the beverage industry?? Everywhere we turn, it seems like a cool brewery pops up and the snazzy bottles from a local distillery grace the bar shelves of neighborhood restaurants.

Since the days when Portsmouth brewing legend Frank Jones paved the way for breweries in the 1800's, the Seacoast has come a long way in our beverage offerings, and we are just over the moon excited about all of the unique spots we get to visit in our own backyards!

So, without further ado, below is our 2020 list of terrific Seacoast cideries, distilleries, and breweries that check all of our boxes for offering top-quality products, comfortable-cool atmospheres, and exceptional experiences.
CHEERS!
DISTILLERIES!
Located steps from Dock Square in Kennebunkport, Batson River Brewing and Distilling is a lively and relaxing hideaway perfect for gathering with friends and sampling tasty concoctions! Once you find your favorite beer or spirit, let the friendly team pour you a pint or mix you a signature cocktail while you peruse the snacks and small plates menu. If you're feeling competitive, check out Batson Rivers' upstairs lounge, where you'll find darts, a shuffleboard, and a wall-mounted Scrabble board. Open year-round, there's always a party happening at Batson River Brewing & Distilling!
A FEW THINGS TO NOTE ABOUT BATSON RIVER:
*"The Social Hour" at Batson River takes place on Thursday and Fridays from 4:00 – 5:00 pm. During this time, cocktails are $7 and beer and small bites are $5!
*Are you part of the "BRB" Club??
*Batson River Biddeford and Portland are coming soon!
---
There's a hip movement happening these days in Biddeford and Round Turn Distilling is part of it! Native Mainers Darren Case and Kristina Hansen returned to their New England roots from Brooklyn in 2014 to found Round Turn Distilling. They were both drawn to this growing Maine city by the community of artists and entrepreneurs in Biddeford, reminding them of a culture very similar to Brooklyn's. Their passion is in the moments that bring friends and family together, often gathered around a plate or bottle, so Kristina and Darren work hard to produce quality spirits worthy of sharing life's special moments.
Round Turn Distilling's famed "Bimini" Gin is inspired by warm sunny days in Maine, with its clean citrusy flavor of grapefruit zest, coriander, and hops. The Bimini family of products includes the original Bimini Gin, Bimini Overproof, and Bimini Barrel Reserve No. 1. Handcrafted and hand-bottled, Bimini is a modern American gin that's perfect for your favorite cocktail or as a substitution for light rum in your favorite tropical drinks.
A FEW THINGS TO NOTE ABOUT ROUND TURN DISTILLING:
*Visit Round Turn Distilling in Biddeford for a complimentary sample, to enjoy a beverage made with Bimini Gin, or to take a bottle or two home!
*Round Turn is open Tuesday through Sunday!
---
Eric and Jenn Bouchard once shared a dream to create authentic, high quality, ultra smooth spirits here in New England. That dream is now a reality called Stone Fort Distillery, located in beautiful Biddeford, Maine!
Eric and Jenn's passion for their product and "grain-to-glass" method of production sings in every delicious sip of the spirits they create in handcrafted stills. Their whiskey and vodka are delicious to sip, or to star in your favorite cocktails!
A FEW THINGS TO NOTE ABOUT STONE FORT DISTILLERY:
*Visit Stone Fort Distillery's Pearl Street tasting room on Fridays and Saturdays from 5-9pm for a creative cocktail selection; bottles also available for purchase.
*Looking to purchase Stone Fort's whiskey and vodka close to home? Check out the finder!
---
Wiggly Bridge Distillery was founded by a father and son team in their hometown of York, Maine. With a distillery located on Route One and a tasting room at York Beach, Wiggly Bridge Distillery serves unique spirits that are all made in small batches, with the highest standards, to ensure the finest products (winning this local father/son duo many awards)!
A FEW THINGS TO NOTE ABOUT WIGGLY BRIDGE DISTILLERY:
*In addition to serving craft cocktails on the daily and live music weekly ( "Saturday Night Vibes" from 5:00 – 7:00), Wiggly Bridge Distillery also offers tours, tastings, and cocktail classes!
*Offering small bites on Thursday through Sunday, Wiggly Bridge Distillers just released its new "Agave" spirit (another name for tequila).*Learn how Wiggly Bridge used a local coffee bean to create bourbon barrel-aged coffee and how they incorporated Maine Gold syrup into a rum barrel-aged maple syrup!
---
BREWERIES!
Butternut Farm's hard ciders are all hand-crafted in 200 gallon batches on site at its Farmington, New Hampshire property. Throughout the process, the cider makers use simple methods, and pay close attention to detail in every step of every batch of cider. Cultured yeasts give predictable flavors and the fruit flavors are preserved by not filtering and using minimal if any preservatives. Butternut Farm's cider can be style categorized as modern, wood-aged, or fruity, and most of our blends are free from added sulfites or sorbates! And, of course, delicious!
A FEW THINGS TO NOTE ABOUT BUTTERNUT FARM & CIDERY:
2oz samples are available in the tasting room and quart and half gallon sized growlers are available for purchase and refills.
Visit Butternut's family friendly, family run farm while on site! They have freshly-baked donuts, pies, and pick-your-own strawberries!
---
Restaurant meets brewery. Hello perfect combo! Tucked in a plaza in the heart of Dover, New Hampshire, Chapel + Main is a "casual in vibe, upscale in flavor" brewpub featuring beers of Master Brewer and Co-Owner David Yarrington. The scratch kitchen menu from Chef and Co-Owner Skye Bonney changes to reflect the seasons alongside the rotating selection of draft beers.
A FEW THINGS TO NOTE ABOUT CHAPEL & MAIN:
*Chapel + Main is open Tuesdays through Sundays!
*Visit Chapel + Main for HAPPY HOUR—Tuesdays through Fridays from 4-6pm, when pints and snacks are $5 and select wines are $6! *Did you know Chapel + Main also has a sister restaurant in Kittery, Maine? Shoutout to The Black Birch!
---
CISCO BREWERS | Portsmouth, New Hampshire
It all started out as a family-run winery on Nantucket in the 1980's. Flash forward to 2020, and the New England-based business runs two locations (Nantucket, and Portsmouth), and three brands (Cisco Brewers, Triple Eight Vodka, and Nantucket Winery). Cisco Brewers' Portsmouth location opened in June 2018, fully stocked with Cisco Brews, Triple Eight Distillery Cocktails, Nantucket Vineyard Wine, food, rockin' tunes, and events galore! This Portsmouth destination, located at Pease, is here to give you the island vibe and the laid-back Cisco lifestyle many of us know and love.
A FEW THINGS TO NOTE ABOUT CISCO BREWERS:
*Anyone in the mood for a little beer and brunch??
*Looking for live music? Cisco Brewers offers a terrific lineup of events!
---
Corner Point Brewing Company is located in Berwick, Maine, just 27 feet from the New Hampshire state line! Tucked across the river from downtown Somersworth and nestled along the Salmon Falls River, Corner Point Brewing Company sports an outdoor deck that is sure to be a hit on warm Seacoast evenings.
Corner Point Brewing Company now offers five year-round beer selections, as well as five other rotating taps, and a variety of beer styles throughout the year.
A FEW THINGS TO NOTE ABOUT CORNER POINT BREWING COMPANY:
*Corner Point Brewing Company is open seven days a week: 3-8pm Mon-Fri; 12-8pm on Saturdays, and 12-6pm on Sundays!
*Corner Point's owners started brewing in New Mexico, so don't be surprised if you taste some Southwestern influence!
---
Loaded Question Brewery is dedicated to understanding the infinite possibilities of craft beer and making memorable moments with fellow beer lovers. Located in Portsmouth's up and coming West End neighborhood, Loaded Question is the perfect stop for an afternoon pint!Loaded Question is open daily (except Tuesdays), and serves a variety of tasty craft beer and food at its West End brewery!
A FEW THINGS TO NOTE LOADED QUESTION BREWING:
Be sure to stay tuned on Loaded Question's Facebook page to keep up to date on special events, like beer dinners and collaborations with local businesses.
---
Stripe Nine Brewing is a nano production brewery and brew pub located in downtown Somersworth, New Hampshire. Three brothers—Patrick, Thomas, and Sean—opened Stripe Nine in September 2019 in a 5,000 square foot facility, where they pair their own craft beers with a variety of wood fired pizzas ( prepared in a Forno Bravo Italian oven)! Stripe Nine's craft beers on tap include their famous Wheelhouse NEIPA, Rayz DIPA, Debut IPA, Indigo Hill stout, and CCool Beans stout, along with other rotating handles.
A FEW THINGS TO NOTE ABOUT STRIPE NINE BREWING:
*Stripe Nine hosts live music every week!
*Stripe Nine's friendly staff serves with smiles, Wednesday to Sunday, from 12-10PM.
---
Known for its well-crafted and diverse beer styles, Tributary Brewing Co. in Kittery, Maine is a unique destination offering great beer, good company, and live music. Join your friends, family, and neighbors for a fun afternoon of sipping bevs and enjoying a hip atmosphere and laid-back vibe.Perhaps you'll fancy a flight of Tributary's craft beers (Wednesday through Monday) while gazing into the brewhouse, where the magic happens! When making plans to visit, see what's on tap, and take a peek at the events calendar to see which local talent is performing! And if you're in the mood for a bite to eat, you're more than welcome to bring in food from nearby restaurants (perhaps from Blue Mermaid next door?).
A FEW THINGS TO NOTE ABOUT TRIBUTARY BREWING COMPANY:
*Tributary hosts live music every Saturday from 4-6 pm and Sunday afternoons from 3-5pm!
*Hello three-season outdoor deck!!
---
CIDERIES!
Imagine this—a crisp cider with a perfect balance of sweet and tart flavors, a refreshing beverage crafted in small batches from fresh pressed local apples, unfiltered and free of preservatives and added sugar. A living cider so full of natural flavor and fruity aroma it leaves you feeling uplifted. Stop imagining. North Country Hard Cider is here!!
This Rollinsford, New Hampshire cidery is nestled along the Salmon Falls River in a historic mill building. *MEGA COOL FACTOR!* They have indoor and outdoor seating for 4-season sipping!
A FEW THINGS TO NOTE ABOUT NORTH COUNTRY HARD CIDER:
*Visit North Country Hard Cider's tap room Wednesdays through Sundays from 12-7pm. *Interested in finding North Country Hard Cider near you?? Locate it here or purchase cans, growlers, and kegs at its tasting room!