A "New Englander-Meets Modern" Home with Amy Dutton Home…
Amy Dutton always impresses in each of the beautiful spaces she creates, and this time, we were blown away yet again, by her most recent renovation in Portsmouth. Meet a home where classic New England architecture meets modern and simple design…
The Situation Presented to Amy…
A growing and active family of three living in a small home in Portsmouth. They hoped to gain a more functional design and an improved layout so they could stay in their home, rather than move to a larger one. Their house had an existing small room off the back (that wasn't being used to its highest potential), as well as a detached garage.
***
The Goal…
In addition to the family's main desire to stay in their current home, they also hoped to bring some modern design elements to their older house.
The Process…   
With the help of  Star Island Builders, the unused small room was removed, and the garage became attached to the house, thus creating a two story garage and much more space!  
We'll let the photography do the rest of the talking..
*** 
The Result?
A brand new mudroom, family room, kitchen, living area, and dining room (with a  built-in vinyl record wall!), a hallway with storage, a powder/laundry room, a children's bath, and a master suite.
And now, there's so much more "New England Meets Modern" to love!!
Welcome to "phase 2" of this home renovation in Portsmouth…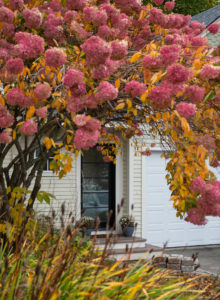 Photos by Tamera Flanagan Photography.