MEET THE LOCALS: Three Hungry Chicas!
With clever food puns, impeccable taste in restaurants, and stunning food photography, this Instagram account is one of our all-time faves. Every time Sophie Gee posts a photo of piping hot fries from BRGR Bar, a Cemita bursting with flavor from STREET, or a beautifully-plated tapas dish from MOXY, our mouths starts to water and we feverishly muster up a plan to get our tastebuds on the exact same dish.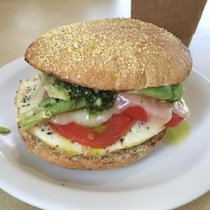 Sophie Gee, an Australian-turned-seacoaster, highlights the delicious food of the seacoast through her Instagram account @threehungrychicas – in our exclusive Q & A below, Sophie provides insight into the account and shares her favorite places to eat in Portsmouth and beyond!
Can you briefly explain Three Hungry Chicas? 
Three Hungry Chicas is an Instagram account that my roommates and I started because we're passionate about good food and, as millennials, we love taking pictures of the beautiful food we're eating!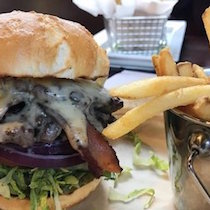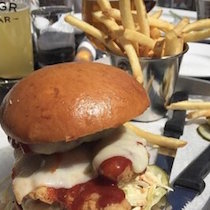 What are your current restaurant crushes?
We're fortunate to welcome so many new restaurants to the seacoast over this past year. We're currently loving…
Donut Love, Ohana Kitchen, STREET'za, The Nice, The Wilder, and Tuscan Kitchen!
Where is your favorite dinner spot on the seacoast and what do you typically order?
It is SO hard to narrow down our favorite dinner spot because we love so many restaurants in the area, but I can say that anytime the three of us want to go out to dinner, 99.9% of the time we choose MOXY. We always order fried pickles, calamari, crispy potatoes, and a fried chicken sandwich. If you haven't yet tasted the fried chicken sandwich, you need to! It is literally the best thing on earth.
Where is your favorite coffee shop on the seacoast and what's your beverage of choice?
We love White Heron! I personally don't drink coffee, but I love tea – especially White Heron's iced Cranberry Apple Ginger in the summer! In the fall and winter, I usually prefer peppermint tea or a chai latte with almond milk. White Heron also serves up the best breakfast sandwiches. Our go-to is the egg muffin supreme with egg, cheese, avocado, tomato, and pesto; it's unreal. They also make incredible wheat free and vegan donuts. Can you tell we love this spot??
These yummy donuts are from Kane's — another Three Hungry Chicas fave just a hop, skip, and jump away from the seacoast!
Where is your favorite breakfast/brunch spot on the seacoast, and what is your favorite item on the menu?
Breakfast has to be our favorite meal of the day. If we are looking for a quick bite, then White Heron is definitely our go-to. If we want a bigger breakfast, Colby's is another favorite; the creative specials never disappoint!
In our minds, the only thing better than breakfast is brunch, and we're always giddy for STREET's Sunday brunch. Our favorite dishes include the B.A.S.H, the French Toast Especial (which is literally unreal), their famous Cemita, a Bipimbap, and as of late, the burger. I ask for mine with cheddar, pickles, avocado and mayo on a gluten free bun; it's out of this world.
If you love breakfast sandwiches and are in the South Berwick area, Early Bird Café is a must!! It's a hidden gem that dishes out incredible egg sandwiches, and more!
Tell us about your favorite take-out spot on the seacoast and what you order…
For some reason, whenever we want take out, it's burgers and fries, so where better to go than Lexies? We love their bistro fries and any burger with a cluck patty. I usually choose one of their specials, but the Green Meunster is a threehungrychicas fave!
Since you work at janegee and your mother raised you on healthy living and organic, healthy products, can you recommend a local establishment you love that serves up A+ organic and healthy food?
Definitely! We are fortunate to have many health-conscious restaurants in the area.
For smoothies, juices and acai bowls, I go to The Fresh Press. For dinner – MOXY, The Franklin, Black Trumpet or Black Birch. When I'm in Exeter, I ALWAYS make a trip to Laney and Lu.
In your opinion, which establishments provide the best atmosphere on the seacoast?
I think Black Trumpet (upstairs) and Black Birch have the best atmospheres in the area. Upstairs at the Black Trumpet is dark and romantic – the perfect date spot! The Black Birch has a cool, trendy vibe. I love the long community table, the lights, and the staff; every detail here is spot on!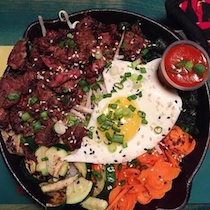 Would you call yourself a foodie? 
Definitely! Growing up, I was exposed to a wide variety of foods and have always loved trying new foods and cuisines. When I travel, I make sure to look up unique restaurants and interesting local cuisines to try when I'm there. I think I love food a little too much… :).
Are you hungry yet??
xx
Maggie
*All photos c/o Three Hungry Chicas.