SALEM MASSACHUSETTS TRAVEL GUIDE!
Step aside witches! Salem, Massachusetts has long been known for its witch trial past of the 1600's but, if you look a little deeper, you'll see Salem has much more to offer visitors. Our Salem, Massachusetts travel guide celebrates the coastal beauty, a charming and historic downtown area, and a world-renowned museum! As someone whose favorite witch will always be a sandwich, I focused on the more cheerful side of what makes Salem and Massachusetts' northshore area a fabulous little getaway…
BROWSE OUR SALEM MASSACHUSETTS TRAVEL GUIDE!
THE MERCHANT
When I first stepped inside of this beautiful boutique hotel, I was truly blown away. The bright, colorful decor and historic charm welcomed us to a sweet and comfortable home away from home. We were greeted by the hotelier, Jennifer, who was an absolute doll. She made our trip extra special with her kind and welcoming demeanor. Jennifer was accommodating and, as a northshore native, had wonderful recommendations to offer. The stylish lobby, designed by Rachel Reider Interiors, had a whimsical touch and the spacious rooms were fitted with cloud-like beds (I slept like a baby), and heated bathroom floors! I am someone who pays close attention to detail and, you can tell, The Merchant does too. The rooms were spotless and provided the modern home-y touches of a gas fireplace, Apple tv, waters, and an ipad. We were welcomed to the room with a handwritten note, accompanied by delicious Lark shortbread cookies (Yum!). Across the hall, we were given a sneak-peek into the suite that George Washington once stayed in (I love New England's history.)!
Another bonus of The Merchant is that it's ideally located in the heart of downtown Salem, within perfect walking distance to everything!
The Merchant is Lark Hotel's newest destination. Based in Amesbury, Massachusetts, Lark Hotels owns and manages 15 unique properties in New England, and three of them are here on the seacoast! Can you guess which ones they are?? The Hotel Portsmouth, The Ale House Inn and The Captain Fairfield Inn! After visiting these three locations, and now The Merchant, the characteristics that stand out to me most about Lark Hotels is how genuinely nice and welcoming the employees are. You are not treated as a number here, but more like a guest in someone's home and, for me, that difference goes a long way.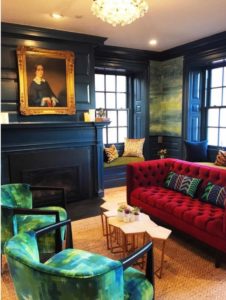 HARBOR SWEETS
It was such a treat (pun intended:) to go behind the scenes of Harbor Sweets chocolate factory! The smell alone was worth a visit, and then getting a taste?? Pure goodness. Just the thought of their famous Sweet Sloops makes my mouth water…
This 40 year-old business stands behind an impressive tradition of quality. Seeing first hand that each employee is treated well and many have stayed for upwards of 20 years? And the fact that they make amazing, coastal-inspired handmade chocolates? I can see why this Salem-based businesses is a hit! If you're in the mood for an assortment of Harbor Sweets chocolates, a variety of their products are sold at Philbrick's Fresh Market…thank goodness!
PEABODY ESSEX MUSUEM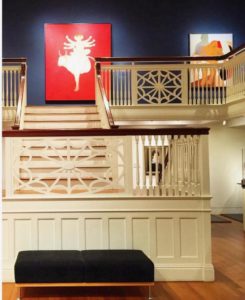 I am an art lover and had a wonderful time exploring the variety of works at the Peabody Essex Museum (PEM as the cool kids call it;). The museum itself was spacious and displayed a beautiful blend of modern and historic architecture. A mix of permanent galleries and changing exhibitions will keep you busy at The Peabody Essex Museum for hours! I have two favorite parts about this museum. First is the Maker's Lounge which is an area where people of all ages can get creative! They have supplies and enough space to let your creative mind run wild! My second favorite thing was the price. I felt like a bargain hunter going to The Portsmouth Public Library and getting museum passes that cut the price from $18.00 to $5.00!!!
RESTAURANTS & CAFES IN SALEM MASSACHUSETTS!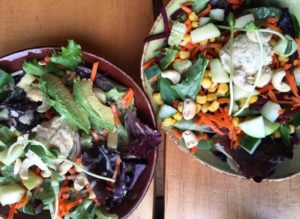 A & J King Artisan Bakers is a sweet (Pun intended:) little place for delicious pastries and baked goods. It reminds me a lot of Standard Baking Co. in Portland but with ample amount of seating. Muffins, coffee, and a handmade loaf of artisanal bread to go and we were set!
If you're into healthy eating, Life Alive Cafe is the place for you! I felt like I stepped into Hippie mode for lunch with all the raw, grainy, nutritional-rich foods they offered. The smoothies are absolutely fabulous and you can tell the quality of the organic foods is top-notch.
A lover of Italian food, I enjoyed our time at Firenze Trattoria—a neighborhood Italian eatery where the owner made each of us feel like we were family!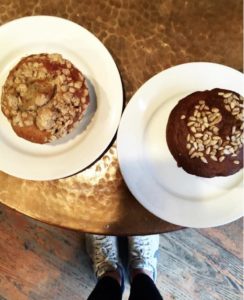 My friends from The Boston Daybook recently took a trip to Salem and highly recommended Bambolina! It's on my list of places to try for next time.
Other Salem restaurants that came highly recommended were—Adriatic for Mediterranean fare and Gulu Gulu Cafe for coffee and sandwiches.
SHOPPING AND THINGS TO SEE IN SALEM MASSACHUSETTS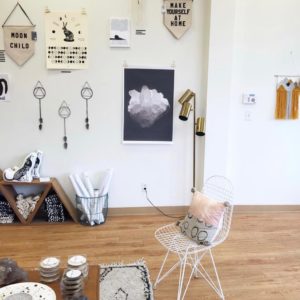 One of the many wonderful amenities that The Merchant provides is the proximity to Salem's downtown shops. While strolling, we popped into some sweet stores like Roost and Company and HausWitch!
A short drive away you'll see the town of Marblehead, Massachusetts. This quaint town has some cute little shops in the historic downtown area, a variety of restaurants, and a few stores like Shubie's Gourmet market in a more modern part of town. The views along Devreaux Beach and the waterfront are gorgeous and you can even see Boston's skyline!
Thank you to The Merchant for a wonderful stay!
xx
Maggie