TRAVEL GUIDE: Plum Island, Massachusetts!
I'll admit it — I have a crush on Lark Hotels. Every time I visit one of their destinations (17 in New England alone!), I am impressed with the uniquely beautiful design of each property, as well as the attentive, friendly team members. This locally-owned hotel group has a genuine way of welcoming its guests as if they were old friends they haven't seen in years; if you've ever visited a Lark Hotel, you know exactly what I mean!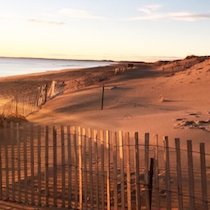 I recently had the pleasure of staying at Blue Inn on the Beach, Lark's newest property that sits atop the sand in beautiful Plum Island, Massachusetts. Less than a 40-minute drive from downtown Portsmouth, Blue feels as if it's worlds away. Sand dunes and breathtaking ocean views surround this homey, upscale boutique hotel, creating a tranquil space to fully unplug and recharge.
Upon my arrival on a windy winter evening, I was greeted by a smiling innkeeper who enthusiastically showed me to my suite. My feet met the painted white floor, while the freshly-made bed invited me in for a snuggle, and the bright white, marble-accented bathroom practically begged me to enjoy a leisurely warm shower.
I drifted off to sleep with the sound of the ocean waves crashing on the sand… If that constant beautiful noise wasn't enough, I arose to a stunning sunrise that nearly took my breath away.
New England.
 In January.
It felt like a dream, but thankfully it wasn't!
The picture-perfect sunrise was followed by a bountiful, hand-delivered breakfast basket — overnight oats, nutella-banana muffins, fresh fruit cups, hot-out-of-the-oven raspberry scones… I could definitely get used to this!
After snuggling up with a book, enjoying a leisurely walk along the beach, and soaking up the sweeping ocean views, I fancied a trip to Portsmouth's little sister city, Newburyport, which is just a 10-minute drive from the hotel! If you're planning a visit, be sure to read our Newburyport blog post, and make time to stop by The Paddle Inn for some surf-style ambiance, creative cocktails, and delicious cuisine!
Spending time at Blue reminded me that even in winter, and in any season really, every day surely IS a beach day!
If you're looking to enjoy a one-night getaway this winter, or a full weekend out of town in the height of the summer, Blue provides a hassle-free, and truly enjoyable experience!