THE INSIDE SKINNY ON… Seacoast Lately's Neighborhood Guide, 2017!
After countless hours of listening to the tunes of Frank Sinatra on repeat, drawing the sweet buildings of Portsmouth and Kittery, color testing pens of all shapes and sizes, and chatting with the local business owners who make the seacoast towns buzz with excitement every day, here we are – Seacoast Lately's Summer Neighborhood Guides 2017 have arrived, and are officially out and about town!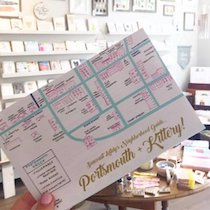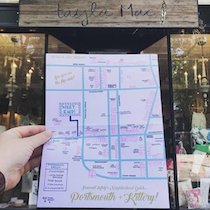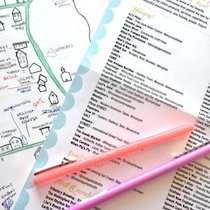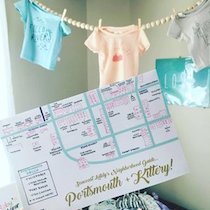 Twice the size as last year's map, Seacoast Lately's "Neighborhood Guide" has been freshened-up for the 2017 season, offering an alternative, discerning guide to Portsmouth and Kittery. There is an audience of people who appreciate farm-to-table food, tastefully curated shops, off-the-beaten path establishments, and unique activities, and our goal is to cater to it, offering visitors and locals alike a trustworthy resource to our area. In this guide, we celebrate neighborhoods from The Portsmouth Green and Portsmouth's West End, to Downtown hot spots and Kittery, Maine must-sees! Our goal is for people to use the maps to discover something new, learn, explore, and fully enjoy summer on the seacoast!
xx
Maggie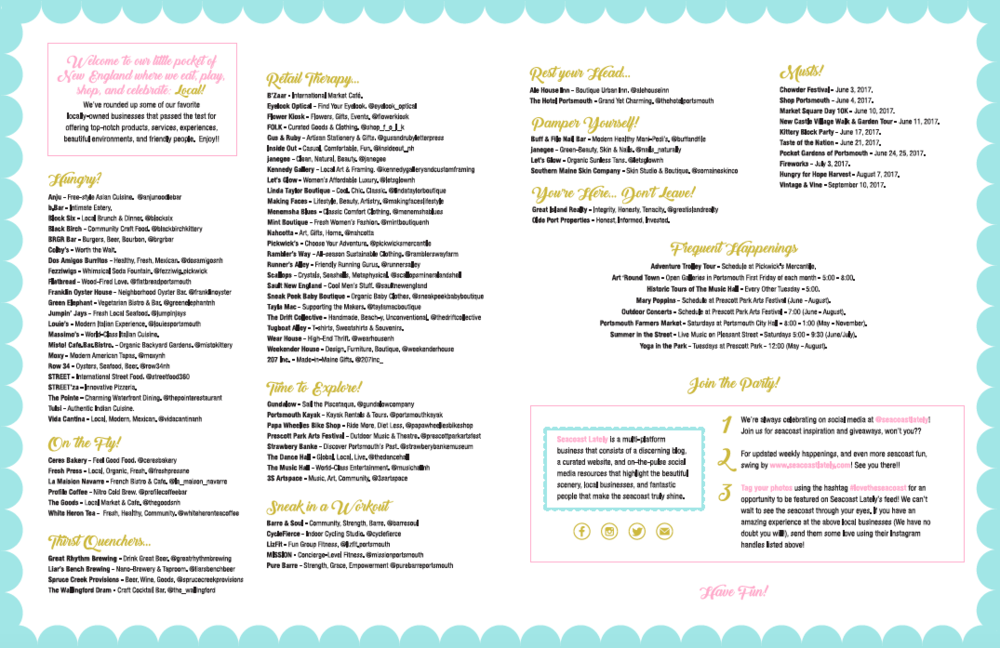 Thank you to everyone who helped in the creation of the map:
Pens: Gus & Ruby Letterpress and Nahcotta.
Illustration: Seacoast Lately.
Graphic design: Kelly at Infinite Imaging.
Printing: New England Printing.
Thank you to all of the local businesses who participated in this year's "Neighborhood Guide". Copies are now available at many of the businesses listed below. Pick up a "Neighborhood Guide" and snap a photo (Be sure to tag Seacoast Lately, because we might share it AND you might win a prize!).
***************
HUNGRY?
Anju – Free-style Asian Cuisine.  @anjunoodlebar
b.Bar – Intimate Eatery.
Block Six – Local Brunch & Dinner. @blocksix
Black Birch – Community Craft Food. @blackbirchkittery
BRGR Bar – Burgers, Beer, Bourbon. @brgrbar
Colby's – Worth the Wait.
Dos Amigos Burritos – Healthy, Fresh, Mexican. @dosamigosnh
Fezziwigs – Whimsical Soda Fountain. @fezziwig.pickwick
Flatbread Pizza – Wood-Fired Love. @flatbreadportsmouth
Franklin Oyster House – Neighborhood Oyster Bar. @franklinoyster
Green Elephant – Vegetarian Bistro & Bar. @greenelephantnh
Jumpin' Jays – Fresh Local Seafood. @jumpinjays
Louie's – Modern Italian Experience. @louiesportsmouth
Ristorante Massimo – World-Class Italian Cuisine.
Misto! Cafe.Bar.Bistro. – Organic Backyard Gardens. @mistokittery
Moxy – Modern American Tapas. @moxynh
Row 34 – Oysters, Seafood, Beer. @row34nh
STREET – International Street Food. @streetfood360
STREET'za – Innovative Pizzeria.
The Pointe – Charming Waterfront Dining. @thepointerestaurant
Tulsi – Authentic Indian Cuisine.
Vida Cantina – Local, Modern, Mexican. @vidacantinanh
ON-THE-GO! or ON THE FLY! (BAKERIES, COFFEE SHOPS, SMOOTHIES).
Ceres Bakery – Feel Good Food. @ceresbakery
Fresh Press – Local, Organic, Fresh. @freshpressne
La Maision Navarre – French Bistro & Cafe. @la_maison_navarre
Profile Coffee – Nitro Cold Brew. @profilecoffeebar
The Goods – Local Market & Cafe. @thegoodsnh
White Heron Tea –  Fresh, Healthy, Community. @whiteheronteacoffee
THIRST QUENCHERS…
Great Rhythm Brewing – Drink Great Beer. @greatrhythmbrewing
Liar's Bench Brewing – Nano-Brewery & Taproom. @liarsbenchbeer
Spruce Creek Provisions – Beer, Wine, Goods. @sprucecreekprovisions
The Wallingford Dram – Craft Cocktail Bar. @the_wallingford
RETAIL THERAPY…
B'Zaar – International Market Café.
Eyelook Optical – Find Your Eyelook. @eyelook_optical
Flower Kiosk – Flowers, Gifts, Events. @flowerkiosk
FOLK – Curated Goods & Clothing. @shop_f_o_l_k
Gus & Ruby Letterpress – Artisan Stationery & Gifts. @gusandrubyletterpress
Inside Out – Casual, Comfortable, Fun. @insideout_nh
janegee – Clean, Natural, Beauty. @janegee
Kennedy Gallery – Local Art & Framing. @kennedygalleryandcustomframing
Let's Glow – Women's Affordable Luxury. @letsglownh
Linda Taylor Boutique – Cool. Chic. Classic. @lindataylorboutique
Making Faces – Lifestyle, Strong, Accepting. @makingfaceslifestyle
Menemsha Blues – Classic Comfort Clothing. @menemshablues
Mint Boutique – Fresh Women's Fashion. @mintboutiquenh
Nahcotta – Art, Gifts, Home. @nahcotta
Pickwick's – Choose Your Adventure. @pickwicksmercantile
Rambler's Way – All-season Sustainable Clothing. @ramblerswayfarm
Runner's Alley – Friendly Running Gurus. @runnersalley
Scallops – Crystals, Seashells, Metaphysical. @scallopsmineralandshell
Sault New England – Cool Men's Stuff. @saultnewengland
Serendipity – Fresh, Fun & Fashion-Forward. @serendipitynh
Sneak Peek Baby Boutique – Organic Baby Clothes. @sneakpeekbabyboutique
Tayla Mac – Supporting the Makers. @taylamacboutique
The Drift Collective – Handmade, Beach-y, Unconventional. @thedriftcollective
Tugboat Alley – T-shirts, Sweatshirts & Souvenirs.
Wear House – High-End Thrift. @wearhousenh
Weekender House – Design. Furniture. Boutique. @weekenderhouse
207 Inc. – Made-in-Maine Gifts. @207inc_
TIME TO EXPLORE! 
Gundalow – Sail the Piscataqua. @gundalowcompany
Portsmouth Kayak – Kayak Rentals & Tours. @portsmouthkayak
Papa Wheelies Bike Shop – Ride More, Diet Less. @papawheeliesbikeshop
Prescott Park Arts Festival – Outdoor Music & Theatre. @prescottparkartsfest
Strawbery Banke – Discover Portsmouth's Past. @strawberybankemuseum
The Dance Hall – Global. Local. Live. @thedancehall
The Music Hall – World-Class Entertainment. @musichallnh
3S Artspace – Music, Art, Community. @3sartspace
SNEAK IN AWORKOUT!
Barre & Soul – Community, Strength, Barre. @barresoul
CycleFierce – Indoor Cycling Studio. @cyclefierce
LizFit – Fun Group Fitness. @lizfit.portsmouth
MISSION – Concierge-Level Fitness. @missionportsmouth
Pure Barre – Strength, Grace, Empowerment @purebarreportsmouth
REST YOUR HEAD…
Ale House Inn – @alehouseinn
The Hotel Portsmouth – @thehotelportsmouth
PAMPER YOURSELF!
Buff & File Nail Bar – Modern Healthy Mani-Pedi's. @buffandfile
Southern Maine Skin Company – Skin Studio & Boutique. @somaineskinco
janegee – Green-Beauty, Skin & Nails. @nails_naturally
Let's Glow – Organic Sunless Tans. @letsglownh
YOU'RE HERE… DON'T LEAVE!!
–Great Island Realty– Integrity, Honesty, Tenacity. @greatislandrealty
–Olde Port Properties – Honest, Informed, Invested.
MUSTS!
Chowder Festival – June 3, 2017.
Shop Portsmouth – June 3, 2017.
Market Square Day 10K – June 10, 2017.
New Castle Village Walk & Garden Tour – June 11, 2017.
Kittery Block Party – June 17, 2017.
Taste of the Nation – June 21, 2017.
Pocket Gardens of Portsmouth – June 24, 25, 2017.
Fireworks – July 3, 2017.
Hungry for Hope Harvest – August 7, 2017.
Vintage & Vine – September 10, 2017.
FREQUENT HAPPENINGS!
Adventure Trolley Tour – Schedule at Pickwick's Mercantile!
Art 'Round Town – Open Galleries in Portsmouth First Friday of each month – 5:00 – 8:00.
Historic Tours of The Music Hall – Every Other Tuesday – 5:00.
Mary Poppins – Schedule at Prescott Park Arts Festival (June – August).
Outdoor Concerts – Schedule at Prescott Park Arts Festival – 7:00 (June – August).
Portsmouth Farmers Market – Saturdays at Portsmouth City Hall – 8:00 – 1:00 (May – November).
Summer in the Street – Live Music on Pleasant Street – Saturdays 5:00 – 9:30 (June/July).
Yoga in the Park – Tuesdays at Prescott Park – 12:00 (May – August).