LOCAL FEATURE: Happy Birthday, Seacoast Lately!
One day during the summer of 2014, I (Maggie) created an Instagram account on a whim. It was called Seacoast Tourguide (The name was later changed as many individuals thought we were giving local tours!) and as I look back to my very first photos – I'm so embarrassed by them! (Yes, if you scroll waaaaayyyy down to the bottom of Seacoast Lately's Instagram account, to see them – they're still there;). I had just graduated from college and was feverishly seeking a job. New York City was calling my name, so I packed my bags and headed to my second favorite place in the whole world to pursue internships in blogging, social media, and fashion. What I originally thought would turn into a full-time position, turned into something so much better. I gained experience in a field I didn't realize I loved, and brought what I learned back to the Seacoast!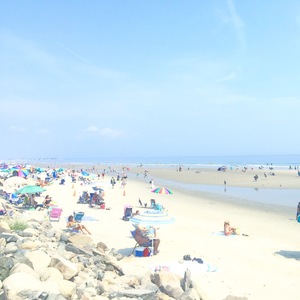 I clearly remember the feeling of excitement I had sitting at the Starbucks on 401 Broadway in New York City in May 2015. It was the last day of my seventh unpaid internship and Seacoast Lately's big debut! After a lot of preparation, I nervously pushed the "Send" button on Seacoast Lately's very first newsletter. It was 9:00 am on a Monday morning, and I couldn't wait to go full speed ahead on this new adventure. I was passionate about starting a business, pursuing something I loved, and celebrating and giving back to the Seacoast – an area that truly has my heart.
Seacoast Lately has evolved and grown a lot over these past six years and I feel so grateful for such a loyal, supportive, and encouraging group of followers. THANK YOU, THANK YOU, THANK YOU to each of you for being an integral part of this adventure!
I was born and raised here on the Seacoast of New Hampshire and so appreciate everything this unique area has to offer. In my mind, it's paradise! The stunning coastline, proximity to Boston and Portland, and the historic New England charm is unbeatable. What truly stands out in my mind, however, is the community. We live in a place where art, culture, and creativity are celebrated…where people know the farmers who grow produce for the market…where local shop owners and residents are integral parts of the community. The Seacoast is a special place where history meets modern amenities, where coastal beauty meets cultural sophistication. This is a really exciting time here on the Seacoast and I, like you, am thrilled to be part of the adventure!
With sincerest gratitude,
Maggie