THE INSIDE SKINNY ON… Tempo Dulu!
Are you in the mood for a quick trip? Itching to see, taste, and experience something new? Well, we know of a fabulous hidden gem in Portland, Maine…
Located in Portland's West End neighborhood is the historic and charming Danforth Inn. Not only is The Danforth an upscale, nine-room boutique hotel, it also is home to one of Portland's finest restaurants, Tempo Dulu!
My brother is a Portland, Maine resident who had been wanting to try Tempo Dulu for a long time. A few weeks ago, the two of us decided to dine out at Tempo Dulu and were both impressed with the attentive service, inventive flavors, and unique ambiance of the restaurant.
Tempo Dulu is situated in the lobby of The Danforth Inn. As soon as we entered the inn, we were greeted by the new, and oh-so-welcoming, Dutch owners of this beautiful retreat. We eagerly situated ourselves at the bar that was adorned with subdued purple lighting. We were surrounded by a lively buzz in the hotel lobby and modern furniture that contrasted beautifully with the historic architecture. The main highlight in the lobby area was a massive lamp that was actually covered in live moss! The lamp alone is worth a visit. The couple who owns both The Danforth Inn and Tempo Dulu are inspired by Asian art, food, and culture. Their passion is nodded to throughout their property and was especially evident in the flavorful plates featured on Tempo Dulu's tasting menu…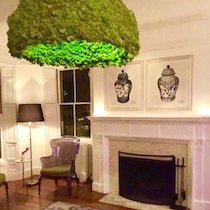 The small plates at Tempo Dulu provided a refreshingly different approach to dining out. We selected a variety of appetizer-sized plates that ranged from a light coconut and roasted mushroom soup to steamed halibut on a bed of kale. To start, we ordered an appetizer of rice cakes with peanut and spicy sambal sauce; exquisite!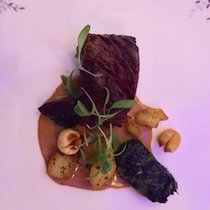 This holiday season, Tempo Dulu offers gourmet Christmas and New Year's Eve menus in addition to a lobster tasting menu that is served year-round. If you're a foodie who not only appreciates a wildly flavorful palette, but also a warm and inviting ambience that offers a place to rest your head upstairs, I think you'll fall in love with Tempo Dulu at The Danforth Inn.
Have you visited Tempo Dulu or The Danforth Inn?