THE INSIDE SKINNY ON… Christmas Prelude!
With a true appreciation for her town of Kennebunkport, Maine, and a discerning eye for what's trendy and hip, guest blogger Stephanie Stellwagen shares her favorite things to see, eat, and do during Christmas Prelude 2017…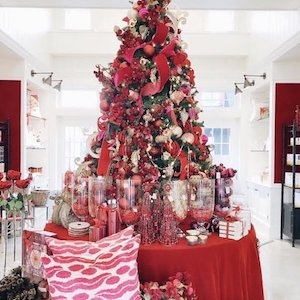 TO DO
According to Stephanie, there is never a shortage of events during the Prelude celebration. Stephanie shares some highlights below. For a full schedule of Prelude events, click here!
1. The first night of Prelude kicked off the holiday season with two Christmas tree lightings – the Dock Square tree decorated with colorful buoys, and the lobster trap tree in Cape Porpoise adorned with big red bows. Another tree lighting will happen in Dock Square this weekend followed by a fireworks display!
2. One of my favorite things to do on Saturdays of Prelude is craft fair hopping, and there are a plethora of great fairs to choose from throughout this annual celebration. The Consolidated School holiday craft fair and Mainley Unique craft fairs are back on Saturday! Be sure to visit the homemade mitten maker in the gymnasium at the Consolidated School – best homemade mittens ever!
TO EAT
If you are like me and enjoy eating and drinking your way through Prelude, there are many great options in town.
 Edgewater is open for brunch from 8:00 – 12:00, Friday through Sunday. It's out of this world!
I could eat The Salt & Honey's lobster rolls (made with sriracha and honey) and hand cut french fries every day of the week. Try the bloody mary and you may never stop talking about it!
A Kennebunkport classic, Rococo Ice Cream, is still open and, even if it's chilly outside, their creative flavors are irresistible!
And Old Vines Wine Bar is hosting some fun events. Word on the street is there might even be a dance party or two!
4. The home-cooked meals at the Kennebunkport firehouses, like the Fish Chowder Supper, the Blueberry Pancake Breakfast, and the Firehouse Lobster Supper, are wonderful ways to fuel up during a busy weekend in Kennebunkport!
SHOPPING
All over town, the shops have decked their halls with Christmas cheer. Wreath-adorned doors and festive shop windows make it an extra special treat to pop in and buy some holiday gifts while supporting our community…
1. If you're searching for stocking stuffers, hop over to Daytrip Society in the heart of Dock Square. This unique gift shop carries top-quality Maine brands like Sea Bags and Brahms Mount, as well as books by local writers, unique cards, and cozy knit winter hats. A few doors down, you'll find Daytrip's sister shop, Daytrip Junior. At this sweet boutique, you will find a beautiful selection of products for all of the kids and babies in your life!
2. Looking for a trendy outfit to wear to your holiday party? Green Tangerine will have you looking festive and dazzled up with its selection of contemporary clothing!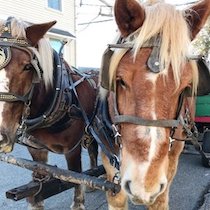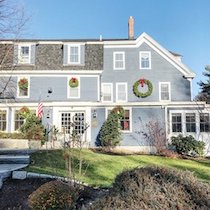 3. Have you been to Farm + Table?? Calling a big red barn in Cape Porpoise Harbor home, Farm + Table offers a beautifully curated selection of farmhouse goods, including kitchen linens, artisanal goods, home décor and more!
4. Spaces Kennebunkport is a tasteful, coastal, and girly gift shop just a short walk from the hustle and bustle of Dock Square. Spaces sells an abundant collection of the popular Maine-made "The Ropes" bracelets, which would make anyone happy at Christmas, don't you think??
5. Holiday candles are an elegant holiday gift for anyone on your list. There is a bountiful selection at Hurlbutt Designs in the port – a petite space that also carries beautiful coastal home décor.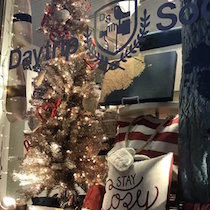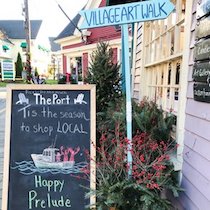 LOOKING FORWARD…
1. Next weekend will be just as spectacular as last, and I can't wait for the Annual Fire and Ice event at the Nonantum Resort!
2. The hat parade and Pooch Parade are always a treat too!
While summer in Maine is irresistible, there is something so special about being here at Christmas and experiencing the joys of Prelude. When I say magic happens at Prelude, I really do believe it does. It is exactly the way life should be and here, in this place, it's just the way life is.
Happy Prelude!
-Stephanie Stellwagen
***Be sure to follow Stephanie's GORGEOUS Instagram account, @stephstell!***