LOCAL FEATURE: Eklund Griffin
Coastal charm meets city-chic with Eklund Griffin – a Portland, Maine-based handbag company that launched this past summer. Twenty-something sisters, Hayley and Blair Griffin (whom you may remember from their Travel Guide to Portland, Maine), are excited to share their story of how their "American handmade" business came to be…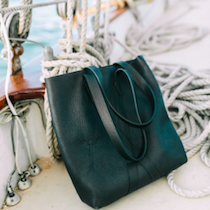 Can you tell us about the process, from when you first thought up Eklund Griffin, to your launch this summer? 
I think Rihanna said it best… work, work, work, work, work. And not just on Eklund Griffin! Hayley and I both had full-time jobs before she jumped her corporate ship and I decided to try and grind myself into a pulp for a little while juggling 4 part-time jobs at once. I'm back down to one job and Eklund Griffin; things are looking up for us. There was a lot of cold calling in the beginning, several manufacturers, a very intimidating trip into the fashion district in Manhattan, a few different tanneries, and a lot of people (whom we love and respect!) asking us tough questions about whether this was really a good idea. Since the brand launch even our biggest devil's advocates have come around.
What was the best part of turning your idea into a reality?
The magic of it! That may sound like nonsense, but we aren't that far from childhood, when our mother would take our drawings on tissue paper and send them away, and they would return as plates. There's definitely something to the saying "Seeing is believing"… We went from pie in the sky ramblings of, "How cool would it be if…" and roughly 1,460 days later, we were holding these luxe leather bags in our hands that Hayley dreamed up!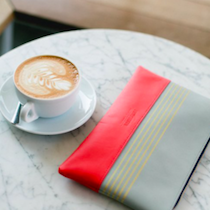 What are each of your roles in the business? 
Our business cards call Hayley the creative director and me the business development director. As any small business owners would tell you, these are loose titles. We do most things together, honestly. We are very symbiotic, but we share blood and we aren't that worried about our co-dependency; it's a strength and a challenge at times.
Hayley is the artist, both naturally and by education, so she spearheads the product development and branding of the company. She is in charge of curating our social media presence (I get to help with words from time to time!) and also does all of our graphic design – the website, some photography; she is really a creative Renaissance woman. I spend time on our operations, making connections with retail partners, and building a foundation that will support sustainable growth (Think lots of excel, business plan writing, grant writing, Quickbooks and the like.).
What do you enjoy most about working together? 
The laughing. Being siblings, it probably goes without saying that we do a bit of bickering too. The most memorable days are the ones when our Dad comes into the office; we're laughing so uncontrollably, he just has to see what we're up to. It's really nice to work with somebody who gets you from the inside out. There is less fear and feelings of risk because we know that neither of us will ever quit on the other. Our bond didn't need a partnership agreement, but we have that too. Just in case, I guess.
Where do you find inspiration?
I'm not sure how many hundreds of other people would give you this exact answer, but Maine is our largest muse. We didn't realize until we both went away just how amazing this place is. We are so lucky to have grown up here and we now have such an appreciation for the natural beauty that surrounds us. Hayley's ability to translate her inspiration astounds me. If I were inspired by seaweed I'd be trying to sell stinky dried seaweed. It's a good thing Hayley is in charge of product development.
All of your products are made in America. Why did you decide on this?
You would probably get a variety of answers from each of us if you asked us separately, but we both agreed that we wanted to contribute to the economy here, as close to home as possible: to be part of the movement that is reinvigorating American craftsmanship and manufacturing. On a more personal level, I enjoy human interaction, so it makes much more sense to me, financially and otherwise, that our partners are a car ride away. I value the ability we have to hop in the car and meet face-to-face with our tannery and manufacturer. I think communication is better this way; you can build rapport much easier, and there is always time for a few jokes when you're sitting around a table together. Our tannery, based here in Maine, makes our leather from domestically raised cow hides.
How often do you plan to come up with a new collection? 
About every couple of days, in our heads. Hayley continuously fills sketchbooks with new bag ideas and even completely different kinds of product lines… I'm the bottleneck because it's up to me to secure the capital for all our research and development… and that can take more than a minute. We're expanding the Maiden Collection this winter, to include some more urban appeal, with the introduction of black in the Dory Clutch, Infinity Tote, and a black/gray Buoy Block Clutch. In about a year, we would like to add a few additional styles, and once we're a well-oiled machine, I think it would be our goal to keep our product offering refreshed every season.
What does Eklund Griffin mean? 
The short and sweet answer to this question is Eklund means "Oak Grove" and Griffin is our last name. If you want to know more about the Swedish translation, check out our wordy blog post here.
Thank you for sharing your story with us, Hayley and Blair!
xx
Maggie
*All photos c/o Eklund Griffin and Seacoast Lately.