POCKET TOWN GUIDE: Durham, New Hampshire!
We're thrilled to introduce our first ever guest blogger, Charlotte Harris! Charlotte is a UNH student who's level of sophistication appears higher than her years may suggest. As a New England blogger and resident of Durham, Charlotte is giving us the inside skinny on this growing New Hampshire town…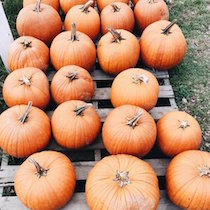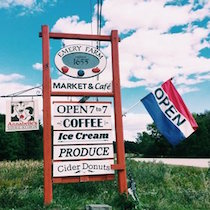 Hi Seacoast Lately readers! I'm excited to share a guide I put together for a town I've been fortunate to call home for the past few years. You may automatically write Durham off as a college town, but don't be fooled – there are many reasons to visit Durham even if you're not a student. Surrounded by farmlands, rolling hills, and winding creeks and rivers, Durham is the perfect place to spend a beautiful fall day.
Here are some of my favorites…
Eat
UNH Dairy Bar – This little eatery in the charming Durham train station offers fresh salads and sandwiches made with local ingredients. It's primarily a lunch spot, although their ice cream window with dozens of flavors stays open late into the summer. A great spot to grab a salad or sandwich to-go before hopping on the train or going on a picnic.
The Juicery and The Soupery – For a healthy lunch or snack, you can't beat smoothies from The Juicery or soups from The Soupery. Those who frequent the establishments' tiny Portsmouth locations will be pleasantly surprised by the spacious, modern interior of their Durham location. In fact, the trendy vibe of the place would fit right in in a big city and is reason alone to stop in for a visit.
Young's – A classic breakfast and lunch spot with an emphasis on locally-sourced ingredients. It will be busy on a weekend morning, but the wait shouldn't be too long. If you're feeling especially decadent, try their homemade cinnamon rolls!
Lexie's – Yes indeed, the same Lexie's that's in Portsmouth! The Durham location is newer and bigger than Portsmouth's, but still offers the signature burgers, fries, and milkshakes we all know and love. If you're not in the mood for a burger, the haddock sandwich is a delicious alternative.
Bella's – Tucked away in the Mill Road Plaza, you might overlook this lunch and dinner spot at first glance, but it's a great spot to grab a bite to eat if you're in the area. There's something for everyone on the menu, and the atmosphere is casual and cozy.
Breaking New Grounds – This cozy and classic coffee shop is a staple in the center of downtown Durham. Like the Portsmouth location, there are outdoor tables, which are perfect for a sunny fall day. One of my favorite drinks this time of year is the hot local apple cider with a shot of caramel – yum!
Freedom Cafe – Grab a cup of coffee for a good cause! This nonprofit cafe aims to raise awareness and money to end human trafficking and exploitation. There is also a live musical guest followed by Open Mic on Wednesdays at 7pm!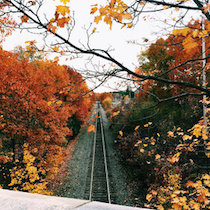 Do
Emery Farm – This farm stand on Route 4 is absolutely worth a quick trip from Portsmouth. You'll find farm animals like donkeys and chickens, a variety of seasonal fruits and vegetables, and piles of gourds and pumpkins this time of year. The recently updated interior includes a market that sells local produce, as well as a counter serving sandwiches, toasts, Annabelle's ice cream, and White Heron coffee and tea. Kids will love the corn maze and weekend wagon rides!
Wagon Hill Farm – Take a walk through 140 acres of rolling hills and woodsy paths that lead you to beautiful views of Great Bay. In the warmer months, don't miss the community garden boxes bursting with flowers, which you can find behind the farmhouse. The farm is located right across the street from Emery Farm, so be sure to pop by.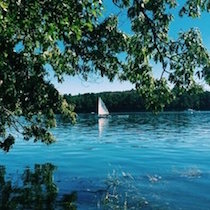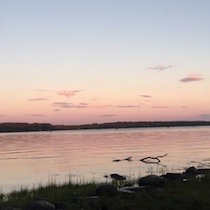 College Woods – Wander in the peaceful woods along Oyster River, an ideal spot for leaf-peeping! The foliage in Durham is just starting to become vibrant and I always find the prettiest leaves here in these woods. The easiest trailhead to get to is located just over a mile down Mill Road (coming from Main Street). The winding, woodsy trails lead along the river to a peaceful reservoir.
Adams Point – If you still didn't get your nature walk fix, head down to Adams Point. This trail starts out around a meadow and gradually winds along the shoreline of Great Bay, with sweeping views and a salty breeze.
Main Street Makery – Join a crafting workshop or browse locally-made jewelry, home goods, cards, and more at this unique little shop tucked behind Main Street. The colorfully painted wall outside of the Makery makes for a great photo opportunity to document your day in Durham.
Thank you, Maggie, for having me!
-Charlotte