LOCAL FEATURE: Sara Fitz!
I'm excited to introduce you to Sara and Miles O'Brien, a York Harbor couple who recently launched their design business, Sara Fitz. Read our exclusive Q & A with Sara below!
What is Sara Fitz and how did it come to be?
Sara Fitz is a rebrand and relaunch of a watercolor stationery studio I founded in 2007, called Griffin-vites. At the time, my husband, Miles, and I were engaged and I decided to create our "save the dates" for our wedding. They ended up being a hit with those who received them, which encouraged me to create our wedding invitations and "day-of" stationery. The ball started rolling from there, and pretty soon, I had a nice group of clients and some lovely press…
After years of happily running Griffin-vites, I chose to stay home full-time with my two young boys. Relaunching the business was always my ultimate goal and something I hoped to do alongside Miles when the time was right. We found that time to be this past summer, when we completely rebranded my original business and developed Sara Fitz (Fitzgerald was Sara's maiden name.)! The last few months have been fantastic. In so many ways, this relaunch has been a fresh start– an exciting journey!
What medium do you use?
Sara Fitz illustrations are all done in watercolor, my medium of choice because of its fluidity, transparency, and color spectrum. I have experience with other mediums (oils and acrylics)… but just love love love the look of watercolor!
Where do you find inspiration?
Living in coastal New England provides me with endless inspiration! I'm drawn to the raw seaside aesthetic: faded grey shingles, old lobster buoys, and mussel shells. I find Maine's coastal villages to be incredibly beautiful and full of such character; it's impossible for me not to be influenced by them in one way or another!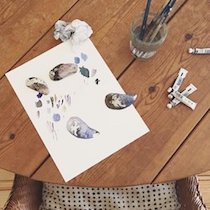 What is your favorite part about your job?
The creative element is what I enjoy the most. The ability to paint and design stationery for clients' weddings is an honor, and something I take very seriously. Working with incredible couples and getting to know them over a lengthy period of time, while they plan their big day, is always going to be one of the best parts of my job!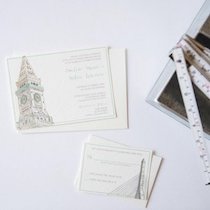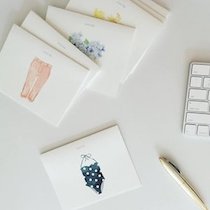 What is the most unique aspect of your brand/product?
I like to think our brand stands out for its fresh, slightly whimsical look. We aim to stay relevant, yet classic, with our clean, colorful illustrations. Our custom wedding stationery is unique in that it can incorporate artwork that carries personal significance to our couples— watercolors might include a rendering of their venue, favorite pastime, or even their pup! We try to tell a story with each custom project.
When you're not working, what are you doing?
When I'm not in the studio, I am spending time with my boys. Our family is close and we really enjoy being together.
What do you appreciate most about the seacoast?
EVERYTHING! The air. The ocean. The fishing boats. I love it all. I've lived along the coast my entire life, and can't imagine being anywhere else!
Thank you for sharing your work with us, Sara and Miles!
xx
Maggie