LOCAL FEATURE: The Dance Hall
For years, she drove by the historic faded green building in Kittery, Maine, knowing it would make a perfect venue for locals to gather, and enjoy music and dance. The original maple floors were ideal for dancing, the acoustics were perfect for encompassing the room with beautiful sounds, and the walls were filled with decades of history. Drika Overton dreamed about the performances she could host in this special spot and her vision turned into reality when a friend of the arts, Cary Mabley, purchased the building in November 2010. By April 2011 The Dance Hall was born…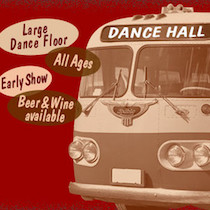 Drika is originally from California and grew up in a family of folks who loved to dance. After studying ballet as a child, it wasn't until college that she returned to dance, primarily modern. Drika moved to San Francisco to train under some of the best dancers in the field and, while there in the 1980's, discovered tap – an American dance form rarely seen in those days. She fell in love! In 1985 Drika moved to Portsmouth to be nearer to family and a more vibrant tap dance scene.
With some of the best tap dancers in the world in Boston and New York, Drika studied in earnest and began a performance career. Fortuitously, she found a job as House Manager at the precursor to The Music Hall, The Portsmouth Music Hall, and worked there until it closed a year later. She got involved in the efforts to save the venue from being turned into condos and became a founding board member of the newly reconstituted Music Hall in 1988. It was there that she developed her career as presenter, performer, and producer for over 20 years bringing new and unique talent to Portsmouth.
Throughout her 31 years on the seacoast, Drika has taught, performed, and been a part of theaters and dance studios in the region. Where her true passion lies now is in The Dance Hall, where she continues to introduce our community to local, national, and international talent.
The building in which The Dance Hall currently stands was built in 1928 as The Kittery Grange Hall. For decades, it was the place where the majority of Kittery community events took place, so it is bursting with history! Drika is proud to add to the history of this building by offering a family-friendly venue for the community to enjoy.
The Dance Hall offers an incredible line-up of events this fall; every weekend is booked with a variety of music and dance performances (Browse the schedule here)! The Dance Hall also offers classes ranging from West African Drum (most popular and going strong since 2011), Middle Eastern Belly Dance,Tap, and Music Together for our little locals.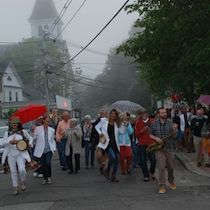 Thank you for bringing our community together with your passion and talents, Drika!
xx
Maggie
*All photos c/o Seacoast Lately and The Dance Hall.