Behind the Scenes with…Prescott Park Arts Festival!
I recently sat down with John Moynihan, the producing director of Prescott Park Arts Festival. John gave me the inside skinny on what happens behind the scenes to get ready for a performance-packed summer at the seacoast's beautiful and one-of-a-kind outdoor entertainment venue. As someone who has solely been on the spectator side of the entertainment industry, I was fascinated by all of the work that goes into a production…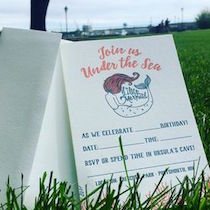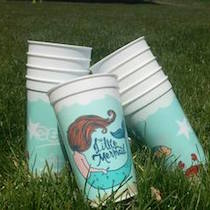 "The Little Mermaid" actually began the moment the curtains closed for the season at Prescott Park last summer. John and the six-person Prescott Park team had always wanted to produce "The Little Mermaid" but it had never been available until a year an a half ago! They jumped on the opportunity and had to keep it a secret for months! The musical was chosen, and the production team was assembled in the fall to start planning for the show.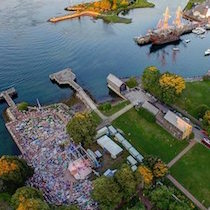 Once the planning proposal and costs were approved, the team was selected, and work was underway this past fall, the show held auditions in Feburary.
The cast of "The Little Mermaid" consists of about 50 performers that practiced 4 to 5 times a week at UNH through the winter and spring. Glimpses of the final production started to take shape and eventually the crew advanced to the outdoor stage for rehearsals before their first performance on the last Friday in June!
(Behind the scenes!)
John has been a part of Prescott Park since 2008, when he began as an actor in "Beauty and the Beast". In March of 2011, he popped by the offices to say hello, helped them on a project, and never left! He now oversees the Festival's production department, summer musical, and Day Camps; let's give it up! Every year, John's favorite part of his job is when, after a busy month of final preparations in June, he sits back watching the show and thinks, "This is why we do it". He loves seeing people enjoying the experience and simply having fun…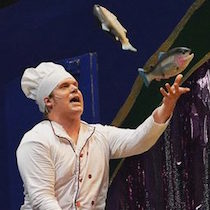 (Showtime!)
What is John loving most about this summer at Prescott Park? He says "Les Poissons" is a fun number in "The Little Mermaid" and his favorite items from "The Prop" include The Common Man's ice cream, curry fries from STREET, and White Heron Tea…YUM!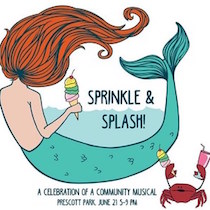 FUN FACTS:
1). The lead actress, who plays Ariel, comes from New York City!
2). All of the costumes were custom-made for "The Little Mermaid" this summer (Everything is usually rented!). The costume artist is a UNH graduate who lives and works in Chicago.
3). Prescott Park's production will be the very first time "The Little Mermaid" will be performed on the seacoast!
 Cheers to Season 42 of the Prescott Park Arts Festival!
*Photos c/o Seacoast Lately and Prescott Park Arts Festival's social media feed.