LOCAL FEATURE: Maine Melon
Maine Melon is a nautically-inspired bracelet and accessories company based in Falmouth, Maine. Last week, I caught up with founder Maryellen Rooney, in Portland, to chat about her story, Maine Melon's stunning products, and our shared love for the New England coast…
It all started as a hobby in 2010 when Maryellen, a college art major began hand painting buoys on wooden bracelets. Having lifelong passion for coastal living, innate talent for working with her hands, and a dream to start a business of her own, Maryellen set off to create a more professional-looking product.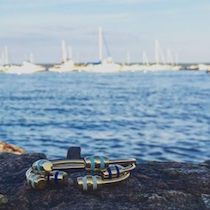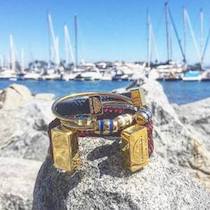 This young entrepreneur met with manufacturers in Rhode Island to help create the metal bases for her bracelets (Did you know that most of the jewelry made in America is made in Rhode Island??). With some stunning American-made products in hand, Maryellen founded her business and officially launched Maine Melon in 2012. Growing up, Maryellen's nickname was Melon… hence the name of her business. Isn't it the cutest??
The most popular products sold by Maine Melon are "Buoy Bracelets", which were designed about a year ago. They come in a variety of colors and are a classy piece that go with just about any outfit in any season. The colors can even be customized! Maryellen's favorite products are the "Shackled Bangles" and the "Dock Cleat" – coming soon!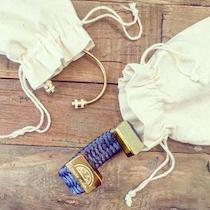 Maine Melon's Cuffs are also a hot ticket item and come in four different widths, as well as men's styles. Maryellen assembles each of these cuffs with marine-grade rope in her home studio and ships products across the country through her online shop (mainemelon.com). Here on the seacoast, you can find Maine Melon at a shop we're just head over heels for – Daytrip Society in Kennebunkport.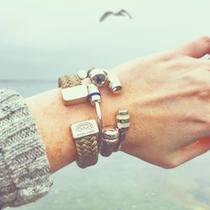 Maryellen also sells her jewelry at local boutiques in Portland and at other tasteful shops throughout New England. Her plans for the near future are to expand her business to offer clutches and handbags. If the bracelets are any indication, they will be simply gorgeous!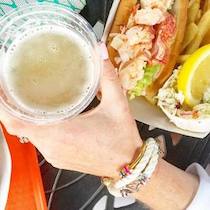 *All photos c/o Maine Melon.