LOCAL FEATURE: Farm + Table
The big red barn in the charming village of Cape Porpoise, Maine provides the perfect setting for an artisanal gift shop. Just minutes away from the hustle and bustle of Kennebunkport, Farm + Table is a quiet respite from the busy summer rush in town. Trust me, you'll want to park your car and stay for awhile….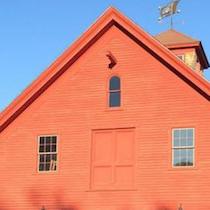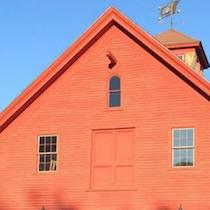 Farm + Table was founded by Liz and Bruce Andrews in April 2015. This sweet and incredibly friendly couple had spent a year and a half curating the beautiful products they now carry in their shop, and every single item is not only of incredible quality, but also beautiful – from the products themselves, to the packaging and labels! When you visit, be sure to look at the displays… they are all handcrafted from 200-year-old barn wood by a mother / son team from Alabama!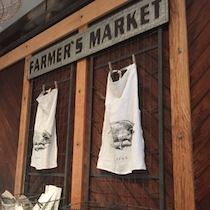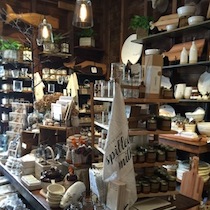 When you enter Farm + Table, you just might have an inkling to buy everything – handmade jam for breakfast, caramels for a dinner party, a linen apron for your sister's birthday, Farmhouse Pottery for newlyweds, or grilling essentials for your dad. With such a tasteful variety, it's hard not to want it all!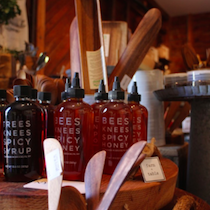 How did Farm + Table come to be?
After years of working in Chicago, Liz in the wholesale side of the gift industry, and Bruce on the Chicago Board Options Exchange, they were craving a change. Liz and Bruce retired to the foothills of the Blue Ridge Mountains in South Carolina for seven years, but found themselves unstimulated and bored. They wanted something more; they wanted to share their passion for entertaining, small batch business, and unique products. They were seeking a new adventure and the opportunity to work on something together. Since visiting Kennebunkport 18 years ago, Liz and Bruce had felt like Kennebunkport was "home". In 2013, they moved north, and they are now official residents of this beautiful Maine town.
"Kennebunkport is an amazing place to live and work. It's quintessentially Maine with a small town feel. Cape Porpoise is a special place in which to have our store. With the charm of the working fishing/lobster pier and quaint shops, galleries and restaurants, it offers a unique experience for our customers. With the beautiful Church on the Cape across the street, we have hourly church bells ringing, complimenting the sound and smell of the sea behind the store…it's a "pinch me" feeling of a PERFECT place to be! We feel so blessed and supported."
-Liz