LOCAL FEATURE: Tidal Roots!
It all started with an enthusiasm for the outdoors, a passion for handcrafted goods, and a strong appreciation for artfully-made, functional products. Meet good friends Kyle Schaefer and Kent Scovill, who have spent hours paddling the Maine and New Hampshire coastlines while enjoying their shared love of connecting with the outdoors. Kyle and Kent don't just paddle on "any" boards; they hand craft their very own, one-of-a-kind stand up paddle boards with natural wood from Maine!! What started as a hobby in 2012 turned into a thriving business in 2014. Two years later, Kyle and Kent are making waves here on the seacoast with their business, Tidal Roots.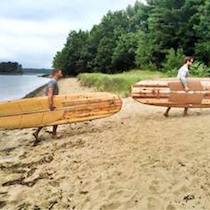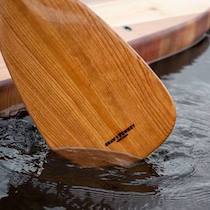 Tidal Roots creates "artfully crafted, stand up wooden paddle boards that connect people to the outdoors". Each board is made meticulously by hand in Kyle and Kent's Rollinsford Mill workshop, where a total of 40 SUP's (as the cool kids call them:) will be produced this year alone. Their products are sold online and are shipped all across the country!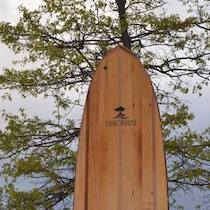 Kyle is a Maryland native who first ventured to New Hampshire for college. He spent some time managing ski shops and guiding fly fishing in Colorado before settling back on the seacoast a few years ago. His sister introduced him to Kent, a New Hampshire native and furniture and cabinet maker – the rest is history! Kyle and Kent's expertise melded together to create the perfect combination for their hip, nature-inspired brand, Tidal Roots.
What do Kyle and Kent love about living, working, and owning their business on the seacoast? "The vibrant community and proximity to the ocean!", says Kyle, whose favorite spot to paddle out from is Fort Stark in New Castle.
Tidal Roots recently launched a new website, two new board models, and a handmade wooden paddle, so be sure to check them out at www.tidalroots.com!
You can also say hello to these local entrepreneurs at their booth on Market Square Day (June 11) and at a special demo (Tidal Roots x Seacoast Lately) in June! It's going to be really fun so, stay tuned!!
xx
Maggie
*All photos c/o of Tidal Roots.