LOCAL FEATURE: The Ice House!
I remember nervously walking into The Ice House kitchen on my first day of work as a high school freshman. Being a "scoopgirl" was my first job ever and also one of my favorites. I have countless fond memories of working at The Ice House for nine summers – watching lines extend all the way to the road on hot summer nights, becoming friendly with "the regulars", spilling frappes all over myself, eating way too much ice cream… The list goes on…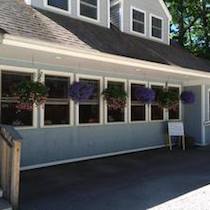 On top of the happy memories and good friends I made there, one aspect about The Ice House really stands out to me – the people. Four generations of the Malinowski family work at The Ice House and they are some of the hardest workers I know. They care about each other, their customers, the employees, and the community; ethical values are a huge priority for them. They respect everyone and are generous, funny, honest, and incredibly down-to-earth. Can you see why people work there for so long?? Add on the fresh seafood, delicious ice cream, and my personal favorite, a grilled cheese, and I really can't say enough good things about this beloved seacoast icon. Let's learn more from Meg Bishop about how The Ice House came to be!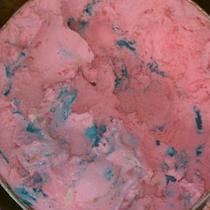 What number season is this for The Ice House? 
Number 37! The summer of 1980 was our first season in business.
Who started The Ice House and why? 
My parents, Keith & Kathy Malinowski, started it. It was sort of a fluke. My dad was working at the Seabrook Nuclear Power Plant and they kept laying him off for a month at a time. He wasn't happy about this because he had a family to raise. Mom and Dad were driving through New Castle one day and saw the 'For Rent' sign. They called and talked to Mr.Bartlett and he agreed to rent to them for the entire season for $1000.00. They said yes that day and then dad changed his mind and said no the next day. He wasn't sure that they would be successful enough to pay the $1000.00 in rent. Mr.Bartlett lowered the price, so my parents went for it.  The restaurant had to be occupied by someone, or there would be a problem with the town.
Where does the name "The Ice House" come from??
My dad's grandmother had a bar in Milwaukee, Wisconsin called Ice House Mary's. She had it for quite some time and we carried that name all the way to New Hampshire!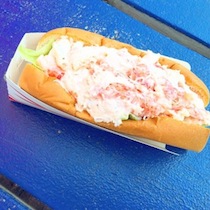 What is your favorite part about working at The Ice House? 
Other than the endless supply of hot fudge?  Definitely the people – customers and staff:).
What do you love about living and owning a business on the seacoast? 
My parents started the business when I was 5. When I was growing up, I swore that I would never work at The Ice House or live in Portsmouth. Little did I know! I can't imagine my life anywhere else. Some of our customers have been coming to us from the beginning. They watched me grow up. I watched them have children (who have grown up) and now they are watching my children grow up.  Some of these people have become family.  I think that's special and it makes me proud to be a part of the restaurant. Ice cream makes people happy and I get to be a part of that too.
A big thank you to Meg for answering these questions (and for hiring a shy little freshman to work at The Ice House 11 years ago:).
P.S. THE ICE HOUSE OPENS THIS FRIDAY!!!!!!!
xx
Maggie