SEACOASTERS IN THE WILD: Britt Fabello!
I met Brittany Fabello through Instagram and was immediately drawn to the unique style of her artwork. Brittany currently lives in London, England where she works as a fulltime artist! Her family vacationed on York Beach every summer, for as long as she can remember, and she has close ties to the seacoast. The story Brittany shares of following her dreams is inspiring, and I thought she would be a perfect fit for this edition of "Seacoasters in the Wild"!
Tell us about your art!
While exploring themes in nature and the human spirit, my art aims to unite the unseen energy created through and around us with the tactile world. My signature style and go-to mediums are hand embroidery and painted ink on handmade recycled paper.
What do you love most about being an artist?
I love that I can tell a visual story and use that to help people see things in a different way. By working in the abstract realm, I want to be able to evoke feelings that remind people who we are at our cores and how we can nurture good energy through that.
What prompted you to become an artist?
Well, art has always been something near and dear to my heart. Even as a kid and growing up, it was the one place I could feel at ease in my own space. When I started college as a studio art major, I began to second guess this for the first time. Something felt off about having to create artwork constantly for my classes rather than for myself. I ended up switching my major to graphic design in order to still be able to use my artistic eye but pull away from the fine art side. Looking back at that decision, I realize how naive I was. I didn't have the sense or maturity to understand the positives of being in a studio art program. While I am glad I studied design—it helps me brand and market myself—I came to the realization, after working for years as a designer, that I need to get back to my roots as an artist. It's in my bones and veins; I couldn't push it away any longer. It's always been a part of me and coming back to it fulltime this year has put that ease back into my life that I found early on.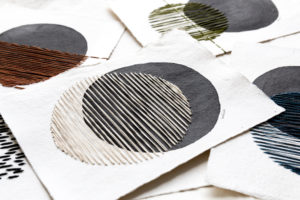 You went to school near Portland, Maine and then lived in Boston. What did you love about each city?
I lived in Gorham while at USM, and would frequently make my way to Portland, which is a city I've always loved. My family and I would go there every so often growing up, and I would get really excited. There was always something about it that made me feel good and that was one of the main reasons I initially chose to go to school in Maine. I love small cities—ones that keep the hustle and bustle at bay, but still have things going on. The art and culture in Portland have me aching to eventually settle down back in New England someday. It is truly a unique community.
Boston was my first go at true city life. I grew up in a small town in central Massachusetts, so it seemed like a bigger step to move there than it probably should have, haha. Living in a city taught me things I wouldn't have been able to learn if I had continued to live away from them. Cities toughen, smarten, and humble you in unique ways—like by making you feel small but giving you a place to cultivate new opportunities. I found myself gaining confidence living there. I miss the size and location of Boston a lot. My husband and I lived in the North End, and one of our favorite things to do was to go for walks along the harbor. I love that both Portland and Boston are right on the coast and embody that classic New England charm. There's just nothing like it!
Now you live in London!!! Tell us More!!!
Moving to London was definitely a restart for me. Before moving I was working as a freelance designer in-house at various companies in Boston while running my own design studio on the side. When I moved, I decided to focus solely on the latter for the first couple of years here. I thought it would finally give me the fulfillment I needed as a creative. That feeling never came and while I loved getting to work with small business to create brands for them, it was time to finally step away and do some soul searching. That's when I was guided so clearly back to being an artist.
I've been in London somewhere between 3 and 4 years now! I can't believe it. I'm not sure how much longer my husband and I will continue to live over here—our plan changes constantly—but we still have our eyes set on returning to our beloved New England at some point in the future. But for now, we are continuing to enjoy living in this amazing city and taking advantage of the location for traveling. It has been an experience of a lifetime and has opened my eyes to more than I thought possible.
The seacoast seems to hold a special place in your heart and you plan to settle in this area when you return stateside. What do you love most about it? What are you most excited to do and see when you come back?
There is so much I love about the seacoast! I have a hard time verbalizing it because it's something that just feels so familiar and right. I love the variety of lifestyles and landscapes—cities, mountains, ocean. It's all right there and beautiful. I miss being able to hop in the car and drive up to the White Mountains or cruise along the coast with the windows down on our way to get some ice cream. There's an active and lifting energy in New England.
I'm excited to be somewhere that has all those things again. Living in such a big city like London, there is always plenty to do and has been right for this chapter of life, but New England will always have my heart. That's why I can say with certainty that we will move back eventually. Our families are there…and I really miss ice cream!
You can keep up with Britt on Instagram @brittfabello where she posts scenes from her studio, her latest creations, and shots of her travels. To inquire about purchasing work or a commission a piece of art visit brittfabello.com.
Thank you for sharing your positive attitude, your appreciation for the Seacoast and your beautifully unique artwork with us, Brittany! Don't forget to "Mind the Gap"!