LOCAL FEATURE: Seacoast Sweets!
She's a 26-year-old business owner on a mission. Meet Kirstyn Pearl, the founder of Seacoast Sweets – an artisanal chocolate company based just down the street in Newburyport, Massachusetts!
The story begins with Kirstyn's grandfather, a man famous for gifting family and friends with his homemade peppermint patties during the holidays. Everyone who tasted these sweet treats fell in love and wanted more. Her grandfather's hobby was strictly that, but Kirstyn saw enormous potential for a business and made a plan to take these delicacies to the next level. In 2010, Seacoast Sweets was born.
The most popular item at Seacoast Sweets? The S'Mores Patty! Other favorites include the iconic Peppermint Patty, Peanut Butter and Coconut Patties and, Kirstyn's favorite, Caramel Almond Sea Salt Bark. Yum! More products are in the works so be sure to stay tuned on social media @seacoastsweets for their release! You can find this tasty line of products online as well as at specialty gourmet shops in Boston and Newburyport (Olives & Grace, Sage Market and Design, and Newburyport Olive Oil Company to name a few). When you're out and about this summer, be sure to catch Kirstyn and her fine chocolates at the Newburyport and SoWa Farmers' Markets as well as at the Nantucket and Martha's Vineyard Wine Festivals!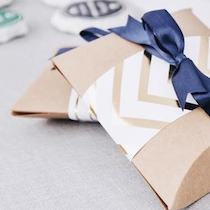 Seacoast Sweets has grown exponentially since its humble beginnings in a Bentley College dorm room six years ago, and Kirstyn has big dreams for the future. She is a hard worker who deeply cares about her business as well as giving back. "With $1.00 of every box sold going to a local Boston charity, I'm now inspired more than ever to ensure the success of this company, not only as a business venture, but as a worthy philanthropic endeavor," says Kirstyn. Eating fine chocolate AND giving back?? A win win! Plus, isn't the packaging adorable?
A Newburyport native, Kirstyn feels grateful to run her business in this coastal New England town; she is driven to make a difference in her community and shows that through hard work and determination, you can follow your dreams! Kirstyn appreciates the small town feel and support she has received from the community and says, "I will forever maintain a strong presence both personally and professionally in Newburyport; It's my home". A feeling I can definitely relate to here on the seacoast!
Here's to following your dreams and making the world a sweeter place!
xx
Maggie
*All photos c/o Seacoast Sweets social media feeds