TRAVEL GUIDE: Portland, Maine!
How often do you head just 45 minutes north to our "big sister city," Portland, Maine? Don't you think it's a fabulous city??
Portland has a special place in my heart. I cherish memories of stopping there for a bike ride and dinner with my family before heading north for a summer vacation in Maine. I attended college an hour north of Portland and this city acted as a great escape from rural college life. My brother lives on Munjoy Hill in downtown Portland, so frequent trips are necessary in my mind!
Here's a round up of my downtown Portland favorites…
LUNCH
Otto: I'm a pizza addict…(I'll admit it!) and Otto whips up some of the best slices this city has to offer! The crust is on the thinner side, the toppings and pairings are unique (My favorite is butternut squash topped with ricotta dollops, and cranberries!) and the atmosphere is just plain cool – think old fashioned pianos as booths and Edison light bulbs…
Duckfat: A right of passage when you get to Portland is this iconic place. Who agrees? Duckfat is TINY and you will most likely incur a line, even at 3:00 pm. Let me just say, it's ALWAYS worth it!!! Duckfat serves up scrumptious paninis, thick duckfat-infused french fries with a variety of gourmet sauces (including my fave, truffle ketchup). If you can't already tell, I'm pretty into this place.
Dinner
Even Tide Oyster: A hip, happenin' and very 'urban Maine' restaurant that serves tasty oysters and seafood in a small, bustling environment! Their brother restaurant, HUGO'S, is next door and has received high accolades both locally and nationally.
Fore Street Grill: A rustic, upscale restaurant in the Old Port. The food here is farm-to-table style and foods are prepared with a thoughtful focus on local ingredients. The candle-lit tables and chickens roasting in the open kitchen make for a memorable dining experience.
Paciarino: Fresh made pasta, butter yellow walls, and a cozy environment make you feel like you're at a local restaurant in an Italian neighborhood.
Beverages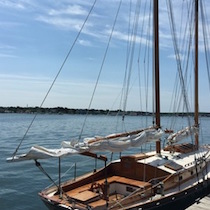 Bard Coffee: Bard is my favorite coffee shop in Portland – a new-wave, hipster coffee shop in the heart of downtown Portland that attracts a lot of cool, artsy folk who turn this place into their offices.
Arabica Coffee Company: The Commercial Street Arabica location is set on a quiet street but is big and bustling inside. They make maple lattes which are incredible!
Tandem Coffee Roasters: A delicious, new-wave coffee roaster that is taking New England by storm! See Alternative Portland HERE!
Portland Hunt and Alpine Club: The ideal spot for a beverage. This place serves up creative craft cocktails and Scandinavian snacks, like seasoned popcorn, which is out of this world! The location is convenient for a drop-by with friends before or after dinner and the modern, hipster style is top notch cool. I'm obsessed.
Sweets
Standard Banking Co. Here's another stop I make every single time I go to Portland. Standard is everything but standard and has been awarded one of the best bakeries in the country. I can definitely see why. The quality, tastes, and French style here are unparalleled. My favorites are the brownies, chocolate chip cookies, and raisin pecan bread – so buttery and rich. YUM!!!
Gelato Fiasco: This is quite possibly the very best gelato I've ever tasted. I can't get enough! Creative combinations that are chock-full of flavor! And…you can get as many flavors as you want! I like the Caramel Sea Salt gelato and Dark Chocolate Noir sorbetto best; do you have a favorite?
Shop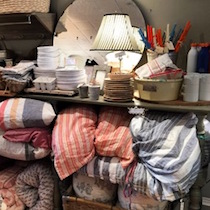 Judith: A modern-chic clothing store that sells top of the line contemporary brands for women. I am inspired by Judith's bright space and artsy aesthetic and think it's definitely worth a visit!
K. Colette: A truly beautiful home shop in the heart of Portland's old port. If you're looking for quality bedding, fragrant soaps, French tea towels, or unique dinnerware, K. Colette is THE place to go. As soon as you step foot in K.Colette, you'll probably want to move in!
Folly 101: Yet another chic home shop with coastal flare and an emphasis on entertaining essentials!
Blanche and Mimi: Vintage meets chic at this tasteful Portland shop. Think antiques, linens, French soaps, and the sweetest baby clothes around…
Portland Dry Goods: If I were to give this Commercial Street shop a label, it would be "upscale rugged." It is very 'Maine', meaning, that when you look around, you're sure to spot a lot of flannel, wool, and knitwear. Nice leather shoes, products for men and women, and brands such as Canada Goose and Barbour to give you a bit of an idea and price point:).
Angela Adams: A beautiful design shop showcasing the works of local (and extremely talented) textile artist Angela Adams! The color and design that is ubiquitous here is breath-taking and the historic building this company just moved into is a sight to be seen! See Angela's mod-style area rugs, furniture, and bedding up close and personal! If you appreciate intricate design, this shop is definitely worth a visit!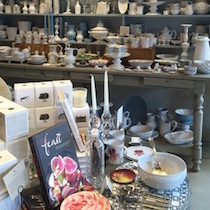 Stay
The Danforth Inn: A very charming boutique hotel in Portland's West End neighborhood. It's a Relais and Chateaux property so you can expect exceptional service here. Luxurious, simple, laid-back.
The Portland Press Hotel: A newcomer to the Portland hotel scene, The Portland Press Hotel is downright cool. Way back when, this building was home to the Portland Press Herald and the hotel carries the history through today where you will see printing press and typewriter accents throughout.
When in Portland, I love strolling through the Old Port and taking bike rides along the Eastern Promenade. I enjoy exploring new streets, going to First Friday Art Walks, and taking boat rides in the summer!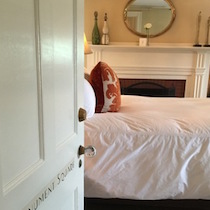 Places on my list to try…
Central Provisions, Street and Co., Vignola Cinq Terre, Portland General Store, and Urban Dwellings! Have you been?
What are your favorite places in the Old Port? Comment below!
xx
Maggie