INSIDER'S GUIDE: Boston, Massachusetts
Today we're getting the "inside skinny" on Boston hotspots from local sister-bloggers, Natalie and Laura of The Boston Day Book!
What do you love most about living in Boston?
Gosh, that's hard! Well, first and foremost, I love living so close to my family. Everyday I realize how lucky I am that we live so close to one another — and also in this amazing city! I think Boston is so well-located. It's easy to escape the city and go to the North Shore beaches, out to the Berkshires, or even all the way to Montreal! I love how accessible New England is, and it makes living in Boston so much more amazing.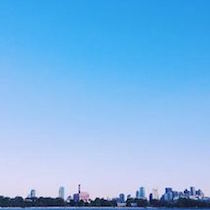 Also, I love how community-oriented this city is. It's a great place to start your own business and meet new people! There's always something interesting happening and someone new to meet!
Where did you grow up and what brought you to Beantown?
I grew up in the surrounding area, living in Sudbury and Wellesley and my parents have lived in the Back Bay for 13 years now, so that is really home to me. I went to Connecticut for college, but always knew that I would find my way back to Boston.
Do you have a favorite neighborhood to spend time in?
Each neighborhood is unique, and that's what I love about this city! I love returning to old favorites though like the Esplanade and the quiet corners on Marlborough Street. Back Bay is always a favorite, especially this time of year when you can start smelling people burning wood in their fireplaces and the cobblestone sidewalks perfectly match the changing leaves.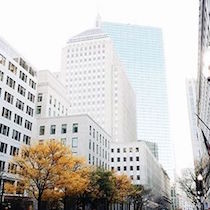 What is the best indoor activity?
Laura and I have been doing a lot of yoga (she is actually a certified yoga teacher) and it's something we love doing together. I love the classes at Exhale Spa! My husband is a co-founder of a new distillery in town, Short Path Distillery, and I would say that spending time there has become a new favorite thing to do. There are so many interesting startups in this city, especially in the food & beverage industry.
Favorite way to stay active?
I do ClassPass, which I love because I have access to a ton of different types of workouts and studios. Plus, it holds me accountable (you are charged a $15 fee if you don't cancel within 12 hours)! I mostly love to spin, do yoga, and pilates. I also love to walk and Boston is one of the best walking cities, in my opinion.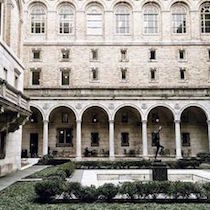 What's your favorite part about each season in Boston?
The fall is the best in Boston, especially when you actually get a solid month or two of cool, sunny weather. I love the changing leaves, apple picking (and donuts!), and spending time outside. It's the perfect time of year, in my opinion. Winter is beautiful, too. I love going outside when the city is covered in a blanket of fresh new snow. It feels so quiet and peaceful. I also love the holiday celebrations around town, including the big Christmas Tree in the Common! One of my favorite winter activities is to go ice skating at the frog pond followed by hot cocoa at LA Burdicks. Spring is wonderful, too. I love watching the magnolia trees bloom along Commonwealth Avenue in early April and green grass pop up all over the city. And, summer, where to begin? Summer in the city is great. There are so many free events and things to do outside, especially along the waterfront.
If you were playing tourist in your own city for the day, what are three things you would do? 
I would walk through Harvard Yard (one of my favorite places in the fall, it reminds me of when I was going back to school and the leaves would start to change and everything was filled with possibility) and then I would grab a mint tea at Cafe Algiers to warm up. When you grow up in a certain place, like Boston, it can be easy to not do the touristy things! I haven't been on an official group tour of the Freedom Trail, and that's something that I would find interesting. It's always neat to see your own home through a tourist's eyes. Thirdly, I would eat! I think we have some really amazing restaurants and I would eat seafood at either Row 34 or Island Creek Oyster Bar.
What's the best sweet treat in Boston? What do you get? 
I have a sweet tooth! I love ice cream from JP Licks (they always have interesting monthly flavors, but my personal favorite is their oatmeal cookie hard yogurt. It is so good!), the banana cream pie from Post 360 (grab a seat in the bar area by the fireplace!), and I can never say no to a cannoli at Modern Pastry in the North End. There are also some amazing small businesses in Boston that are creating delicious treats like Batch ice cream, Lydia's treats, and many others.
Favorite place for a drink?
Well, I'd have to say Short Path Distillery first off! They make a white rum and a gin and serve 7 cocktails that are all delicious. I love visiting the Harpoon Beer Hall for beers, backbar for cocktails, and Belly Wine Bar.
Best coffee shop? How do you take your coffee?
I am a latte girl! But I also love drip coffee with a little bit of cream of milk (I'm not too picky). I think the iced lattes at Thinking Cup are the city's best. I also love Tatte Cafe & Bakery for a coffee and breakfast (their shakshuka is my favorite) and Cafe Nerro makes the best Chai Latte!
Is there an up-and-coming neighborhood we should know about?
I live in South Boston and it used to be the up-and-coming neighborhood. I suppose it kind of is, but it's already changed so much over the six years I've lived there. I think there is so much cool stuff happening in Dorchester, but depending where you go, it can still feel a little far out to me.
Do you have a favorite museum?
I love the Museum of Fine Arts, always a classic, and they have great film festivals! I also adore the Isabella Stewart Gardner Museum. They have the most amazing courtyard. You'll think you've been transported to Europe! Definitely keep an eye out for free evenings — there are lots of opportunities to check out different museums in the city.
What do you like about Bostonians?
I think that Bostonians are the most loyal bunch. There is such a sense of community and camaraderie here. People want to see you succeed and they're going to do whatever they can to help you out. It's a wonderful energy.
Where's the best slice of pizza?
Picco! Forever and always my favorite.
Best views in Boston? 
If you have a friend who has access to a rooftop in the Back Bay, that's probably the winning view. I also love to visit the Skywalk in the Prudential tower for a neat view (and to listen to some live jazz music), and I love the views from the Esplanade. You really feel like you're in the thick of it along the river.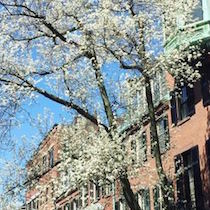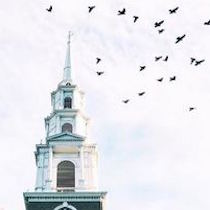 Thank you Natalie and Laura!
XX
Maggie
(*All photos courtesy of The Boston Daybook's Instagram account – @bostondaybook!)