LOCAL FEATURE: South Street and Vine
South Street and Vine is switching hands and I'm excited to introduce you to Rick and Robin, the new owners of our local wine and cheese shop!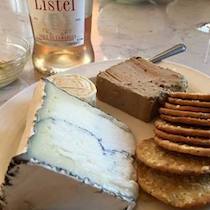 Rick and Robin acquired South Street and Vine on September 1st from Win and Claire, the twosome who ran this artisan shop for many years. This Portsmouth couple seemed like the perfect duo to pass the baton to as they have been frequent customers for years, live in the South End of Portsmouth, are lovers of wine and cheese, and have over 30 years of experience in the grocery industry.
Rick and Robin are excited for this new adventure and, because Win and Claire did such a fantastic job, they plan to follow their recipe for success! However, here are some important facts to know…
-South Street and Vine is currently open Wednesday through Sunday, 11:00 – 6:00, and will open 7 days a week for the holidays.
-The shop hosts wine tastings every Sunday from 1:00 – 4:00.
-They cater and make gift baskets!
Rick and Robin don't want anybody to feel intimidated; after all, Robin says, "wine should be fun!". The couple enjoys helping people find a delicious and affordable wine that will suit their palette!
Rick and Robin love the seacoast and enjoy walking to work, to shows at The Music Hall, and 3S Artspace. Be sure to stop by and say hello; they love talking with and meeting locals!
xx
Maggie
*All photos c/o South Street & Vine.