INSIDER'S GUIDE: Newport, Rhode Island
 Newport, Rhode Island-based blogger, Deanna of The Gilded Lobster, shares her Newport favorites!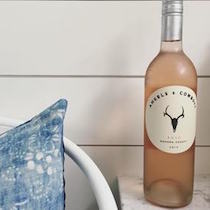 How long have you lived in Newport/ Rhode Island? What brought you there?
My husband and I purchased a 1940s bungalow in Newport in 2014 as a vacation home, named her Summerset, aka, the Gilded Getaway House, and have loved every minute of our time there since! Having grown up in Exeter and the seacoast area of NH, proximity to the ocean was important in finding a getaway home, and we've both loved Newport for years. Access to water in Rhode Island doesn't get much better than living in Newport!
Do you have a favorite part about Newport?
Many say I'm an old soul, and I just love the history of the City-by-the-Sea. I could wander around the streets of Newport for hours, picking out my favorite homes, thinking about the sea captains and eastern seaboard families that once lived and vacationed in them. There are so many nooks and crannies to discover, each walk we find something new!!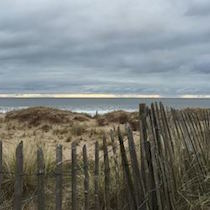 Where's the BEST cup of coffee? What do you get?
Best cup of coffee is at Empire Tea & Coffee, we LOVE the Bellevue Ave. location! My beverage of choice is a Flat White, the perfect proportion of espresso and milk.
Where's the best view in Newport?
It's an island, every place has the best view! The lawn at Castle Hill is pretty spectacular for watching boats of all shapes and sizes come in and out of the harbor. The best sunrise view is on the rocks by Purgatory Chasm in Middletown overlooking 2nd Beach. The Cliff Walk has stellar water AND mansion views. In Middletown, we love the views that Norman Bird Sanctuary offers of our neighboring towns.
What is your favorite activity in each season?
Summer, our favorite season!: Starting our weekend with a stop at the Aquidneck Growers Market, a local farmers market in Middletown, where we pick up goodies from The Power of Juice, Olga's Cup and Saucer, Little State Flower Co., and many other local farmers & purveyors! Beach days we head to 2nd beach in Middletown and dinner is usually someplace downtown that we can easily walk to.
Favorite tourist activity?
I don't think I'll ever tire of the Newport Mansions. Transporting ourselves back to the Gilded Age and experiencing these summer residences first hand never disappoints. We also love the Newport Art Museum, but we don't consider that touristy!!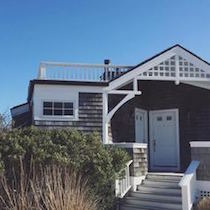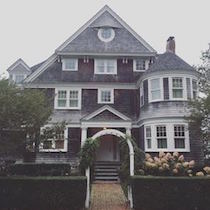 Favorite activity that tourists don't know about but should?
We love chartering 'Temma', owned by Antique Yacht Collection if we want to treat guests to some time on the water. Other tourists get lured into the larger sailing boats and tours, which although beautiful in their own right, simply don't have the same charm as this antique wooden boat. Even better, owners Greg and Alana nail hospitality to a tee! We also love to take the Newport/Jamestown Ferry across the harbor to Jamestown for dinner, offering great views of the Pell Bridge and equally stocked with amazing eateries (Our fave is Jamestown Fish). The Jane Pickens Theatre is a local independent movie theatre that offers guests (and locals) great entertainment, ever since becoming a theatre in 1919! And last, but not least, summer Saturdays in Newport are made for Newport Polo! The polo grounds are located in nearby Middletown and host a huge audience each week to watch the ponies.
Favorite shop in Newport?
I have a few local faves, including Shore Soap Co. and Farmaesthetics (both of these shoppes carry their own goods that are locally produced, we love #shopsmall and even better #shoplocal!) Sea Salt Interiors on Franklin Street is off the beaten tourist path (and can be easily missed), and Holly has a knack for seaside charm that isn't kitchy or overtly coastal.
Tastiest spot for seafood and/or dinner? 
Best spot for dinner is Thames Street Kitchen. When it comes to 'requisite' seafood, our go-to choice is the Lobster Roll at Castle Hill, one word – epic. For casual lunch, we love The Shack in Jamestown across the harbor, a seasonal outpost of Tallulah's Taqueria, located in the Jamestown Boatyard. Other favorite restaurants in Newport include Stoneacre Pantry, Tallulah's on Thames, Pasta Beach, Mission Burger and Cru Cafe.
What's the best event that happens in Newport?
We adore the annual Van Alen Cup at the International Tennis Hall of Fame. A two-week grass court tennis tourney in an even more charming setting.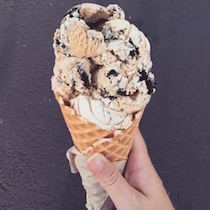 What's your favorite way to stay active in Newport? 
Whenever Mother Nature cooperates, we spend as much time outdoors as possible. Parking challenges in the small city make our preferred mode of transportation walking or riding our bikes. My favorite bike route takes us down Bellevue Ave. past all the mansions to Ocean Drive. On the weekends I take classes at Surfset, which is an awesome way to stay fit off the water! Next up, real surfing!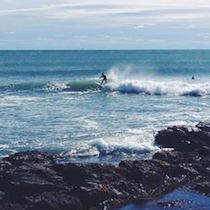 Thanks for giving us the local scoop, Deanna!
xx
Maggie
*All photos c/o The Gilded Lobster.