TRAVEL GUIDE: Western Mass.
Was it my first choice to trade the ocean and perfect seacoast weather for a weekend in Western Massachusetts? No. Was I glad I went? Try totally THRILLED!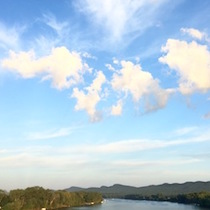 It was my first time exploring this mountain-filled part of New England and I'm so thankful I had one of my best friends Steph, a western Mass native,to give me the inside skinny on what's cool and happenin' in this beautiful area.
Before I go on about our action-packed adventures, I just have to say how impressed I was with the scenic, easy drive and how quick of a trip it is…only 3 hours from Portsmouth!
First stop -> Northampton!
This main hubbub of western Mass is a spacious, brick-lined, New England town that bears a strong resemblance to Portsmouth. Some façades and stores here seemed sad and forgotten about while others had clearly taken on a facelift, keeping this mini city hip and vibrant. A few times, I felt a modern day "Brooklyn" vibe peeking through…
On the north end of Main Street is a shop called Port which sells nautical-themed clothing and accessories in a minimalistic setting. Brands like Soludos, Baggu, and Wary Meyers are showcased here.
 Across the street, nearing Smith College is the hippy-chic boutique, Ode. The rustic, "Free People-like" atmosphere makes the carefree elegance of the clothes blend right in. Think brands like Mara Hoffman, Forest Bound, and Frye.
A few doors down and a side street over from Ode is a beautifully curated, minimalistic home accessories store, Kestrel. The interior felt calming with white walls and pops of green scattered about the boutique; tiny succulents lined the windowsills and large, glass terrariums hung from the ceiling. Very artsy.
It is essential that you stop in the store, Essentials! This cheerful storefront is a vintage-inspired papergoods boutique selling cute knickknacks, gifts and antique tableware as well as kids toys and clothing.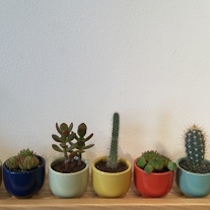 Cathy Cross is an upscale shop that came highly recommended. This boutique sells brands such as Cynthia Rowley and Trina Turk and focuses on the sophisticated, stylish woman.
Two retro shops, Thornes (a big building with little boutiques inside) and Faces (an eclectic store selling vintage, wacky products, kind of like Macro Polo in Portsmouth), have been icons on the main drag for decades – not my cup of tea but they were both bustling!
As for nourishment in Northhampton, we have our choice of some fantastic local spots!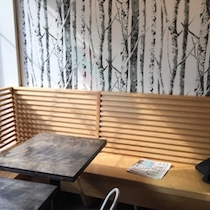 SIP Café is set in a hipster-chic environment and brews up Counter-Culture coffee. The food looked homemade and fabulous and they had sweet, tables and chairs outside. I was kind of obsessed with the aesthetic here;).
The Roost is also excellent – it boasts a rustic feel and tremendous food and coffee. A cool place to hang in the morning.
Across the street from The Roost is Berkshire Yogurt, a typical serve-yourself froyo shop that adds a punch of local flavah! (It was totally necessary after strolling through town on a hot day:).
We ate dinner at the Northampton Brewery – sister to the Portsmouth Brewery! They had the same logo and everything! I won't say anything about the food but the outdoor seating, and laid-back vibe was spot on!
Amherst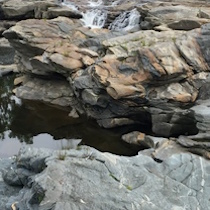 The stunning, pristine home to Amherst College, this town is small, cute, and well manicured. Amherst Coffee is a cozy spot that brews up craft grounds by day and candle-lit dinners by night. The Black Sheep serves up mean sandwiches and carries a local, farm-fresh taste + aesthetic. There is a sweet, local bookshop by the really creative name of Ahmerst Books. It was fun to browse this quiet nook after dinner…a very wild Saturday night:). The outdoor fire pit at the Lord Jeffery Inn lured us inn from off the street. We peeked inside and were welcomed with a beautifully decorated, classic New England, boutique hotel.
Yankee Candle HQ!
The Yankee Candle headquarters, a.k.a. the "Scenter of the Universe" is the insanely large tourist attraction lined with endless Yankee candles and scented products. Walking around this venue was a feast for the senses. The interiors of the massive, red barn wove us in and out of a variety of scenes – we began the adventure in candyland, were welcomed into a country kitchen, strolled through an old-fashioned candle-making room, and were immersed in the wonder of the Christmas Village where it "snows" every five minutes. It felt like the Disney World for Candle-lovers… I loved it!
Sawmill River + The Montague BookMill!
Not far from the Yankee Candle HQ is the quaint family of businesses along the edge of a waterfall. Montague Book Mill – a cozy enclave overlooking the water, sells books in happily-worn, space. Right next door is The Lady Killigrew, a breakfast and lunch spot serving tremendous food at tables with "oh my goodness, is this real?" kind of views. Also on property is Sawmill River Arts, Turn it Up! record shop, and The Alvah Stone restaurant. If I lived in this neck of the woods, I would probably go here every day.
Shelburne Falls
About 30 minutes west is the picturesque town of Shelburne Falls – a perfectly manicured spot at the foot of luscious mountains. The main draw to Shelburne Falls is the famous "Bridge of Flowers". Many tourists walked the old bridge lined with beautiful blooms – very pretty and worth a stop if passing by. Down the river is a geological formation that seemed to be a natural migration from the "Bridge of Flowers". Lining the side streets were some small shops and many artists studios that were open to the public.
After winding through the slinky rural roads and passing breathtaking mountain views, we arrived in the town of North Adams – home of the attraction I anticipated most, Mass MoCA!
Mass MoCA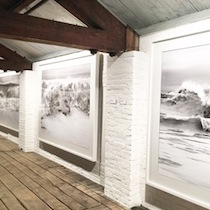 WOW. Before arriving, I had really high expectations for Mass MoCA. They were exceed 1,000% and I was totally blown away with this place. Mass MoCA is a contemporary art museum that has made its home in an old 18th century factory. The space is larger-than-life and kept it's original layout and structure. Pencil writings, paint marks…everything was there which payed an homage to the history of this unique space. Iron staircases and elevators, mixed with the incredible exhibitions surprised me in ways I never would have imagined. I was beyond impressed with this entire museum and can't wait to go back!
I had an amazing time exploring this unique area of New England. When I go back (hopefully soon!) I look forward to doing some hiking, stopping at the many local farm stands along the roads, revisiting the places mentioned here, and exploring all the things I still have to see!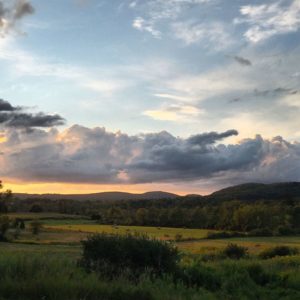 Have you been to western Mass? Do you have some favorite spots?
xx
Maggie