PORTLAND MAINE LOCAL TRAVEL GUIDE!
We love taking day trips to our hip, "big sister" city, Portland, Maine! We've been lucky to frequent this Maine city, often visiting the bustling and popular area of the Old Port. Today's itinerary is a little different though because we're exploring some hip, less-frequented neighborhoods like Portland's West End, Munjoy Hill, Bayside, and South Portland!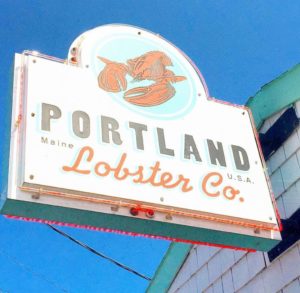 PORTLAND'S WEST END!
We're kind of obsessed with the West End section of Portland, "maine"-ly for the historic New England architecture that reminds me of Boston's Beacon Hill or NYC's West Village; not as chic, but I think the abundance of brownstones gives off a similar vibe…anyone else? The West End neighborhood is home to shops, restaurants, and businesses that nestle into the area's original surroundings, making it unique in today's city. In the summer, lush greenery takes over the brick-lined streets. Humans and cars are few making this secluded section of town perfect for strolling about and admiring for hours.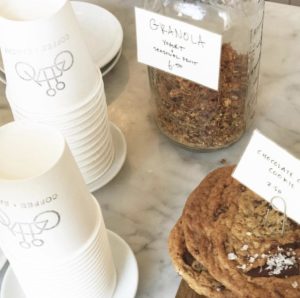 Tandem Coffee Roasters, Portland's newest craft coffee company, sells their gourmet grounds to coffee houses across the east coast; we get to enjoy their fuel at Lil's Café and the Black Birch in Kittery! Tandem pleases tastebuds at their coffee shop + bakery in the West End that dishes out breakfast foods and coffee in a classy, renovated gas station. If you're into free parking and light, bright spaces that embrace the craft culture, this is the place for you! Across the street from the West End location is Sawyer Company, a chic floral shop. Tandem's Bayside location is petite and provides a similar vibe and treats. This hidden spot is also serves as their roastery and headquarters, where you can see where all of the coffee magic happens!
Across the street from the Portland Museum of Art is the small, design-based shop, More and Co. It is tucked into an old building and is the birthplace of the "i MA g INE" logo. (A hip celebration of the state of Maine – I have a hunch it's going to go viral:). At More and Co. you will find artfully curated doodads for your home and closet, and be inspired by the design-duo who own, create and curate this tiny, tasteful storefront.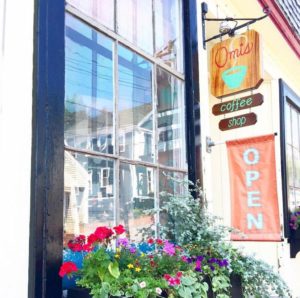 Is this a turn-of-the-century home or a coffee shop? You might wonder this before settling in at Omi's Coffee Shop. This tucked-away retreat is set on the first floor of what looks like a home-turned-coffee shop, decorated with comfortable arm chairs, colorful artwork, and lamps scattered throughout- a great pace to meet someone, chat, or do work! The coffee was tasty and unique, I'm talking "Lavender" and "Beekeeper Maine Honey" Lattes…delish! And can we talk about the free parking?? I just stumbled upon this place one day so, I guess getting lost has its perks (coffee pun!).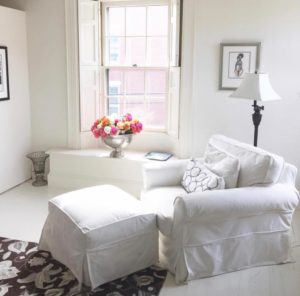 If you're craving picnic items or a sandwich on the run, Aurora Provisions is the place to go! A sweet little neighborhood spot that serves up gourmet foods in a casual, European-esque setting. Right next door is the fabulous restaurant Ciaola's, which is a favorite in my family. The italian food is superb and you can tell – this is where the locals gather.
South Street Linen is a local shop selling Maine-made, high-quality clothes created with, you guessed it – linen! Three Portland women began this tasteful, artfully-focused shop that has lured in travelers and fashionistas from across the country. The quality here is unparalleled.
East End
Home to Munjoy Hill and stunning views of Casco Bay, the East End is a more residential area with predominantly historic, wooden homes covering the hill. In this section of the city, you'll find tremendous restaurants – my favorites being The Blue Spoon, and OTTO pizza. There are beautiful walking and bike paths along the water (called the Eastern Promenade or Eastern "Prom" if you want to sound like a local:). On top of the hill is a spacious grassy park with breathtaking water views – perfect for a picnic, playing frisbee, or taking a nap in the sun!
Bayside
Portland's Bayside area is nestled between the highway and the Old Port. It has an industrial, up and coming vibe and is home to many local headquarters like popular coffee house, Coffee by Design. It is also home to Rising Tide Brewery and Maine Craft Distilling which are located side by side in an unexpected alcove. You can visit, taste, and tour at both – a unique and  educational activity!
South Portland
One of my favorite artisan pizza places of all time, OTTO, has an outpost in the residential area of South Portland. It is set in a modernized gas station and couldn't get much cooler!
The famous "Portland Head Light" is here too! It bears a strong resemblance to the Nubble Light in York, Maine. As you might expect, the views here are STUNNING!
Scratch Baking Co. is a drool-worthy bakery/coffee shop/ picnic stop in South Portland. It is extremely tricky to navigate (maybe that's just me;) but the quality of food is absolutely worth a drive just south of Portland. Sit outside or take food to go! If all you can think about is their famous bagels, make sure you're in line at the crack of dawn, they sell out like hot cakes!
Do you have some favorite places in the "Alternative" areas of Portland? Comment below!
Here's to exploring and taking the the road less traveled!
xx
Maggie