LOCAL FEATURE: Seagate Studio
A creator…a maker…a lover of the coast. Meet Sam Wright, founder of Seagate Studio. This young, upbeat gal grew up with salt water running through her blood. Raised in Darien, Connecticut, Sam currently lives and works as a Coastal Geomorphologist (We'll let her explain that:) in Portsmouth. When she is not working at her day job, Sam pursues her passion in her other line of coastal-based work – Seagate Studio.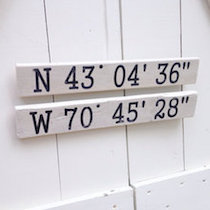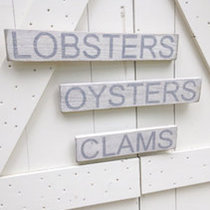 Three years ago, Sam and her mom, Sally, launched a business that would combine their love for the coast with a shared gift of working with their hands. As a team, Sam and Sally both partake in the fun of making ocean-inspired decorative canvas pillows, vintage-style wooden signs, and custom wooden serving trays, all by hand; you might have seen their wares at local shops like Goods, Weekender House, Glass Pear, or Main Street Makery! Sam is the primary force behind Seagate Studio – handling customer relations, social media, finances and more!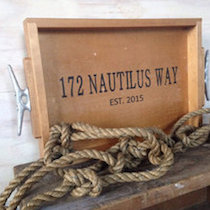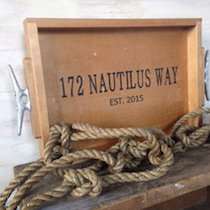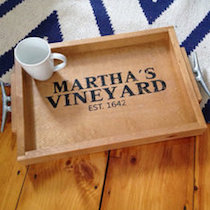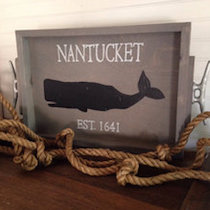 Seagate's home accents are painted with a variety of coastal influences ranging from sea horses and lobsters, to anchors and nautical flags. The most popular products? Pillows and trays adorned with images of seaside locations and their coordinates. These personalized elements add a unique touch and can be customized for anywhere in the world – wow!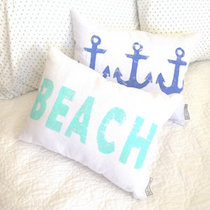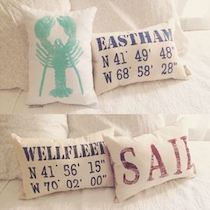 When they first began their business, Sam and Sally made absolutely everything from start to finish. But, to keep up with demand, they have since begun working with an artisan woodworker in Downeast Maine to construct the trays. Sam makes stencils and stamps (that can be re-used) and incorporates an image transfer process into the mix, carefully distressing and touching up along the way. Aside from designing and building beautiful custom wooden signs from scratch (including the "LOBSTERS" sign hanging outside Old Ferry Landing in Portsmouth!), she also makes beach-y, New England themed penny charm bracelets (and other jewelry), which sell out like hot cakes!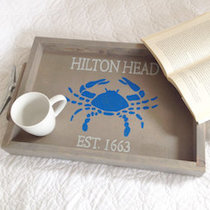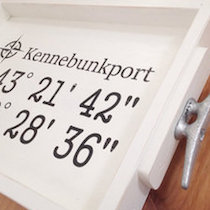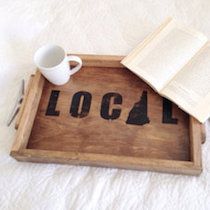 Thank you, Sam and Sally, for using your talents to remind us of how lucky we are to live on the seacoast!!!
xx
Maggie